All the flavors you love from chicken fajitas in a fun and easy low carb format. Fajita Stuffed Chicken is a dish the whole family will love!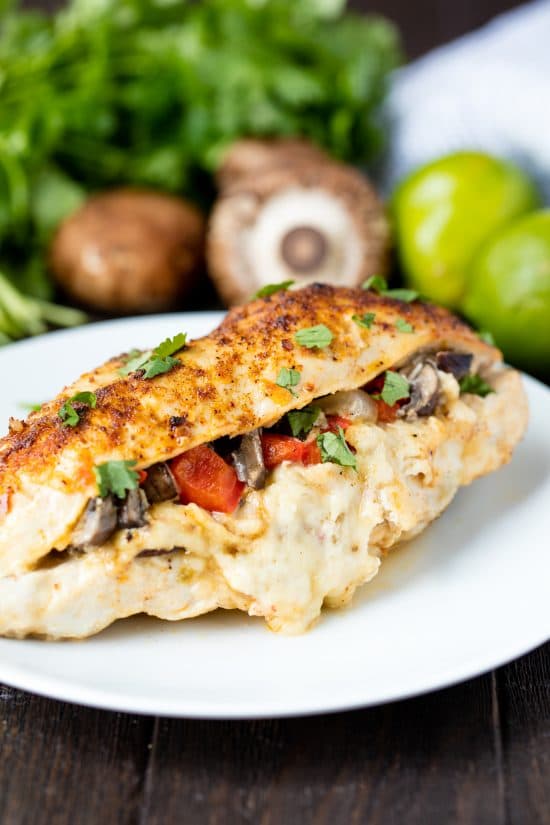 I love making stuffed chicken. It's a family favorite around here. In fact, I have several recipes on my website for stuffed chicken including Cajun Stuffed Chicken, Stuffed Herbed Chicken, and Italian Stuffed Chicken.  Fajita Stuffed Chicken is such an obvious choice I couldn't believe I hadn't share the recipe for it yet! It's all the flavors of fajitas you love stuffed into one easy chicken dinner. It's genius I tell you.

MY OTHER RECIPES
It's really simple to put this chicken together and still have plenty of time to get a side dish put together. It's part of what makes this such a greet weeknight meal. This dinner is great to serve with a side of veggies, a salad, or even some Spanish rice.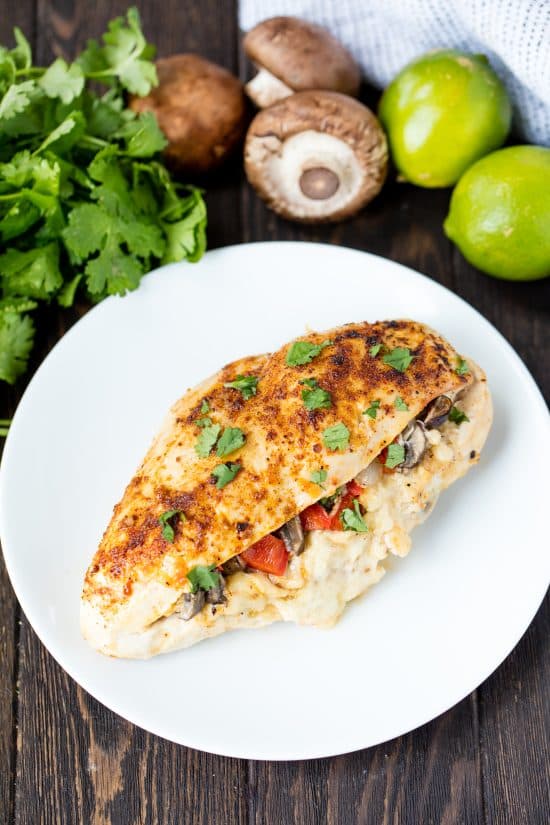 We absolutely love to eat stuffed chicken for dinner. There a few different ways to stuff your chicken. You can butterfly it (slice lengthwise and fold it out into butter fly wings) or you can pound it out thin using a meat mallet or even a rolling pin.
I prefer to also use toothpicks to secure the chicken. This helps keep all that delicious stuffing on the inside. Slide the toothpicks right through the chicken vertically to pinch the chicken together, keeping all the good stuff on the inside. Just be sure to remove the toothpicks before serving.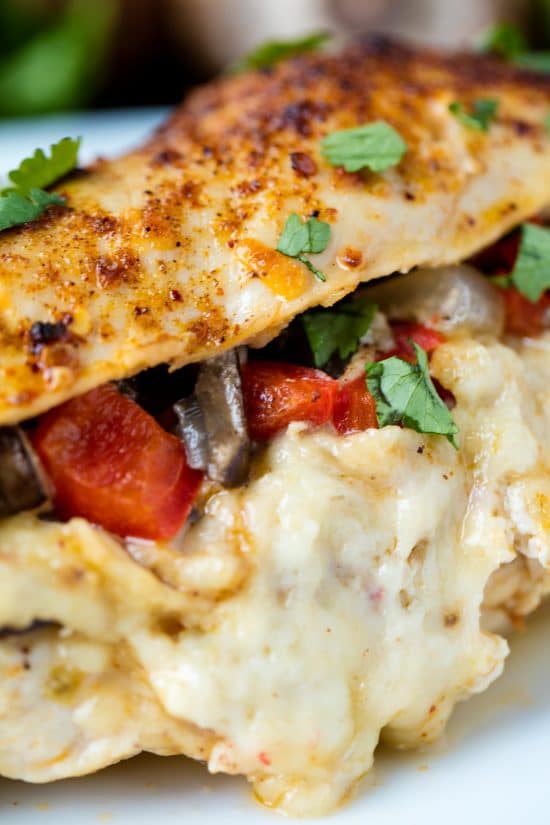 Watch the video where I give you a couple of different options for stuffing your chicken, including my favorite way of ensuring that the stuffing all stays inside. Sometimes it helps to have a visual and I've got you covered.
While you are at it, you can check out my YouTube Channel where I have hundreds of cooking videos for you to enjoy. Just be warned, it's likely to leave you drooling on your keyboard.
Fajita Stuffed Chicken
Fajita Stuffed Chicken
All the flavors you love from chicken fajitas in a fun and easy low carb format. Fajita Stuffed Chicken is a dish the whole family will love!
Author:
Rachel Farnsworth
Ingredients
1 tablespoon olive oil
½ white onion, diced
1 red bell pepper, diced
4 large mushrooms, diced
1 clove garlic, minced
4 chicken breasts
1 cup shredded pepper jack cheese
2 limes, juiced
1 teaspoon ground cumin
1 teaspoon chili powder
1 teaspoon onion powder
½ teaspoon salt
½ teaspoon crushed red pepper flakes (optional)
Instructions
Heat olive oil in a large skillet over medium-high heat. Add in onion, bell pepper, and mushrooms. Saute under vegetables are tender, about 5 to 7 minutes. Add garlic in during the last 1 minute of cooking.
Pound out chicken breasts until thin, or butterfly breasts. Spoon vegetable mixture into the middle. Sprinkle with cheese. Fold chicken breasts over so filling is inside. Secure with toothpicks if desired and place in a lightly greased 9x13 pan.
Squeeze lemon juice over chicken breasts.
In a small bowl combine cumin, chili powder, onion powder, salt, and red pepper flakes (if using). Sprinkle over chicken breasts.
Bake in a 400 degree oven for about 30 minutes, until chicken reaches an internal temperature of 165 degrees.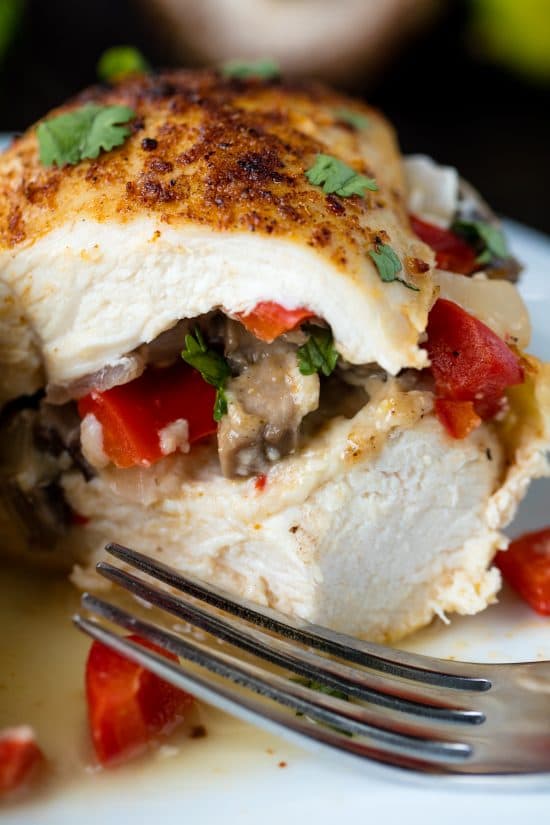 Get New Recipes Sent To Your Inbox 😃
Join my newsletter and get new mouth watering recipes sent directly to you weekly!