Squash casserole is a classic Southern side dish filled with yellow squash and creamy cheeses. It can be served as a rich side dish or a filling vegetarian main. The buttery cracker topping really makes this dish stand out!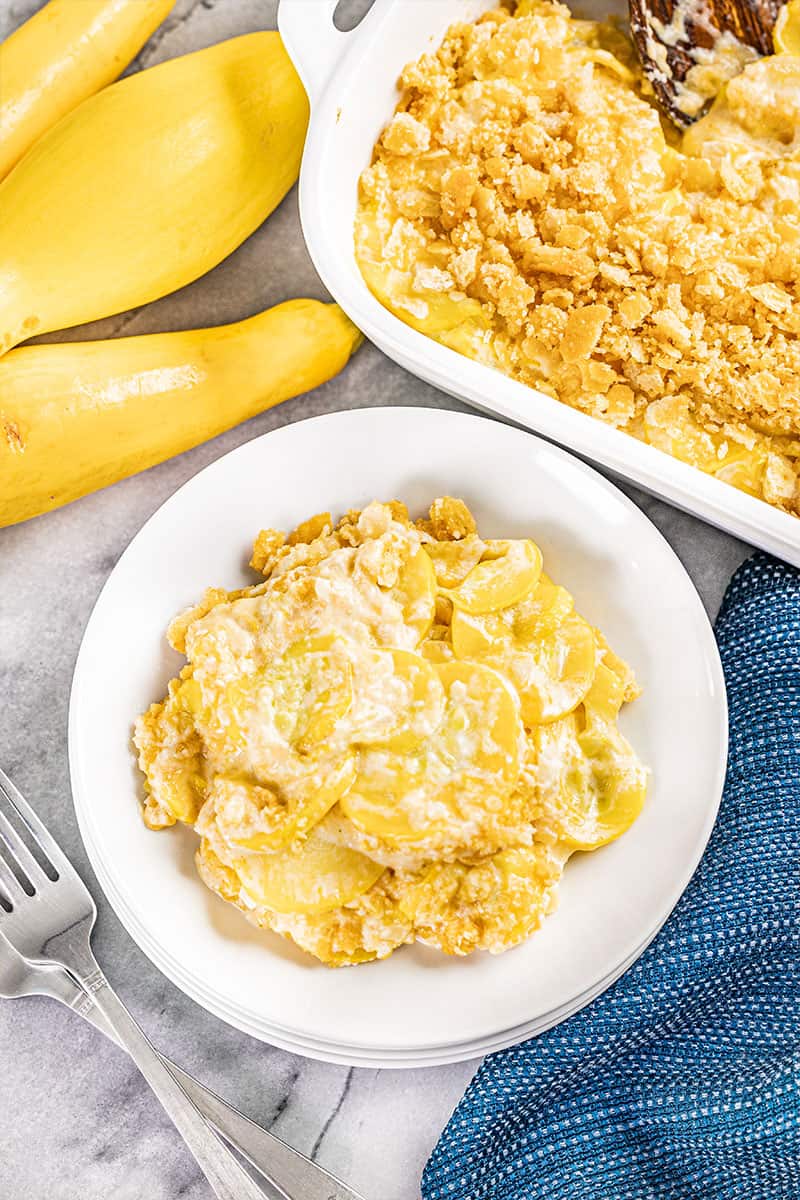 Sliced squash baked in a cheesy cream sauce and topped with a crunchy and crumbly cracker topping – this yellow squash casserole is a staple in Southern cooking! Squash casserole is one of those dishes that will instantly become a fan favorite. Whip it up for a filling Sunday supper, or bring it along to a potluck or family get-together. In Southern cuisine, vegetables are often served with cream, cheese, and butter. Hey, is there a better way to enjoy veggies?! Summer squash is a wonderful base for this recipe, and it pairs wonderfully with the savory Ritz cracker and cheese topping. It's our favorite part of this dish! We won't blame you if you go back for seconds or thirds.
How Many Cups Are in a Yellow Squash?
This type of vegetable varies in size and the size can vary amongst the different varieties. Crookneck, straight neck, and patty pans are all types of yellow squash. Garden-picked squash in particular tends to be quite large! You'll be better off measuring the quantity of your squash in pounds. For example, 1 pound of squash should give you about 3 cups of squash to work with. Our yellow squash casserole calls for 3 pounds.
Yellow Squash vs Zucchini vs Summer Squash:
You'll often see these types of squash used interchangeably. So, what's the difference between these vegetables? Summer squash refers to the family of squash that both zucchini and yellow varieties belong to. In other words, zucchini and yellow squash (along with patty pans and crookneck) are summer squash. In terms of flavor, the tastes are similar but yellow is slightly sweeter than zucchini.
Can I Substitute Zucchini For Yellow Squash?
Yes, you can! Again, zucchini isn't quite as sweet, but you can still use it in place of any recipe that calls for yellow varieties, especially savory dishes like this yellow squash casserole.
Other Substitution Ideas:
This dish is naturally vegetarian, but it does use a lot of dairy products — so isn't vegan friendly. You can feel free to replace all of the dairy products (sour cream, egg, butter, and cheeses) with your favorite plant-based options. You can also use low-fat options to make your summer squash casserole lighter.
You can try making this yellow squash casserole with frozen sliced squash as well, but be aware that you may end up with a soggy casserole due to the added moisture. Avoid this by draining any excess liquid from the skillet before mixing the veggies with the rest of the filling ingredients.
Troubleshooting: Do I Have to Use Ritz Crackers on Top?
Ritz crackers are buttery crackers that melt in your mouth. Feel free to use generic brands of the same thing. If you can't locate Ritz or a generic version, substitute a plain salty cracker in your summer squash casserole.
Serving Suggestions:
We already mentioned that you can serve this dish as a filling vegetarian main. But, if you decide to serve it as a side dish, what to pair with it? Here are some of our favorite ideas: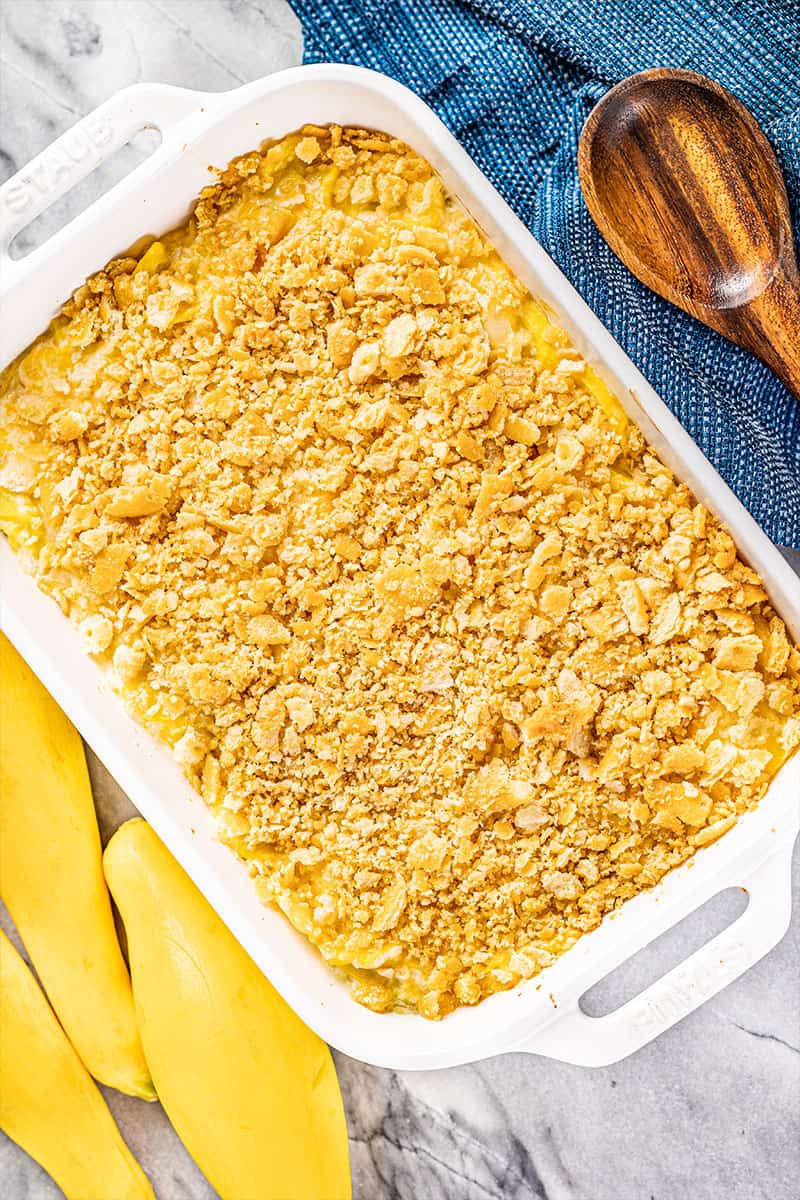 Make-Ahead Instructions:
Casseroles are one of those foods that freeze really nicely. Make yours in advance and get ahead! Simply prepare your summer squash casserole as indicated, but hold off on adding the crumbly topping. Bake, then let it completely cool before placing it in the freezer. It will keep for up to 3-months. Be sure to wrap it up really well! When you're ready to enjoy, let the dish thaw in the fridge overnight. Then, add the cracker topping and bake uncovered at 350 degrees F for 20-25 minutes.
Storage and Reheating Instructions:
Store any of your summer squash casserole leftovers in an airtight container in the fridge. You can also tightly wrap the baking dish in aluminum foil or with plastic wrap. It will keep in the fridge for 3-4 days. When you're ready to eat, place the baking dish (or an oven-safe plate) in the oven and warm at 350 degrees F until heated through. You can also reheat individual servings in the microwave at 30-second increments or until warm.
When working from frozen leftovers, follow the make-ahead instructions above.
If you like this recipe, you may be interested in these other delicious casserole recipes: