Tasty Taco Casserole takes all of your favorite taco flavors and puts them into an easy-to-make one-dish dinner your whole family will love!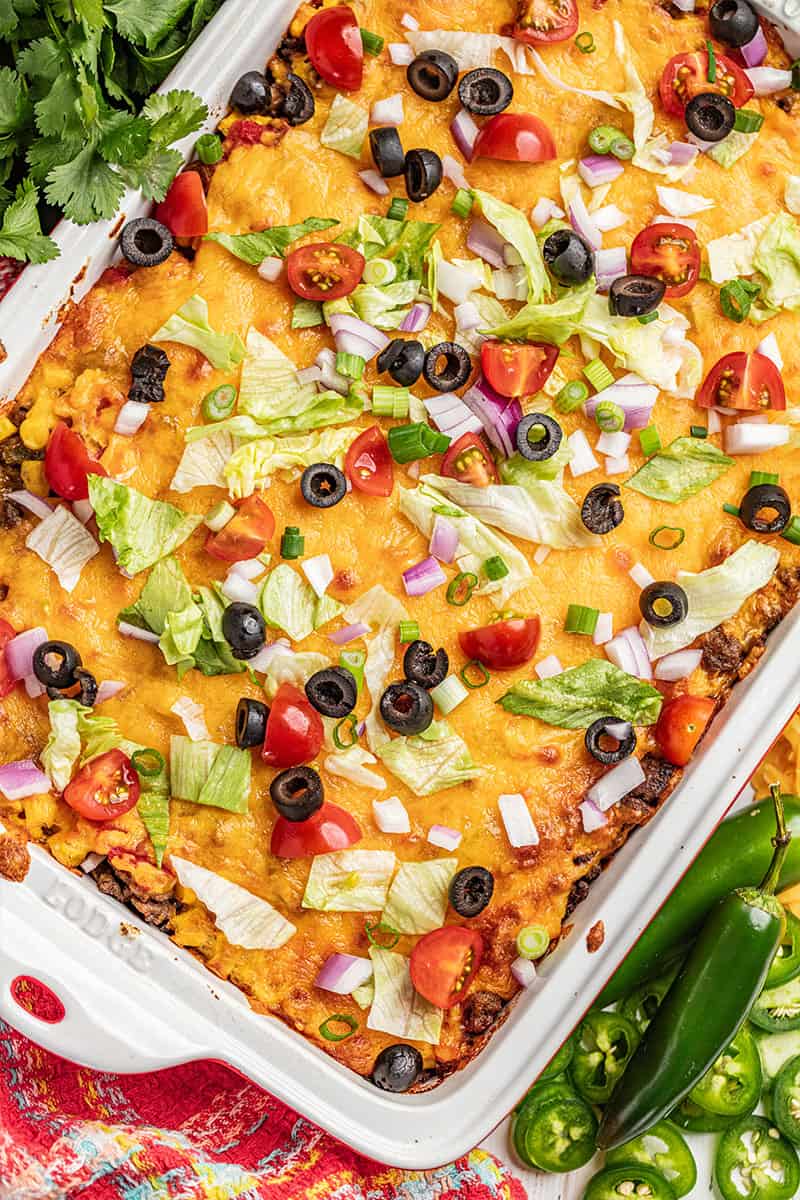 Taco Tuesdays are a staple in The Stay At Chef house. We simply cannot get enough of them! Ground beef, pork, chicken, or shrimp, we love them all! But when feeding a crowd, we don't always love the taco assembly line, or taking the time to individually make each taco. Enter: taco casserole. All of your favorite taco flavors in casserole form. It is so quick and easy to put together, and it is great for feeding a crowd, or even just a large family! Bonus: leftovers taste just as good the next day!
Meat Options for Taco Casserole:
We love to keep tacos classic with ground beef, but you could really replace it with any ground meat. If you prefer a lighter option, go ahead and use ground chicken or turkey. If you prefer pork, use ground pork. If you are vegetarian, use your favorite meatless crumbles. Whichever meat you choose, you can't go wrong!
Green Chiles and Spice Level:
Green chiles are typically sold in tiny cans in the Mexican food aisle of your grocery store. They add wonderful flavor and have a nice warm heat to them, but are not overly spicy. If you are spice sensitive, you could always leave them out.
Canned vs. Frozen Corn:
We know, some people love cans and others love frozen. If you tend to have frozen corn on hand, go ahead and sub out the can for 2 cups of frozen corn.
Can I use flour tortillas instead of corn?
People have very strong feelings about corn vs. flour tortillas. You can use either corn or flour tortillas in this recipe, though you will want to make sure you use smaller flour tortillas and not the giant burrito size.
Money-Saving Tips:
Dry beans are an inexpensive substitute for canned beans. While they do take some planning and prep work, you can always cook a large batch of dry beans and freeze single portions. To substitute the canned for homemade cooked dry beans, measure out 2 cups of beans.
Make-Ahead Instructions:
You can prepare your casserole entirely up to 24 hours ahead of time. Top it with a layer of plastic wrap and keep it in the fridge for up to 24 hours before time to bake. If baking straight from fridge, adjust bake time to 45 minutes.
Freezer Instructions:
Prepare your casserole and top with a double layer of plastic wrap. Freeze for up to 3 months. Thaw overnight in the refrigerator when ready to bake. Adjust bake time to approximately 1 hour 15 minutes.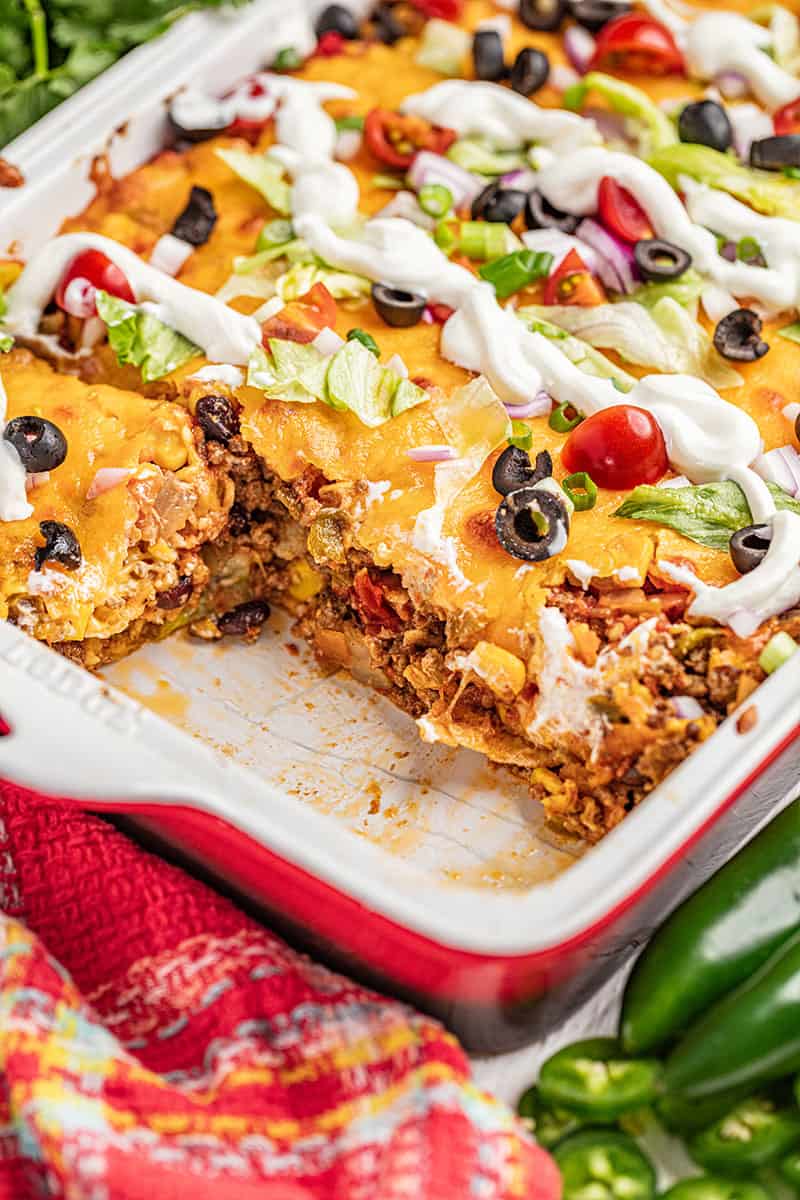 Storage and Reheating Instructions:
Store any leftovers in an airtight container for up to 7 days. Reheat single serving portions in the microwave in 30 second increments until warmed through, approximately 90 seconds to 2 minutes total cook time. To reheat a large portion of your casserole still in your 9×13, place in an oven preheated to 350 degrees and cook until warmed through.
If you like this recipe, you may be interested in these other delicious taco recipes: