Learn how to Roast Chicken perfectly whether you are using a roasting pan, slow cooker, or any pan you have on hand. It's so easy!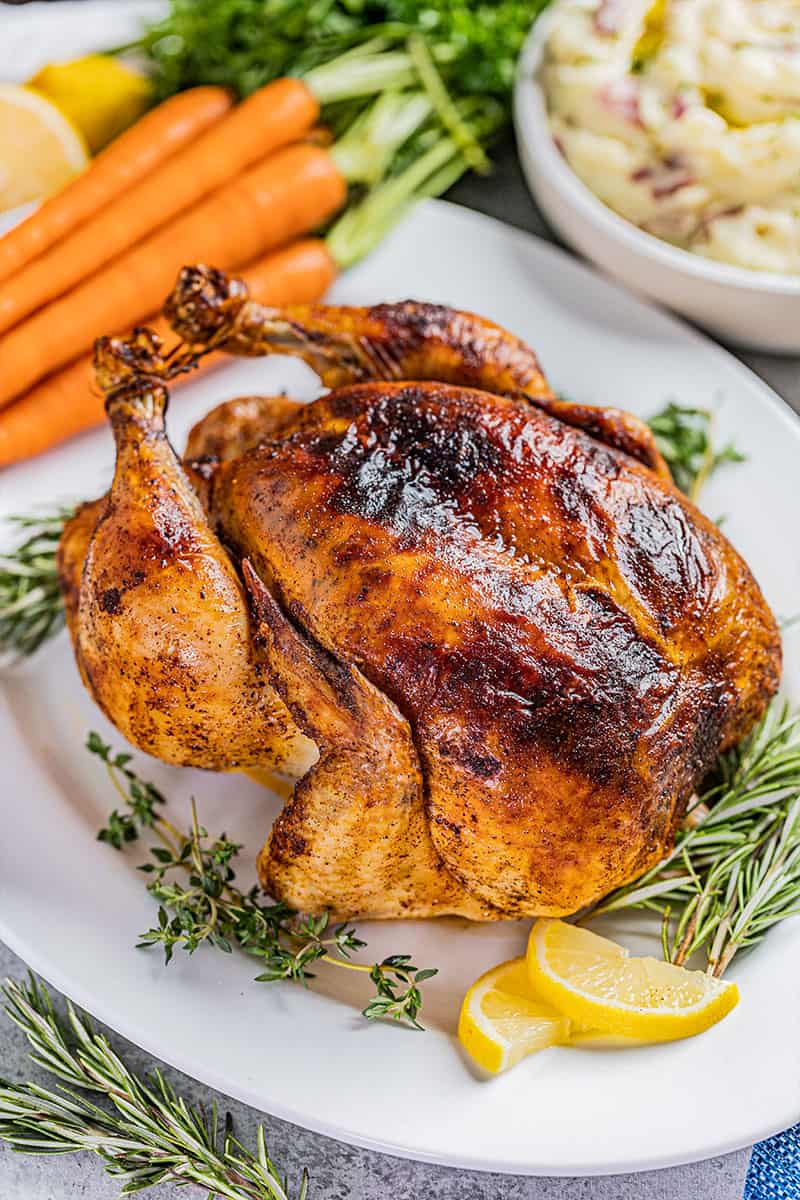 You've probably eyed those sale prices on whole chickens, but let's face it: cooking a whole chicken can be intimidating. It doesn't have to be! Sure, not everyone loves prepping the chicken and removing the neck and giblets, but that part only takes a minute or two, and then you are ready to go! The secret to the most flavorful, moist chicken is to place the seasoned butter under the skin. That amazing flavor will soak into the meat itself, and your skin will crisp right up. We promise, this is worth the effort.
Should I rinse raw chicken before roasting?
The CDC cautions home cooks to not rinse their chicken. We know, it's something our grandparents used to do. However, food health and safety has data showing we are increasing the risk of cross-contamination of food-born pathogens when we rinse raw chicken. The USDA tells us that those pathogens are killed during the cooking process, so we do not need to worry. We strongly encourage you to follow CDC and USDA guidelines to prevent illness.
Basting Roasted Chicken:
We know, so many of you are all about basting. In theory, it's a great idea. Unfortunately, you lose so much heat every time you open the oven door to baste, that we honestly do not recommend it. If you do decide to baste, do it as minimally, quickly, and safely as possible.
Letting Chicken Rest:
It is essential to let your chicken rest for a few minutes once removed from the oven. Letting it rest allows the juices to redistribute themselves back into the meat, giving you the juiciest roasted chicken ever!
How to carve a roasted chicken:
Once your chicken is cooked it's time to carve it. You can either carve it at serving, or you can remove all the meat from the bones for later use.
If you look at the breast there is a line running down the center. Place a sharp knife just to one side of that line and press down firmly. You'll hear ribs crack. Do the same on the other side as well and you'll be able to remove the center bone.
At this point you'll be able to fold open the chicken and see exactly where your knife needs to go to remove the breast meat in one swoop. Cool, huh? You'll be able to remove all the chicken fairly quickly.
Now don't throw away the bones quite yet. Either put them in the fridge or freezer and use them to make homemade chicken stock.
Serving Suggestions:
You can simply carve and eat your roasted chicken for dinner along with your favorite sides, or you can strip the meat completely off and store in the refrigerator or freezer. There are so many recipes that call for pre-cooked chicken, and we love to keep extra on hand to make meal planning quick and easy.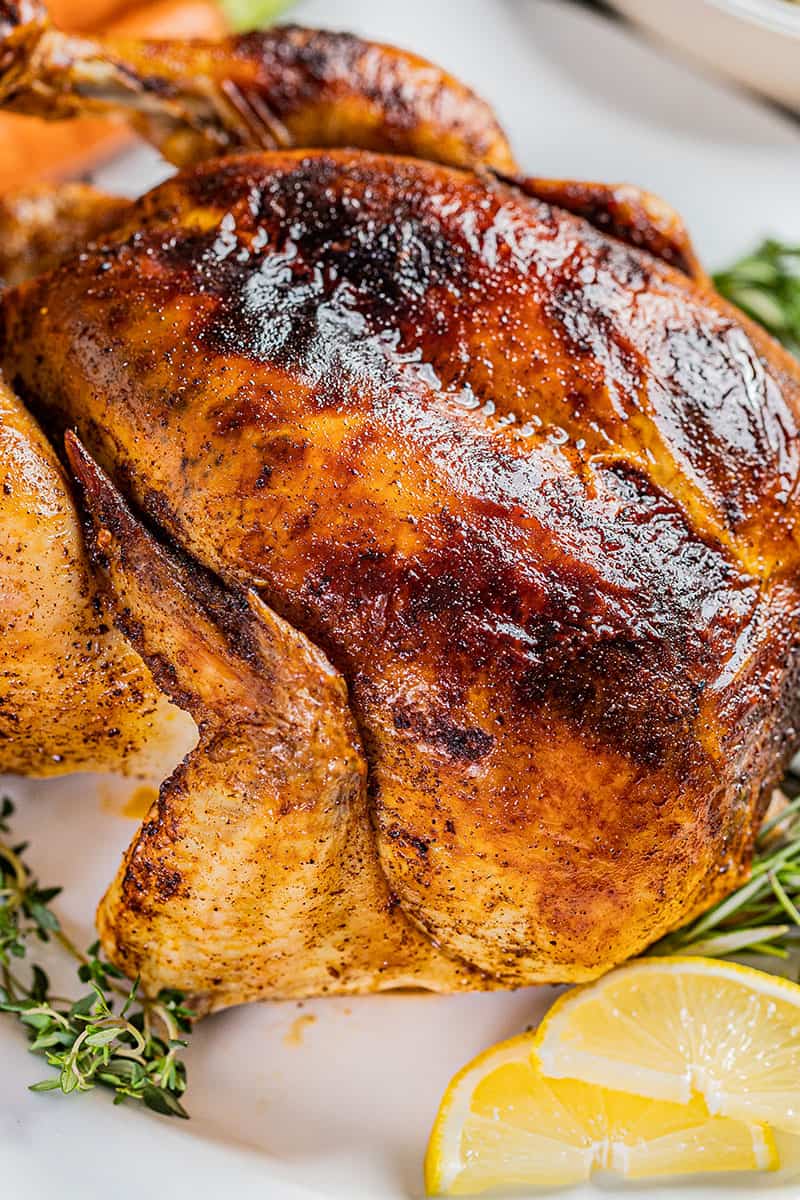 Storage and Reheating Instructions:
Store any leftover chicken in an airtight container in the refrigerator for up to 5 days. Reheat chicken either in an oven preheated to 350 degrees Fahrenheit, or in the microwave in 30 second increments until warmed through.
If you like this recipe, you may be interested in these other delicious roasted meat recipes:
Watch the video below where Rachel will walk you through every step of this recipe. Sometimes it helps to have a visual, and we've always got you covered with our cooking show. You can find the complete collection of recipes on YouTube, Facebook Watch, or our Facebook Page, or right here on our website with their corresponding recipes.