The Best Chicken Parmesan has the perfect fried, breaded coating and is smothered in marinara and fresh mozzarella cheese for ooey gooey classic comfort food perfection.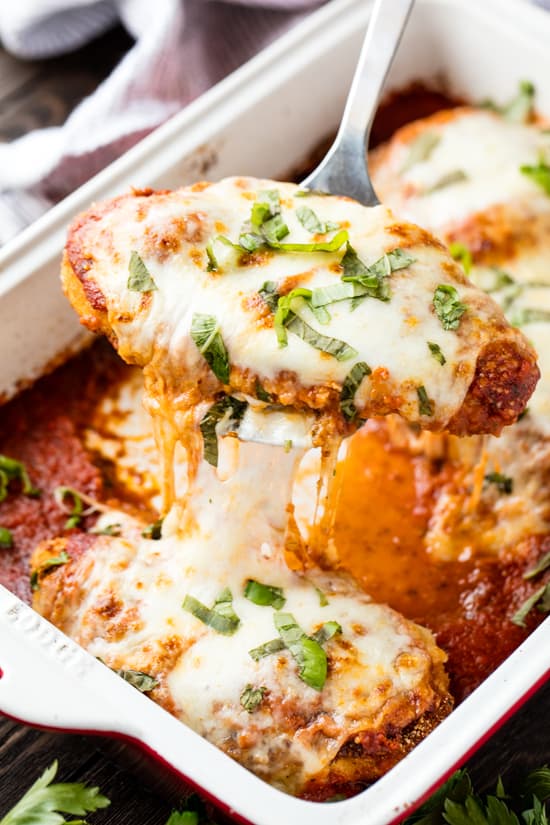 This recipe for a classic Chicken Parmesan is absolute perfection. You'll want to be sure to use thin chicken breasts for this. If the chicken breasts you purchase are not already thin (which so many are nowadays), use a mallet to pound out your chicken to an even thickness that's on the thinner side.
Next up in our recipe for comfort food perfection is the bread coating. It starts with a seasoned flour mixture, then gets dipped into beaten eggs, and finally rolled in seasoned bread crumbs. This recipe calls for a combination of panko bread crumbs AND regular dried bread crumbs. I find that it is the perfect combination to provide the ultimate crunchy combination. Be sure to use seasoned Italian style bread crumbs. If using plain, you'll need to add in 1 1/2 teaspoons of Italian seasoning to the mix.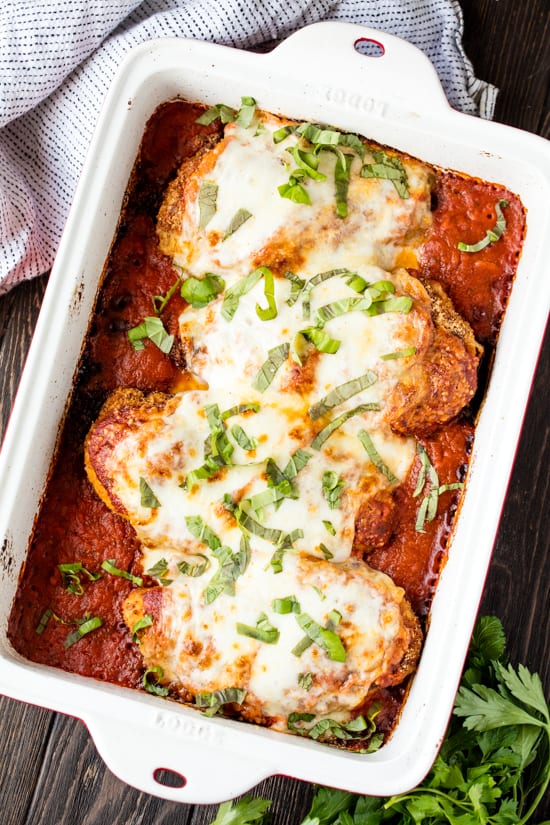 How do you keep chicken parmesan crispy?
If you want to give your chicken parmesan the ultimate crisp, wait to put the marinara sauce on until just before serving. This means that you will need to melt the mozzarella and parmesan cheese directly onto the fried chicken breast. Warm the marinara sauce before saucing the chicken for best results.
What kind of cheese do you use to make chicken parmesan?
Chicken Parmesan is made using a combination of mozzarella and parmesan cheese. Mozzarella provides the ooey gooey melted cheese factor, while parmesan adds a lot of flavor. For best results use both fresh mozzarella cheese and freshly grated parmesan cheese.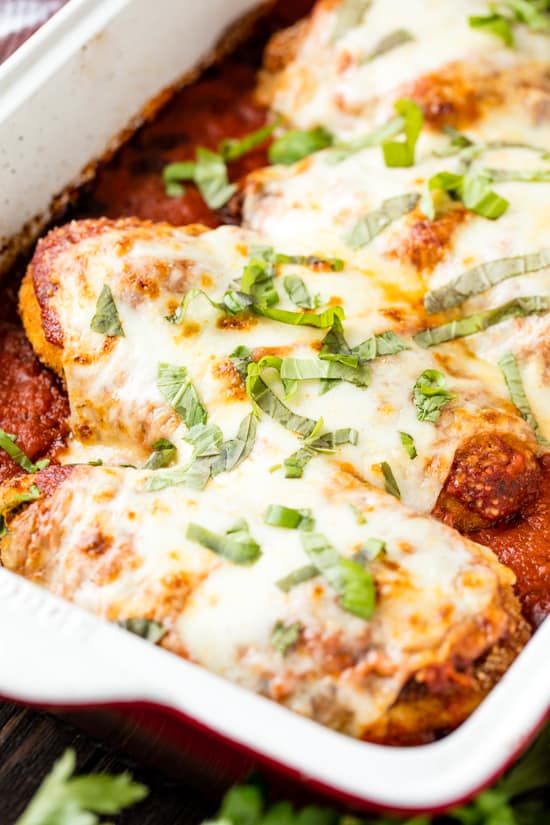 Chicken Parmesan Serving Suggestion
You can serve Chicken Parmesan on a bed of cooked pasta of any shape. Coat your pasta with a little olive oil or melted butter to keep it from sticking together. Add an additional cup of marinara to this recipe when serving over pasta so that you have enough sauce to coat the pasta. For a more flavorful pasta option, try my Quick Brown Butter Garlic Angel Hair Pasta.
You can also serve your Chicken Parmesan by itself with a side of roasted vegetables, like my Roasted Broccoli, or a side salad.
Watch the video below where I walk you through every step of the recipe for a visual reference.
Best Chicken Parmesan