Leg of lamb roasted with lemon juice and fresh garlic and rosemary, topped with a drizzling of sauce made from its own pan drippings and herbs. This is the best way to prepare lamb!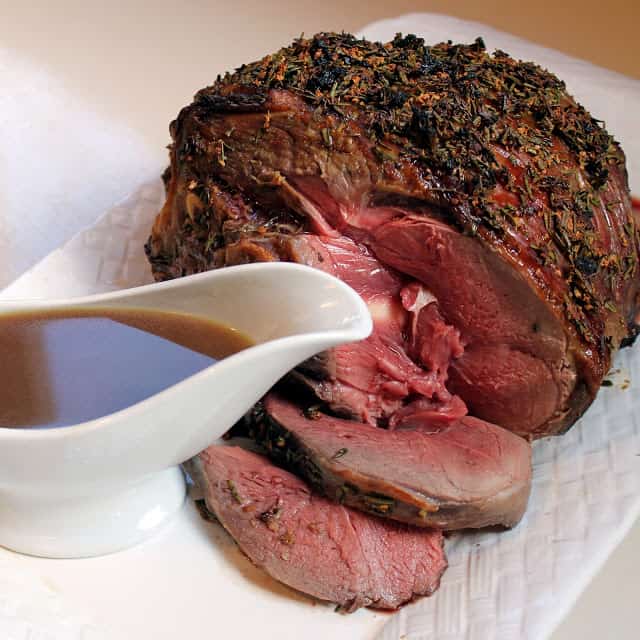 Lamb is a special treat. It is the under-rated red meat in the United States. We really should be eating more of it, because it is just so delicious! This lamb is a total crowd pleaser. It produces a succulently flavored meat, and the sauce…oh the sauce! It is packed full of flavor and really jus brings out all of the mild, delicate flavors of the lamb. Perfect for Easter, Christmas, or even just a Sunday supper.
Lamb is a nice tender meat because it comes from sheep that are less than a year old. The taste of lamb is affected a lot by what the animal eats. The most delicate lamb you can buy is milk fed, but most lamb you'll come across in the United States is finished on grain (like pretty much every other animal for consumption).
There are 5 different grades of lamb: prime, choice, good, utility, and cull. Prime is the highest quality, cull is the lowest.

Leg of lamb is best prepared by stewing, braising, or roasting.
How long should a leg of lamb rest?

No matter how you choose to cook your lamb, giving it time to rest is key if you want it to turn out well. This is because letting your lamb rest will help it become juicer, as well as allow it to finish some of its internal cooking. The FDA recommends that you let your lamb rest for a minimum of 3 minutes before slicing and eating. If you have the patience, you should wait 15 minutes. 15 minutes of rest gives lamb enough time for the inside to finish cooking and delivers the juiciest cut of meat you can get.

What temperature should a leg of lamb be cooked to?

The FDA recommends that you cook your lamb to an internal temperature of 145 degrees Fahrenheit, which is 63 Celsius. This will help ensure that all the harmful bacteria is killed and that it is safe for you and your family to enjoy.

What should I serve on the side of a roasted leg of lamb?

You should always consider mashed potatoes on the side of lamb, as well as some roasted brussel sprouts and garlic bread. This meal is sure to impress!
If you like this recipe, you may be interested in these other delicious main course recipes: