These Easy Baked Pork Chops only require only a few spices and 20 minutes to make them the most juicy and delicious pork chops ever. You are going to love them!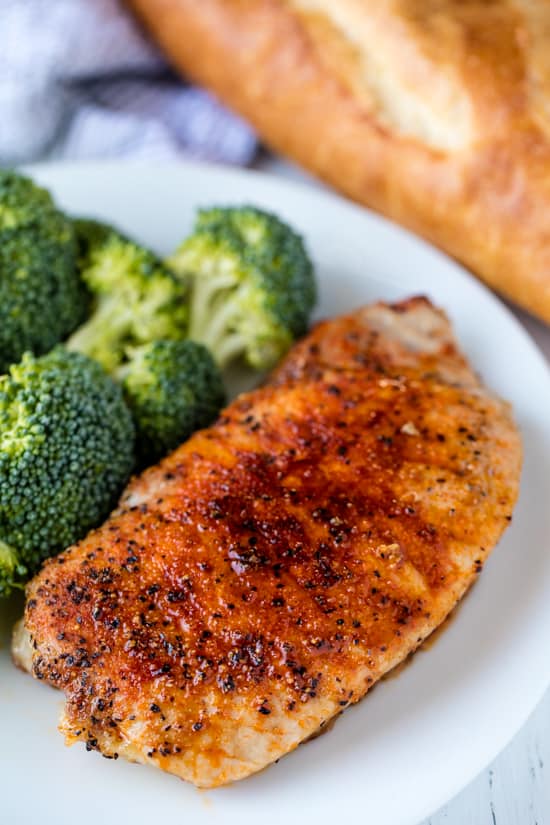 Pork chops are one of our great loves in the kitchen. Growing up, we didn't think it got any better than steak — but boy were we wrong! Now, we absolutely love a good steak, and a good steak certainly wins against a dry pork chop, but did you know that pork chops don't have to be flavorless and tough? When cooked right, their juiciness and flavor can rival any steak. We know you understand, because so many of you raved over our recipe for a Perfect Thick Cut Pork Chop. So, we thought it was about time to share an Easy Baked Pork Chop Recipe for those of you who prefer the boneless variety.
How thick of pork chops should I use?
You will have better results if you purchase pork chops that have been cut about 1-inch thick. This will help prevent your meat from drying out. There's nothing worse than a dry pork chop! Any thinner than 1 inch and you will most likely end up with dry, flavorless meat.
Baking Time:
The length of time you need to bake a pork chop depends on the thickness of your meat, and whether or not it has a bone. Searing your meat before baking will also impact the cooking time. A good rule of thumb is typically seven minutes of baking in a 400 degree Fahrenheit oven per half inch of meat, but if you sear your meat beforehand, reduce to five minutes of baking per half inch.
If your pork chop has a large bone, you may also need to add a few minutes to the cooking time.
What is a safe internal temperature for Easy Baked Pork Chops?
Pork needs to be cooked to an internal temperature of 145 degrees Fahrenheit.
Can I add veggies?
This pork recipe can easily be added to in order to create a one pan dinner. Toss some green beans or broccoli in some olive oil and salt and pepper, and surround the pork on your baking sheet to all cook together.
Resting Time:
For the juiciest pork chops, let your meat rest for at least 5 minutes before cutting into it.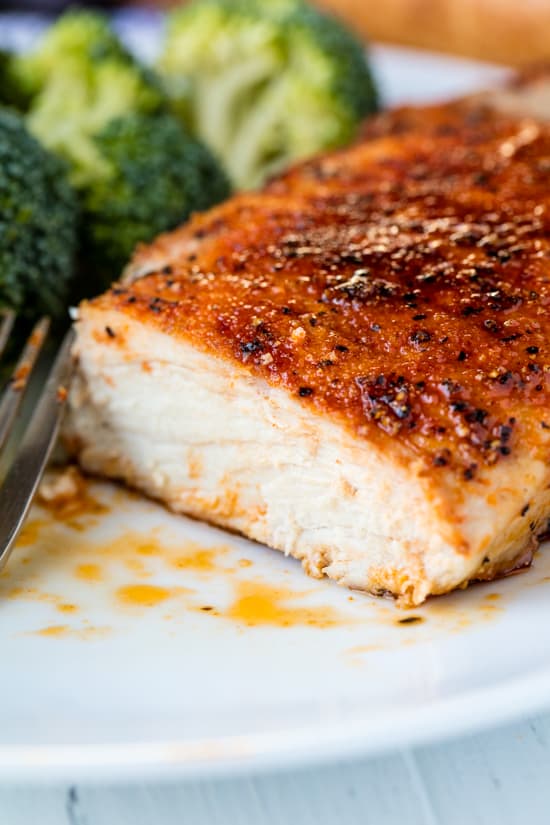 Storage and Reheating Instructions:
Store any leftovers in an airtight container in the refrigerator for up to five days. Reheat in an oven preheated to 350 degrees Fahrenheit until warmed through.
If you like this recipe, you may be interested in these other delicious pork chop recipes:
Watch the video below where Rachel will walk you through every step of this recipe. Sometimes it helps to have a visual, and we've always got you covered with our cooking show. You can find the complete collection of recipes on YouTube, Facebook Watch, or our Facebook Page, or right here on our website with their corresponding recipes.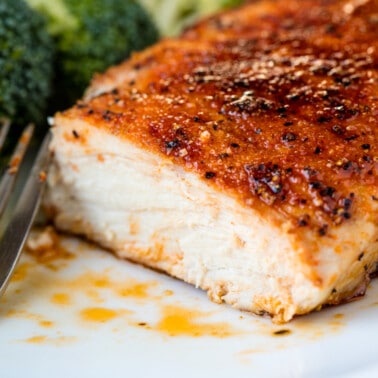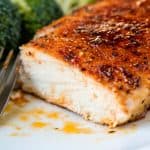 These Easy Baked Pork Chops only require only a few spices and 20 minutes to make them the most juicy and delicious pork chops ever. You are going to love them!
Instructions
Preheat an oven to 400 degrees F. Lightly grease a baking sheet.

Rub each pork chop with olive oil.

In a small bowl mix together salt, pepper, paprika, and onion powder. Season all sides of the pork chop with this mix. Place seasoned pork chops onto the prepared baking sheet.

Bake in the preheated oven for 15 to 20 minutes, or until pork chops reach an internal temperature of 145 degrees F (which will depend on how thick the pork chops are).Serve hot.
Notes
*Some people are concerned about the amount of salt. If you are sensitive to salt, or on a low sodium diet, reduce the amount of salt and add more to taste when serving.
Nutrition
Calories:
335
kcal
|
Protein:
29
g
|
Fat:
23
g
|
Saturated Fat:
5
g
|
Cholesterol:
89
mg
|
Sodium:
1228
mg
|
Potassium:
511
mg
|
Vitamin A:
245
IU
|
Calcium:
9
mg
|
Iron:
0.9
mg