Italian antipasto salad is filled with marinated vegetables, spicy salami, creamy mozzarella, and two types of olives to bring you a tangy and fresh side dish! Don't underestimate the homemade Italian dressing – it's delicious!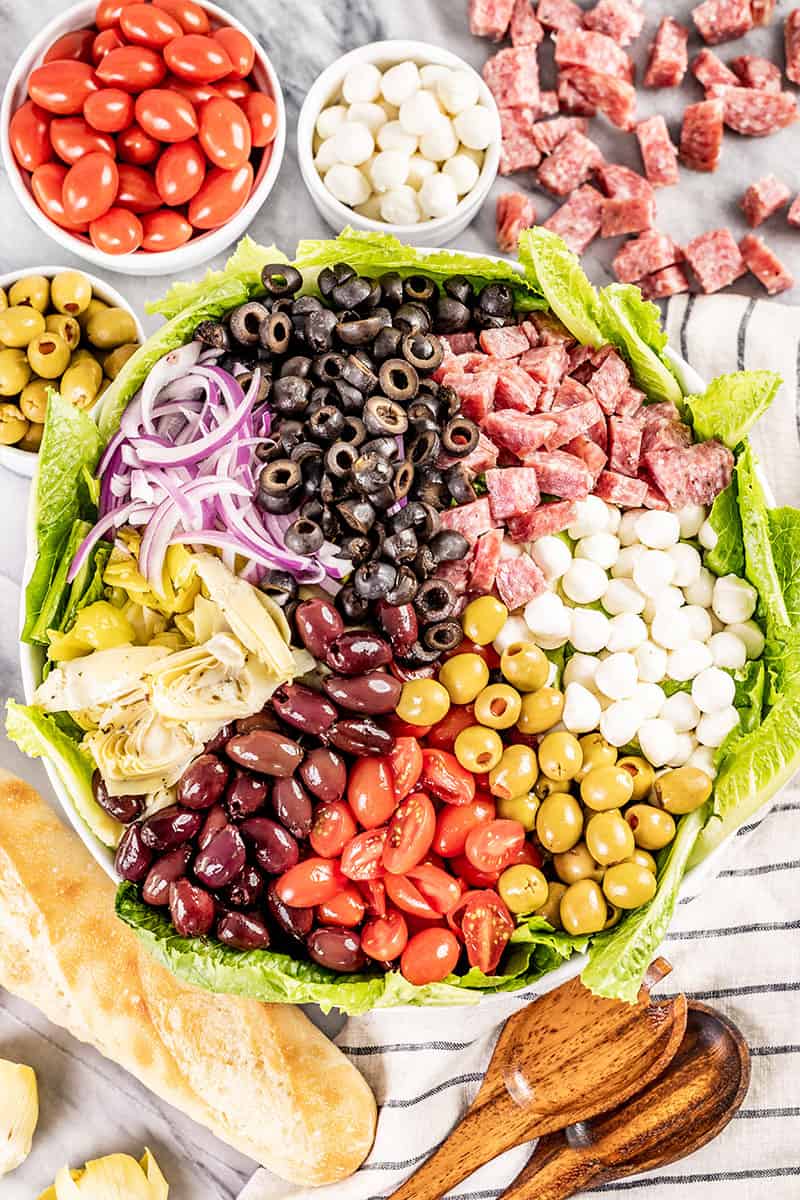 Antipasto is a traditional Italian dish that is typically served as an appetizer before the first course. You've likely even seen it on the menu at Italian restaurants, but perhaps haven't given it a try. We decided to try our hand at it, and the results were simply delicious! You can serve it as a side dish or appetizer, or you can even bulk it up with pasta to make it an entrée! It's refreshing, surprisingly filling, and perfect for sharing. Our special homemade Italian dressing takes everything up a notch. Create this antipasto salad recipe for yourself, your family, or for your next gathering — it's sure to be a hit.
Why Do They Call it Antipasto Salad?
As mentioned, antipasto is a traditional Italian dish. It has been around for centuries, and Italians continue to enjoy it today! Literally, the word "antipasto" is derived from the Latin root "anti" which means "before" and "pastus" which means "meal." Translation? The "antipasto" course simply refers to the dish that precedes all others. Now you know!
What's the Difference Between Antipasti and Antipasto?
Antipasti is simply the plural form of antipasto! You'll also sometimes see "antipasta" floating around, which is an informal way of referring to antipasto. It could also mean "before the pasta." Stick with antipasto and you can't go wrong.
Should This Dish be Served Cold?
We recommend that you store your salad in the fridge for about 1 hour before serving it. We love this dish served cold!
Salad Variations
We opted to serve our salad over a bed of lettuce for a light lunch or appetizer. You can also serve it over pasta for a heartier dish. That way, you can serve it as a side or even as an entrée! The choice is yours.
Cheese Options:
We love making our Italian antipasto salad recipe with fresh mozzarella cheese — we always go for the pearls in these types of dishes. That said, you can use something different or a combination of a few kinds of cheese:
Provolone
Asiago
Gorgonzola
Parmesan Reggiano
Fontina
Meat Options:
Some antipasto variations use multiple types of meat. We've decided to keep things simple and stick to salami. You can replace it with something else or you can use a few different varieties together:
Prosciutto
Coppa
Pepperoni
Capicola
Ham
You can also add some anchovies to your antipasto salad if you like them!
Can I Make This Dish Vegetarian?
Definitely! Simply remove the meat and you've got yourself a vegetarian antipasto salad recipe. You can replace it with chickpeas or bulk up your salad with even more veggies. Refer to the list below for some ideas!
Vegetable Options:
You can load up your Italian antipasto salad with even more vegetables if you'd like. Here are some of our favorites:
Marinated mushrooms
Roasted red peppers
Chopped asparagus
Baby spinach
Fresh bell peppers
Cucumber
Serving Suggestions:
Whether you serve this antipasto salad as an appetizer or a side dish, you're probably wondering what to pair with it. Here are some ideas:
Make-Ahead Instructions:
If you want to save on time you can make your antipasto salad ahead of time. 1-2 days before you plan on eating, chop all of the ingredients and mix up your salad dressing in a sealed jar. You can put the salad together about an hour before you plan on serving it so that it has time to chill.
Storage Instructions:
You can store leftover Italian antipasto salad in an airtight container in the fridge. If possible, store the dressing separately as it could cause the rest of the ingredients to become soggy. It will keep for 4-5 days.
If you like this recipe, you may be interested in these other delicious salad recipes: