Crab Stuffed Mushrooms are the perfect easy appetizer to serve at your next party. They are simple to make, but impressive enough to serve guests.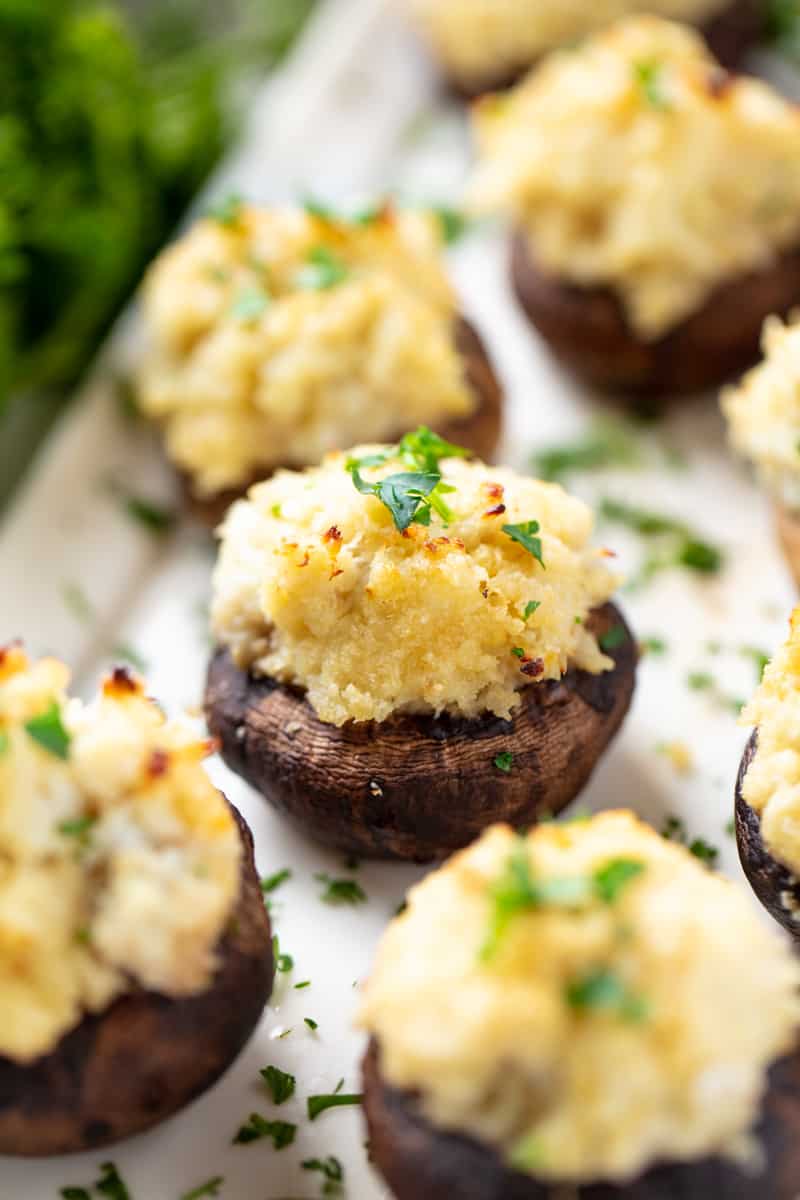 Crab stuffed mushrooms are one of those foods we wouldn't dare have tried as kids, and boy were we ever missing out! As we got older, we learned just how delicious these are! However, they always seemed so fancy, that we only got to enjoy them at parties. Who really makes stuffed mushrooms anyway? These days, it's us. We are now those people who love to bring the best of the best to any party we attend, because everyone will be talking about it. Not to mention, we get to snack on them while baking. It's a win-win! Bring these to your next party, or simply stay in and snack on them all night long. Either way, you're going to love them!
How long do you cook Crab Stuffed Mushrooms?
Depending on what you stuff the mushrooms with and what temperature you cook them at the time will vary. Because these mushrooms are stuffed with delicious crab meat they will need 15 minutes of cook time in a 375 degree Fahrenheit oven.
Imitation Crab Meat vs. Fresh Crab:
There are generally two kinds of fresh crab sold: lump crab meat, and lump claw meat.
Lump claw meat tends to be far less expensive and still creates a tasty crab cake. It can be sold in a refrigerated can or in plastic bag packaging. You can also buy it at the seafood counter of your grocery store. 
Lump crab meat is also sold in the canned section of your grocery store near the tuna, but it is not considered fresh. It is not recommended for this recipe.
Imitation crab can also be used in this recipe if you are trying to save money. But nothing beats real, fresh crab. Imitation crab meat is usually made out of cheap pollock fish with a wide list of fillers in it as well. That being said it does come down to personal taste so if you really love imitation crab, or just don't want to break the bank, go ahead and try this recipe with it.
Make Ahead Instructions:
Whip these up and then just pop them into the refrigerator for up to 24 hours. This makes these the perfect appetizer for your next party as you can make them the day before and spend the day of the party getting your house ready. Pop them in the oven just before you are ready to serve.
Storage Instructions:
Crab stuffed mushrooms are best eaten fresh. You can store leftovers in an airtight container in the refrigerator for up to 48 hours after serving. Reheat in the microwave in 30 second increments until warmed through.
If you like this recipe, you may be interested in these other delicious appetizer recipes:
Watch the video below where Rachel will walk you through every step of this recipe. Sometimes it helps to have a visual, and we've always got you covered with our cooking show. You can find the complete collection of recipes on YouTube, Facebook Watch, or our Facebook Page, or right here on our website with their corresponding recipes.