Traditional Pasta Puttanesca is a classic Italian pasta recipe full of briny Mediterranean flavors. You're going to love this 30-minute meal!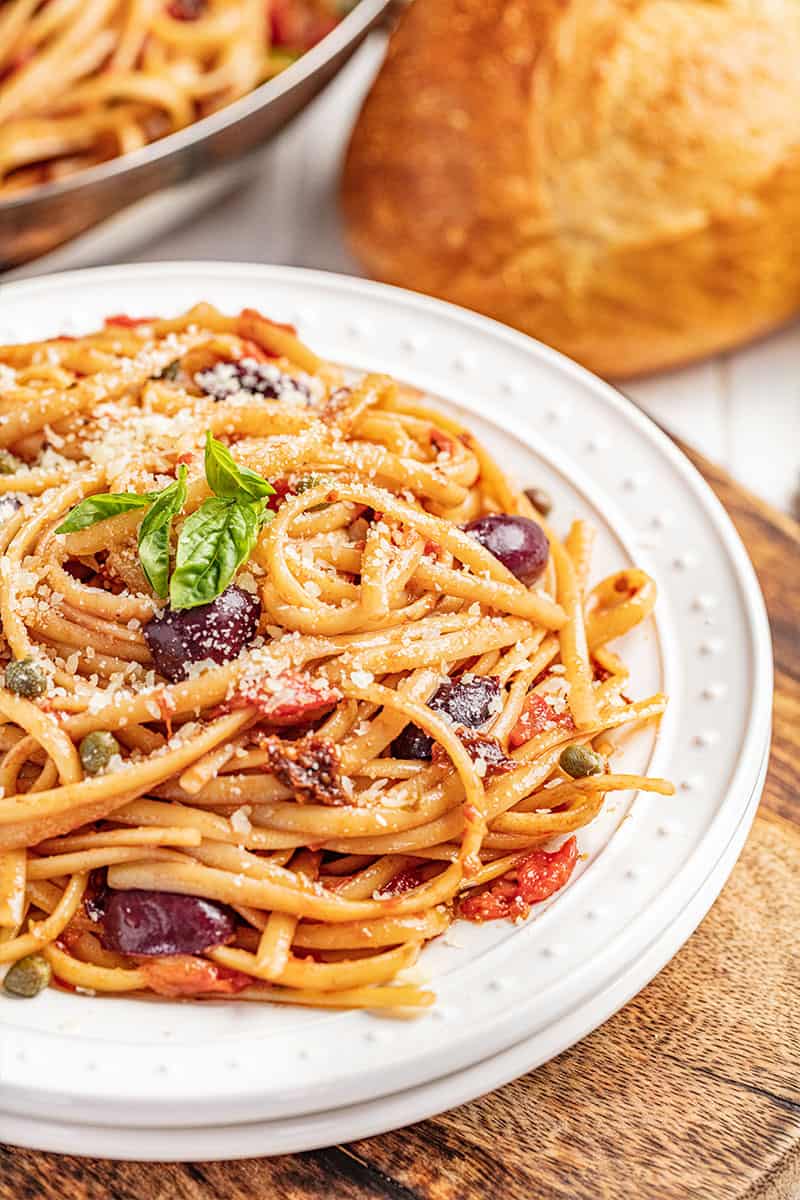 We are head-over-heels in love with pasta puttanesca over here at The Stay At Home Chef, yet that wasn't always the case. You see, anchovies always felt just out of our culinary reach. What do you even do with those teeny tiny filets? Well, we eventually conquered our anchovy fears and we are now here to hold your hand through this process. We promise, it is worth trying a new ingredient when the end result is this good.
Salt Content:
Pasta puttanesca doesn't need hardly any salt added due to the salt content in the brined capers and olives. Be sure to taste your sauce before adding any salt to this dish, to not overdo it.
Anchovies:
Trust us, you do not want to leave the anchovies out. You will want to chop your anchovies finely because they are filled with tiny bones. Due to being packed in oil, those bones are soft and you do not need to remove them.
If you want to reduce possible waste of unused anchovy filets, you can also substitute with 3 tablespoons anchovy paste.
Olive Options:
We love Kalamata olives, but you could really use any black olives in this recipe. To make this as quick and easy as possible, make sure you purchase pitted olives. Otherwise, you can always remove the pit yourself. You can either use a cherry pitter, or simply use a chopstick to push the pit out.
Pasta Options:
We call for linguine in this recipe, but you could really use any long-style pasta: spaghetti, angel hair, and fettuccine would all go really well in pasta puttanesca.
Fresh Tomatoes for Pasta Puttanesca?
You absolutely can use fresh tomatoes! We reach for the canned, diced tomatoes in pasta puttanesca due to the sheer amount of tomatoes needed! 28 ounces of diced tomatoes would make for a lot of work dicing. If you choose to use fresh tomatoes, you will need 10-12 whole tomatoes, diced, or about 2 pounds.
Make Ahead Instructions:
To save time in the evening, you can make the sauce up to 24 hours ahead of time. Simply follow the written instructions through Step 3. Once your sauce has simmered for 15 minutes, remove from heat and let cool slightly before placing in an airtight container in the fridge. When you are ready to prepare your dinner, bring your sauce back to temperature on the stovetop over medium-low heat and continue on with Step 4 of the recipe.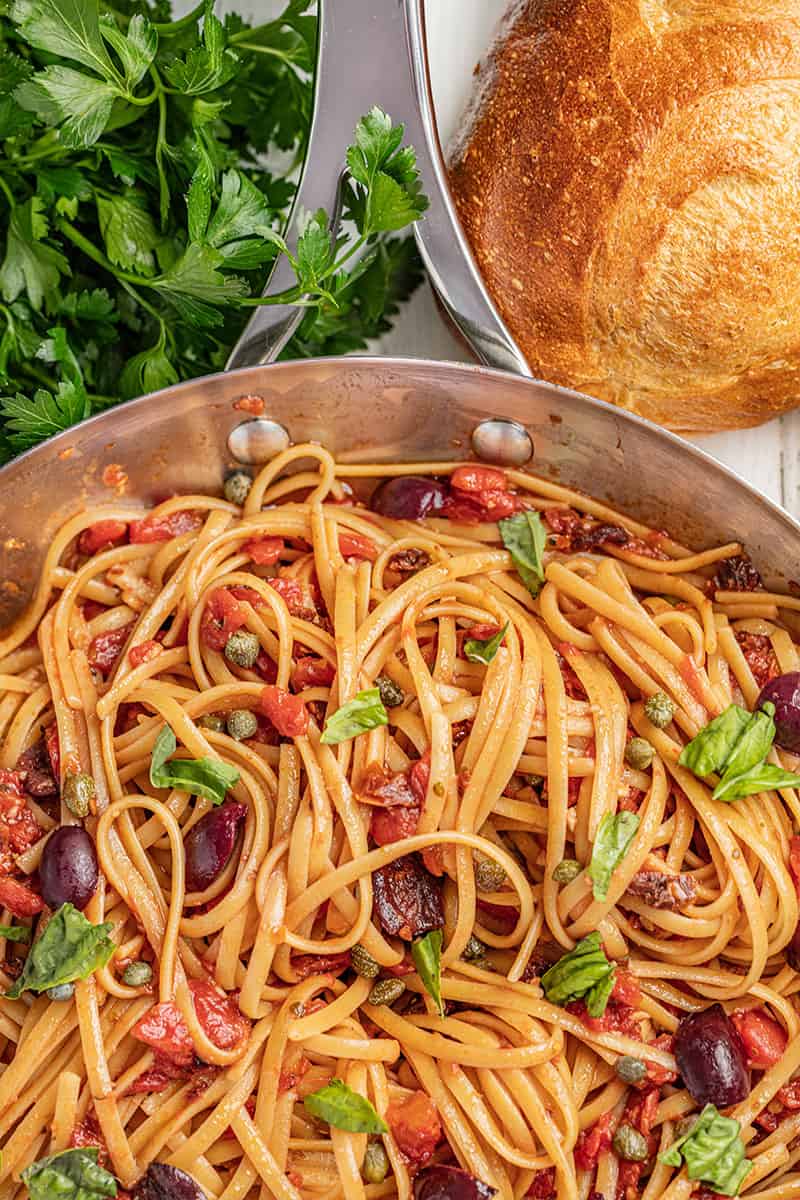 Storage and Reheating Instructions:
Store any leftovers in an airtight container in the fridge for up to 4 days. Reheat on the stovetop in a skillet over medium-low heat until warmed through. Add water, 1 tablespoon at a time, as needed to thin out the sauce.
If you like this recipe, you may be interested in these other delicious pasta recipes: