This Zesty Focaccia Bread is a thick, airy, flat Italian bread that can be topped with some savory ingredients and will be your new garlic bread or roll substitute. Seriously delish!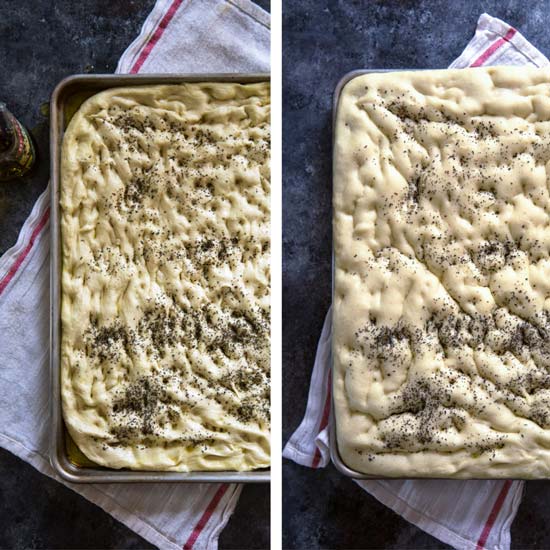 What's better than homemade bread? How about this Amazingly Easy Zesty Focaccia Bread! Perfect for snacking, as a appetizer, served with soups, salads and when split down the middle, is a great way to shake up your sandwich making skills.
Special thanks to Rachel for letting me contribute here on The Stay at Home Chef today. My name is Kevin and you can find me over at Kevin Is Cooking.
Whether in the kitchen or on the grill, you'll find me making quick mid-week meals, comfort food goodness and tasty desserts. Inspired by an international pantry, I'm passionate about making delicious meals that are sometimes health conscious and sometimes indulgent—because life's too short to be bland!
Which brings me to this bread. It's crispy on the outside and light and fluffy on the inside. A different one to feed a crowd and a great substitute instead of the go-to garlic bread or dinner roll.
With only six ingredients to make the dough and 5 minutes of kneading time in a mixer, this is some pretty easy bread to make.
This is a fun recipe to make with the kids, too! Once the dough has risen you get to punch it down and spread it out in a baking sheet with edges or a jelly roll pan. Using your hands begin pressing it out to fit the size of the pan, spreading your fingers out and making finger holes all the way through the dough. Let it rise once more and top with either just some coarse sea salt, or like I did here, and then bake.
I decided to use some marinara I had on hand and spread that all over the dough. A handful of sliced olives, Italian seasoning, parmesan cheese and pine nuts made this a fantastic snack for friends at a recent gathering.
Think of this as a lazy way to have some bread on the table without having to make individual rolls. Like sheet pan, bar cookies, no individual scooping here.
Just spread that oily dough out in the pan and stretch it. Poke holes in it. It's what makes those lovely nooks and crannies.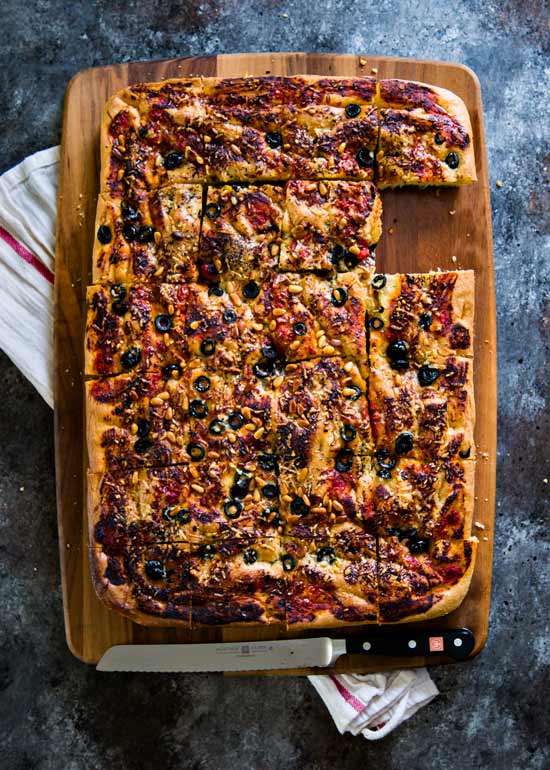 This is also perfect for making sandwiches, too.
I like to cut the bread horizontally in the middle and load it up with all the fixings.
This would even be great served alongside Rachel's Super Easy Olive Oil Pasta, Lasagna Stuffed Chicken or Italian Stuffed Chicken. I hope you give this a try and enjoy!
To see how to make my Amazingly Easy Zesty Focaccia Bread, watch the video below!