This Skillet Steak Dinner is an all in one recipe that not only teaches you how to cook the perfect steak, but adds in asparagus and mushrooms to make it a complete one skillet meal.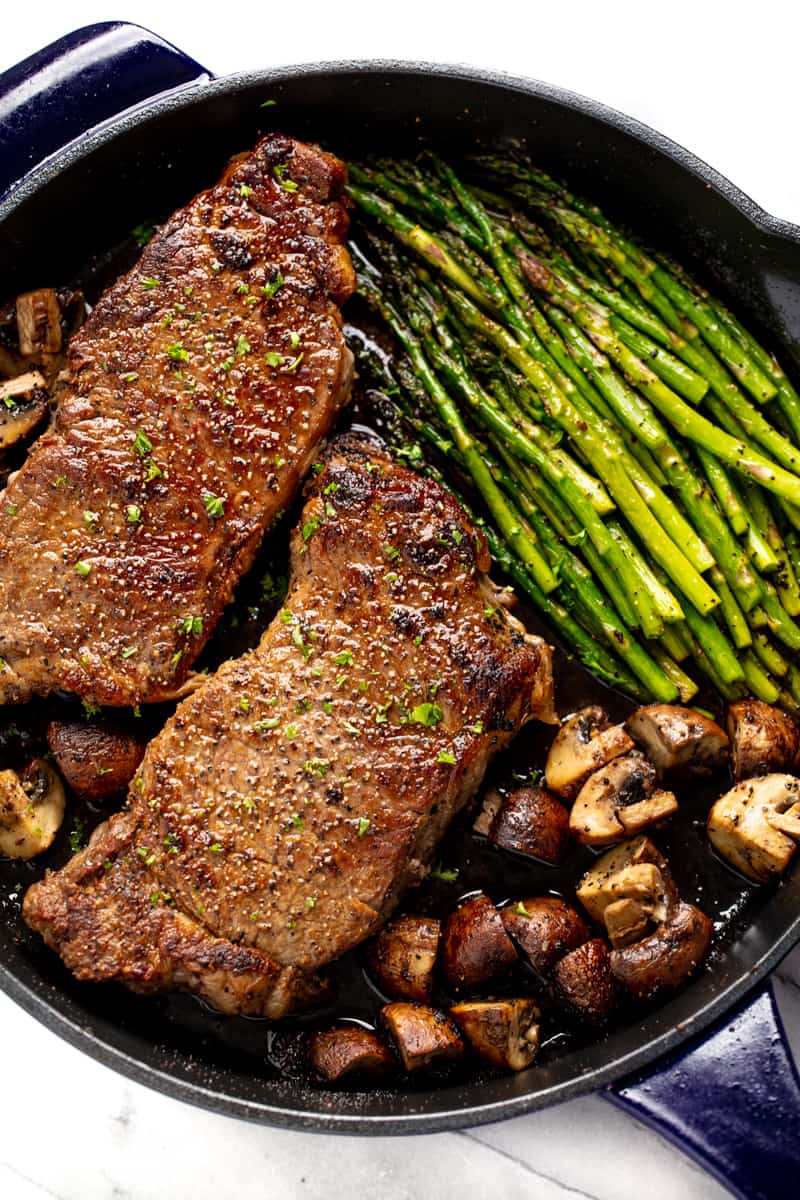 What if I don't have a cast iron or oven safe skillet?
If you do not own a cast iron or oven-safe skillet you can still make this recipe, but it will require more dishes and a little bit more time. What you will need to do is sear the steaks and the vegetables in a skillet, just as the recipes call for. Then transfer all the ingredients to an oven-safe dish (like a sheet pan) to finish cooking in the oven.
What cuts of steak can I use in this recipe?
The steaks in the photo and video for this recipe are New York strip steaks. This recipe can also work with other cuts of steak like rib eye, filet mignon, and sirloin steaks. Just be sure that the steaks can fit into your pan.
What if you want your steak to be well done?
To get the best mouth-watering steak it is recommended to cook your steak to medium rare, but we also understand that many people prefer a well-done steak. To get a well-done steak cook the steak until the internal temperature reads 150 degrees F.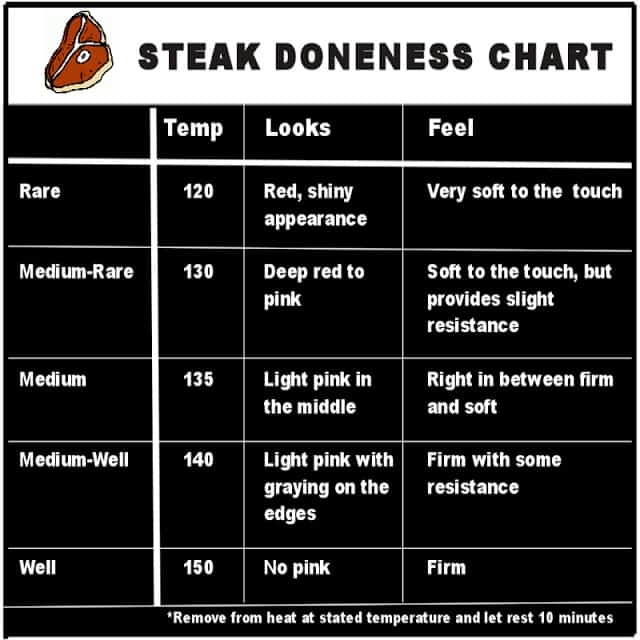 What are the different grades of beef?
There are three grades of beef steak that you will find in a US supermarket: Select, Choice, and Prime. Within each of these grades there is also a range of quality as well. Select is generally the grade of sale-priced, or advertised meat. Select grade is just above what the USDA deems edible. So if you buy Select grade meat, don't be surprised when it isn't that great. It will always be worth it to pay the extra money per pound for the Choice grade. If it is choice grade, it will be advertised as such and marked somewhere on the label or packaging. If your supermarket carries Prime grade, lucky you!
Pro Tip: Buy Choice or Prime Grade steaks for best results.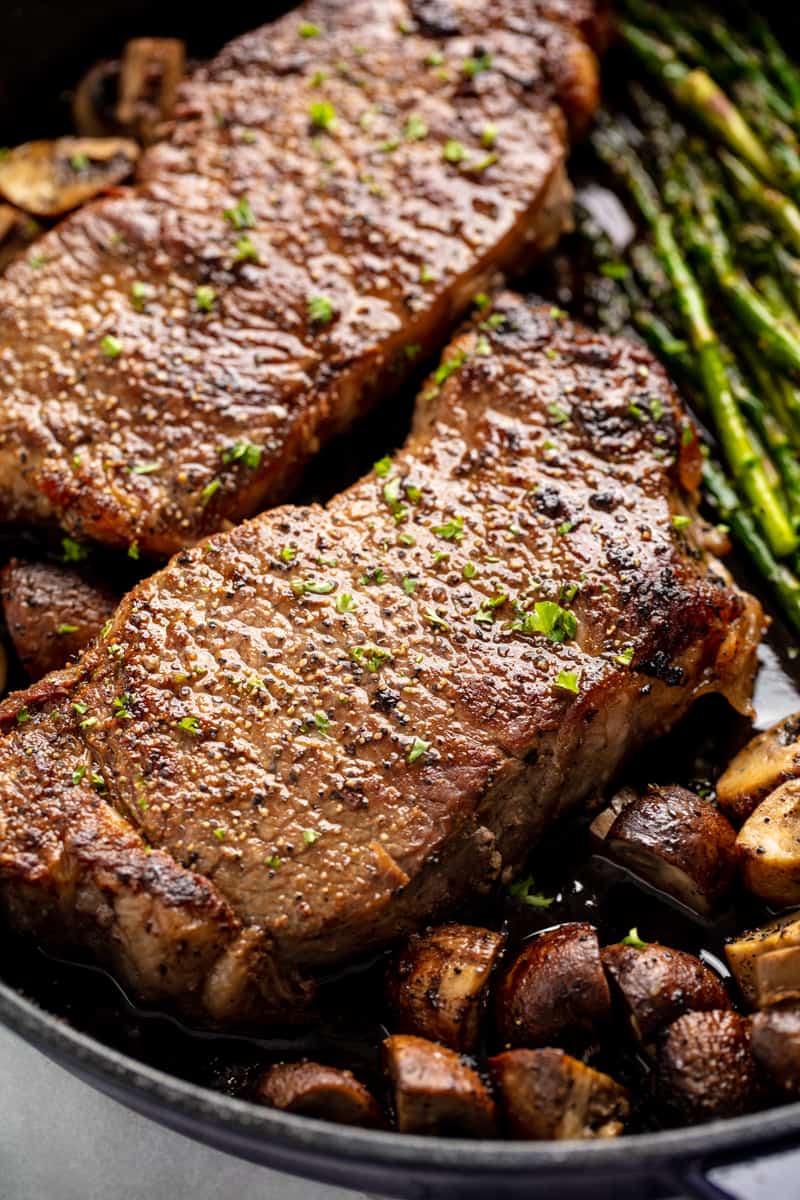 If you like this recipe, you may also be interested in these other delicious beef recipes:
Watch the video below where Rachel will walk you through every step of this recipe. Sometimes it helps to have a visual, and we've always got you covered with our cooking show. You can find the complete collection of recipes on YouTube, Facebook Watch, or our Facebook Page, or right here on our website with their corresponding recipes.
Skillet Steak Asparagus and Mushrooms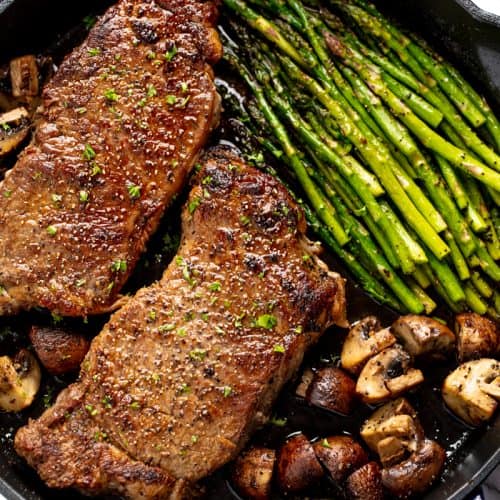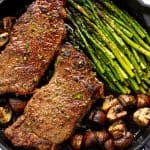 Ingredients
2

New York Steaks

2 inches thick

1

teaspoon

salt

1/2

teaspoon

black pepper

1/2

teaspoon

white pepper

1/2

teaspoon

onion powder

1/2

teaspoon

garlic powder

1

tablespoon

vegetable oil

2

tablespoons

butter

divided

4

ounces

mushrooms

quartered

1/2

pound

asparagus

trimmed

Additional salt and pepper to taste
Instructions
Remove steaks from refrigerator and any packaging and let sit at room temperature for at least 30 minutes.

Combine the salt, peppers, onion powder, and garlic powder in a small bowl. Rub both sides of each steak with the rub mixture.

Preheat oven to 375 degrees. Preheat a heavy, oven-safe skillet over high heat until it is smoking hot. Add in 1 tablespoon canola oil and 1 tablespoon butter. Sear steaks in the hot pan for 2-3 minutes per side. Turn the steak onto its side and render the fat by searing it for 2-3 minutes as well. Remove steaks from pan and set aside briefly.

Add in remaining butter Add in mushrooms and and asparagus. Season both with salt and pepper and toss in the oil and butter over medium-high heat for 2 minutes. Scoot to the side and return the steaks to the pan.

Slide the skillet into the preheated oven to finish cooking, about 10-15 minutes for medium rare. Use a meat thermometer to ensure accuracy.