Learn how to cook steak perfectly every single time with this easy to follow recipe where steak is seared in a skillet on the stove and finished in the oven.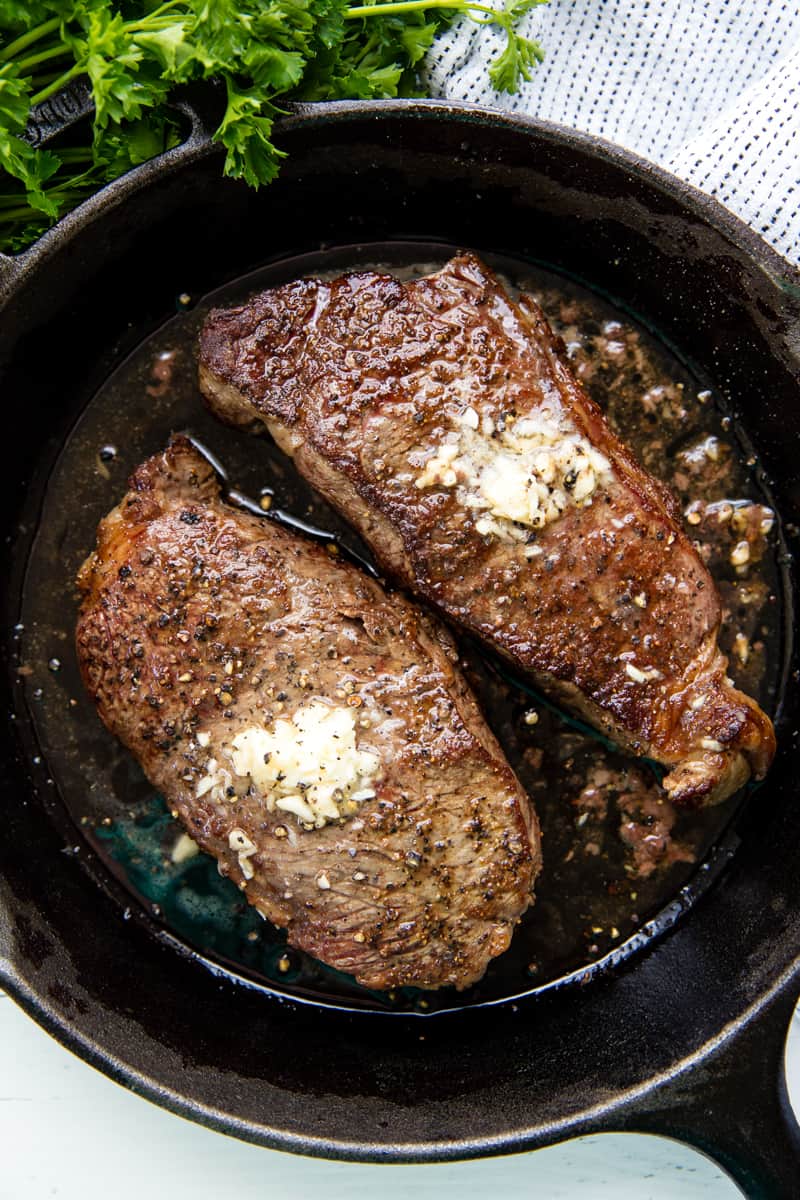 What are the different grades of beef?
There are three grades of beef steak that you will find in a US supermarket: Select, Choice, and Prime. Select is generally the grade of sale-priced, or advertised meat. Select grade is just above what the USDA deems edible. So if you buy Select grade meat, don't be surprised when it isn't that great. It will always be worth it to pay the extra money per pound for the Choice grade. If it is choice grade, it will be advertised as such and marked somewhere on the label or packaging. If your supermarket carries Prime grade, lucky you!
Buy Choice or Prime Grade steaks for best results.
What temperature should steak be cooked to?
Whether you like your steak practically raw on the plate, or dry as a bone, this steak doneness chart should help you out. The chef's standard level of doneness is medium-rare. At this point it will be tender, juicy, and if you do it just right the steak will melt in your mouth. With practice you can tell how cooked a steak is just by feel alone. Every steak has a different cooking time due to varying thicknesses of the cuts. Be wary following anything that tells you a cooking time rather than a temperature. Use an instant read meat thermometer for the most accurate results.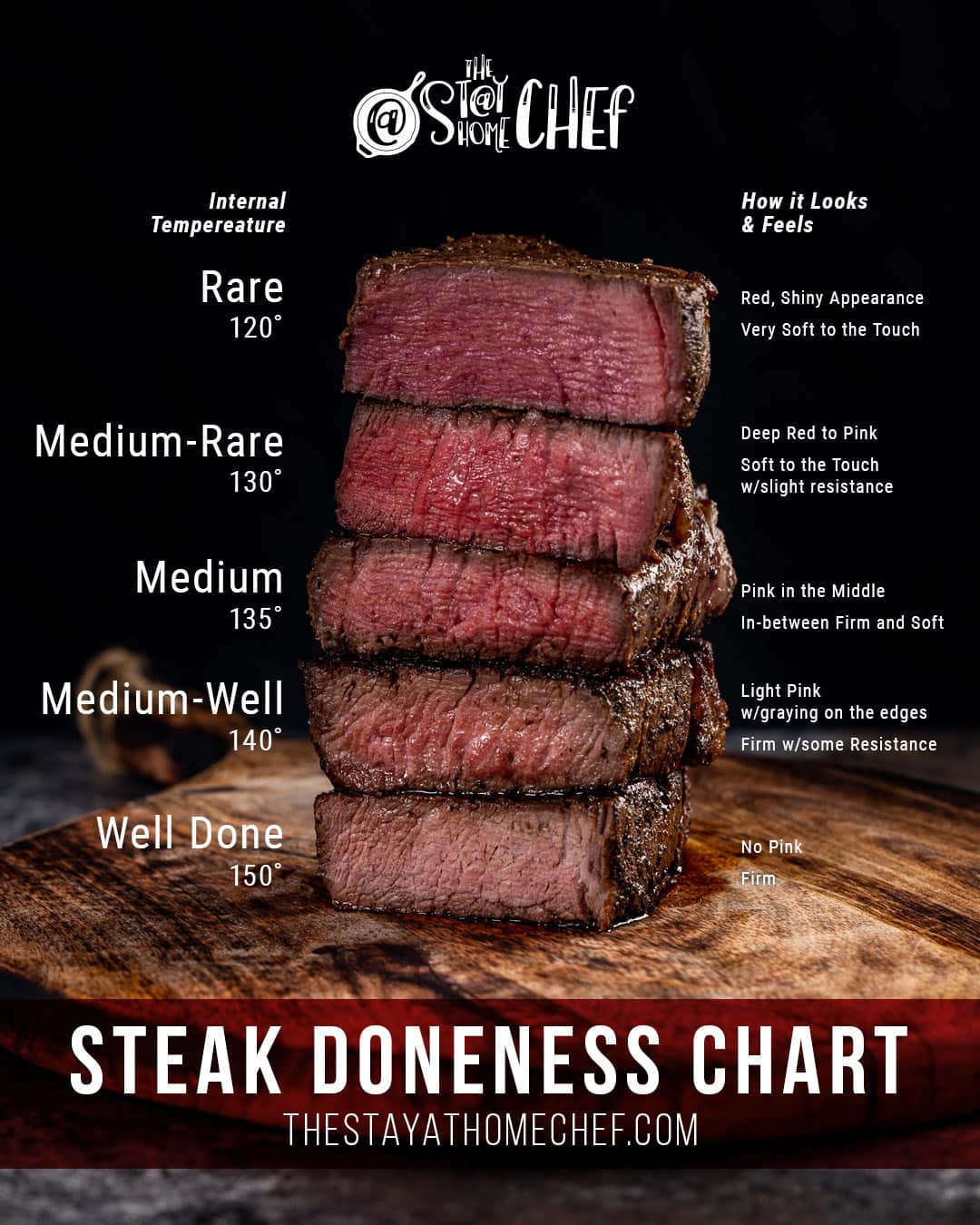 What cut of steak should I use?
What cut of steak you make depends on what you like in a steak. There are 5 main steak options, each a little bit different in their texture and tenderness.
Porterhouse and T-Bone Steaks
What is it? Porterhouse and T-Bone steaks are similar cuts of beef that come from the short loin. These cuts both have a T-shaped bone in the middle and contain two different pieces of meat: tenderloin and strip steak. Porterhouse steaks are cut from the rear end of the short loin and contain a larger portion of the tenderloin, while T-Bone steaks are cut from the front end and contain a smaller portion of the tenderloin.
Why use it? This steak gives you two different steaks in one! One side is super meaty, the other tender. The bone in the middle keeps things cooking evenly.
Ribeye Steak
What is it? Ribeye is a beef steak that is cut from the rib area, between ribs six through twelve. It is a flavorful, marbled piece of beef that yields a very tender result when cooked hot and fast. You can buy both bone-in and boneless ribeye steak.
Why use it? The marbling of fat in this steak yields a melt-in-your-mouth steak when cooked correctly. The bone-in variety will help the steak cook more evenly. This is a fattier cut of steak that pickier eaters might not appreciate.
New York Strip Steak
What is it? New York Strip steak is a lean cut of beef from the short loin area. It is one side of the porterhouse or T-bone steak and is always served boneless.
Why use it? This is a lean cut of beef steak with little fat. It is an excellent choice for mass appeal.
Top Sirloin Steak
What is it? Top Sirloin comes from the back area continuing off the short loin area. Top sirloin has bones and the bottom round muscles removed.
Why use it? This is a less expensive cut of steak that can still yield a tender and flavorful result. This cut of steak is best suited for marinating and is a more budget conscious steak option.
Filet Mignon
What is it? Filet mignon comes from the small tip portion of the tenderloin.
Why use it? This is the most tender piece of beef steak and is still quite lean. It is a pricey option, but the resulting melt-in-your-mouth tenderness is unparalleled.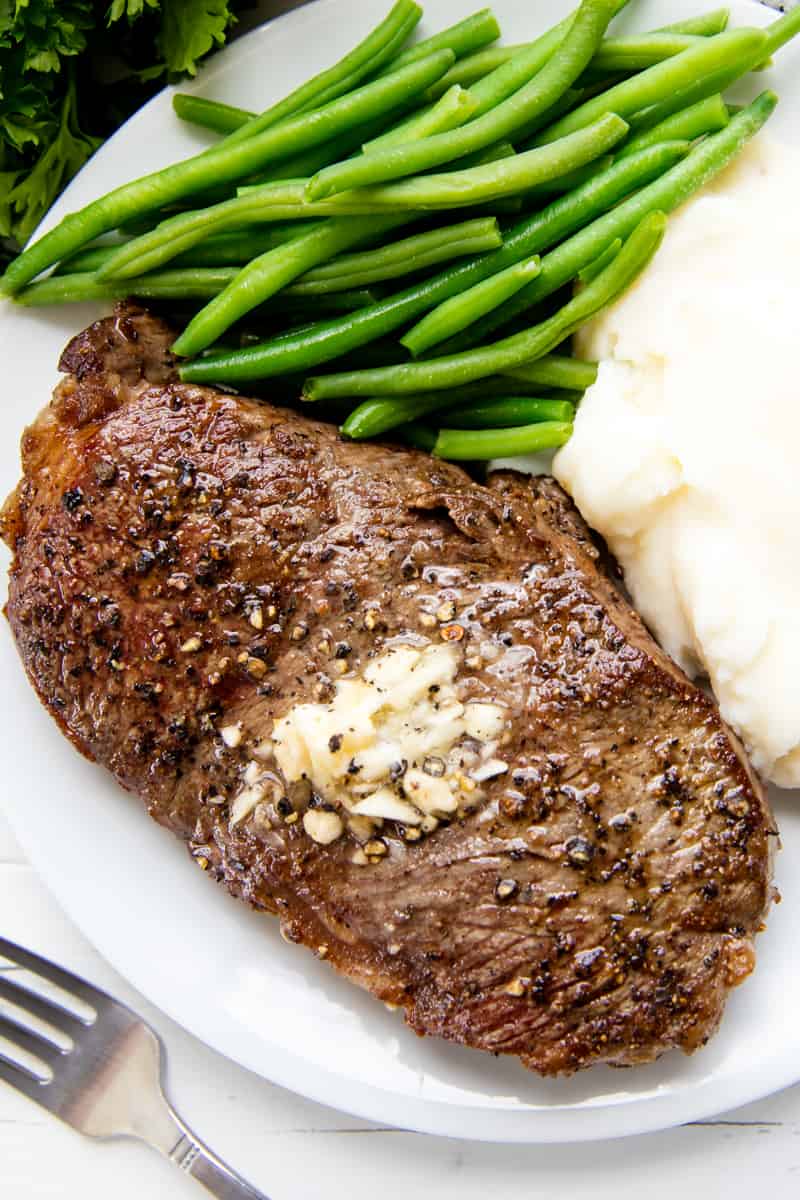 Bone-in vs Boneless Steaks
There is an endless debate amongst foodies about whether steaks are better bone-in or boneless, or whether or not it matters at all. Those who advocate for bone-in say that the flavorful marrow from the bone will seep into your meat while cooking, giving you a more flavorful result.
Bone-in DOES impact the cooking time of your steak. The bone changes the way the heat is distributed while cooking. It actually helps your steak cook more evenly and gives you a little more leeway with overcooking. Bone-in steaks will require a longer cooking time because the bone insulates the meat surrounding it. It takes a little more time for the heat to penetrate the interior, but once it does it spreads out evenly.
If you liked this recipe you may be interested in these other steak options, from beef to pork to seafood:
Watch the video below where Rachel will walk you through every step of this recipe. Sometimes it helps to have a visual, and we've always got you covered with our cooking show. You can find the complete collection of recipes on YouTube, Facebook Watch, or our Facebook Page, or right here on our website with their corresponding recipes.