Want to know all the secrets to cooking a perfect tomahawk steak? It's quite easy! Learn how to make the best steak of your life, right in your own home!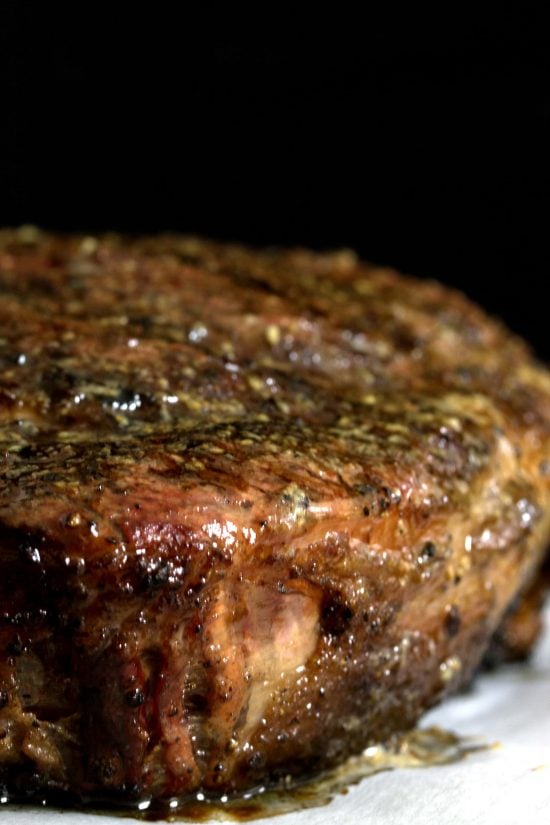 ---
This post is sponsored by Snake River Farms. All opinions expressed are my own and, yes, I really am that enthusiastic about their meat. Best. Steaks. Ever! Be sure to enter the giveaway to win some.
---
Father's Day is coming up and if you want to surprise Dad with a present he will never forget, then keep reading! I'm teaching you how to make a restaurant quality steak at home, using the finest beef available from Snake River Farms. This bad boy Wagyu Tomahawk Steak weighs in at a whopping 3.5 pounds and is about 2.5 inches thick. I totally whipped out a ruler and measured. It's the kind of steak Dad will drool over. Cook one up and he'll feel like the king of his castle this Father's Day.
When it comes to quality steak, I always get mine from Snake River Farms. Not even kidding, I always have SRF beef in my freezer. They sell American Wagyu beef which is a cross between Japanese Kobe and American Black Angus beef. Let me tell you, you can't buy better beef in the United States. This steak is like butter. It melts in your mouth! It even grades higher than prime beef. Ya, it's that good.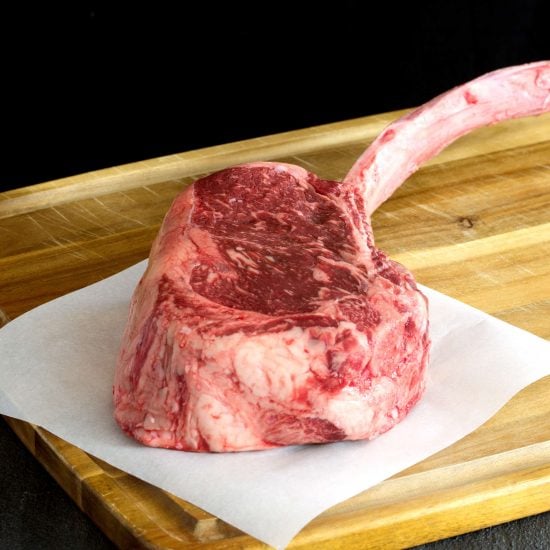 I love this beef so much I've teamed up with Snake River Farms to give away a couple of these gorgeous, perfect Tomahawk steaks away to my readers. Scroll on down past the recipe for your chance to win. Two of these caveman steaks will land on someone's doorstep just in time for Father's Day.
I know it can be intimidating to grill a high quality piece of meat. What if you mess it up? Well, cooking a steak at home is super easy. All you really need is some salt and a meat thermometer to get the perfect steak. I had two of these bad boy Tomahawks so I cooked one up at home, and took the other to my friend Chef Chad Pritchard, an award winning chef in Utah, to cook it up with him in his restaurant. Guess what? We cooked it the exact same way. Watch the video closely and see if you can tell which one was cooked in a restaurant and which one was cooked at home. I'm telling you, with this level of high quality beef you'll feel like you are eating in a 5 star restaurant. And it's so incredibly easy!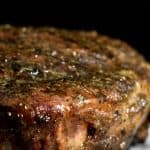 How to Cook the Perfect Tomahawk Steak
The best steak of your life!
Print
Pin
Rate
Instructions
Heat an outdoor grill to highest heat. Preheat oven to 375 degrees.

Season steaks generously with salt (and pepper as desired). Get the top, bottom, and all the sides. Use a generous amount of salt as this is a thick steak.

Sear the steak for 3 to 4 minutes on each side, letting the flames lick up the sides. You'll know the steak is ready to flip when it releases easily from the grill.

Transfer the steak to a baking sheet . Bake in the preheated oven until the steak reaches an internal temperature of 130 degrees. This will take about 30 minutes, but use a meat thermometer for 100% accuracy.

Let rest 5-10 minutes before slicing.
Nutrition
Calories:
1006
kcal
|
Protein:
93
g
|
Fat:
67
g
|
Saturated Fat:
27
g
|
Cholesterol:
254
mg
|
Sodium:
244
mg
|
Potassium:
1401
mg
|
Calcium:
27
mg
|
Iron:
9.1
mg

Giveaway!
Want to win a pair of these beauties for yourself? Enter the giveaway below! One lucky reader of The Stay At Home Chef will receive a pair of these amazing, better than prime grade Wagyu Tomahawk Steaks from Snake River Farms. They will be delivered to your doorstep just in time for Father's Day. I'm actually jealous already! Best Father's Day gift ever!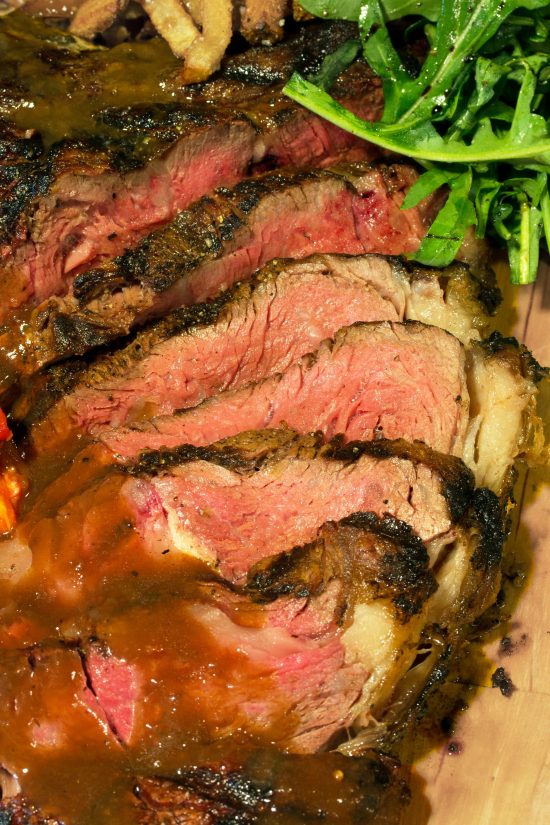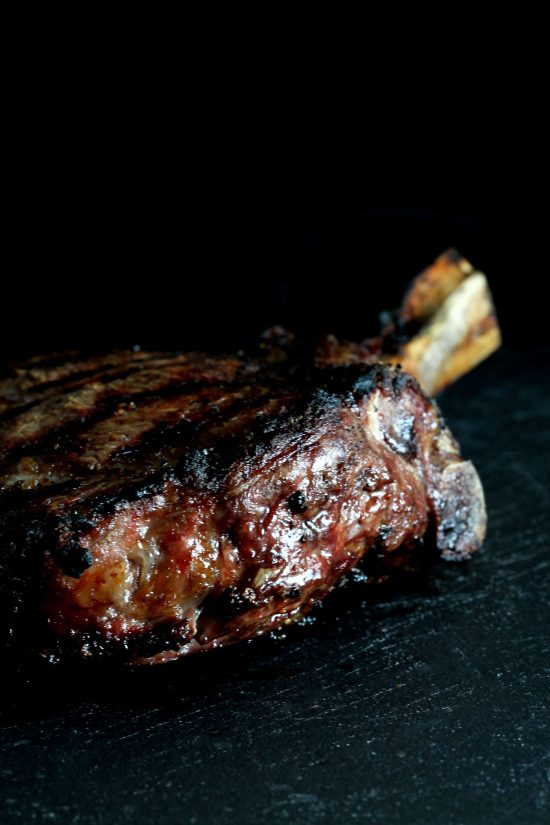 Get New Recipes Sent To Your Inbox!
Join my newsletter and get new mouth watering recipes sent directly to you weekly!