Classic Sunday Pot Roast is an easy to make comfort food that is hearty, filling, and can easily feed the whole family. This recipe will work for a classic oven braise as well as in a slow cooker or Instant Pot.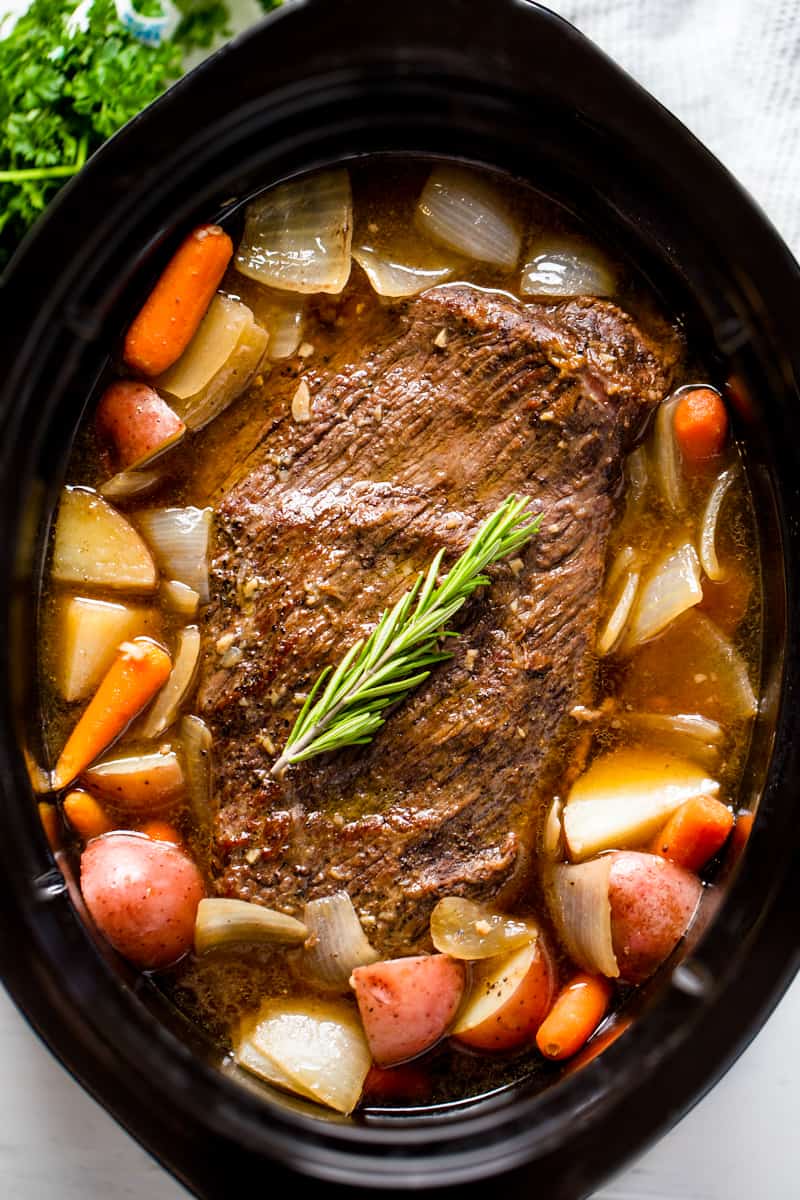 When it comes to a Sunday dinner in America, there's nothing quite as classic as pot roast. Of course, the day of the week doesn't really matter, pot roast is a delicious dinner for any day of the week. A good pot roast can be made with any cut of beef roast. Popular choices include chuck roast, round roast, and briskets. The beef is seasoned and seared. The pan then needs to be deglazed with a braising liquid—commonly beef broth and red wine. We like to add in garlic and Worcestershire sauce for a more complex flavor. It really kicks things up a notch.
POT ROAST VEGETABLES: The classic mix of vegetables to add on top of your pot roast include potatoes, onions, and carrots. We recommend using a white or sweet onion, but yellow onions often fair well during the slow braising process as well. Carrots can either be cut into chunks, or you can use baby carrots for easy preparation. We don't recommend slicing your carrots into thin discs because they tend to turn to mush. We recommend using either red potatoes or Yukon gold. If you choose to use russet potatoes, be sure to peel them first.
Best Roasts for Making Pot Roast
Chuck Roast – tender, falls apart when finished and easily shredded
Round Roast (bottom round, top round) – lean and easy to slice
Beef Brisket – fattier option that gets super tender, but can still be sliced for serving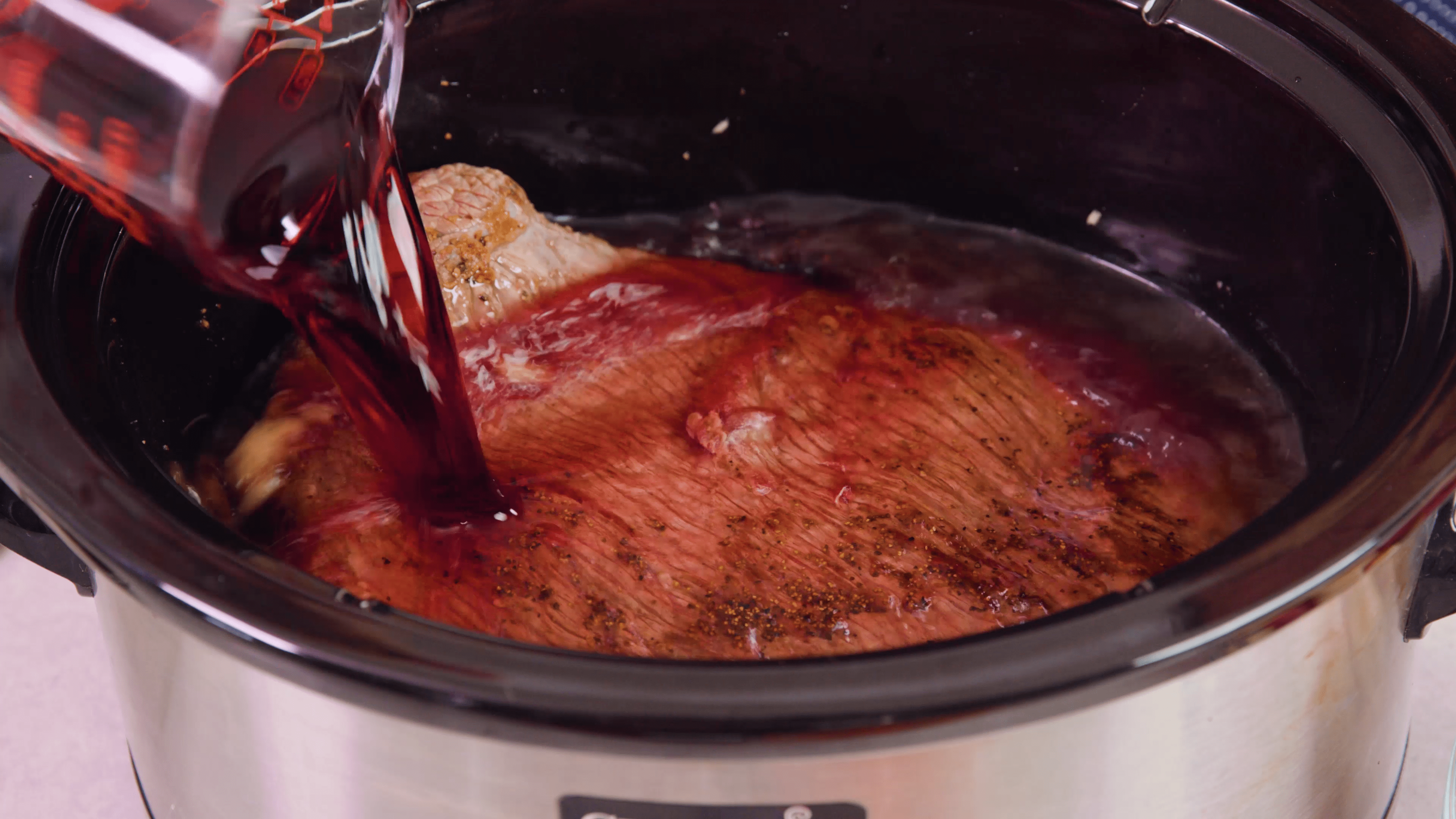 How do I make pot roast in a slow cooker?
Season the roast with salt and pepper as directed in step 2 of the recipe. Searing in oil in a skillet is an optional step. Searing your beef roast helps the fat render and seal in the moisture so it's worth the extra time and dishes. But we also recognize that one of the benefits of using a slow cooker is a short prep time so that you can throw everything in. Place the seared or un-seared meat directly into a slow cooker. Add in all remaining ingredients and cook on low 8 hours.
PRO TIP: It's better to cook pot roast on the low setting rather than the high setting when it comes to pot roast. Your meat will be tender and delicious every time.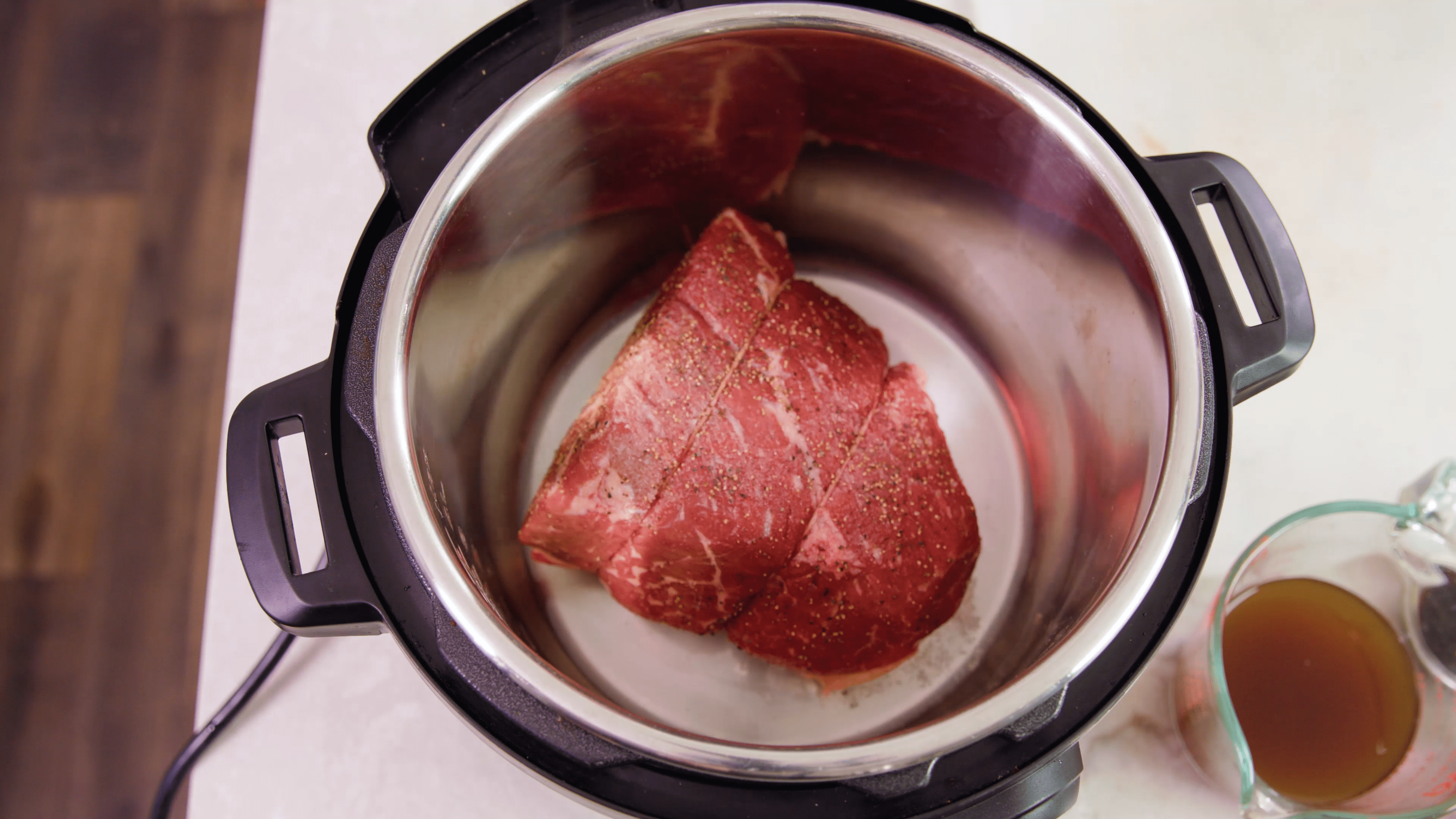 How do I make pot roast in an Instant Pot electric pressure cooker?
Follow this recipe as directed, but instead of searing and baking the roast in a large pot, you'll do all of this in your pressure cooker. Sear the roast as directed in step 2 using the sear setting on your electric pressure cooker. Cook the garlic, and deglaze the pan with liquids, and add in vegetables. Cook on high pressure for 60 minutes, followed by a 15 minute natural release. Then, switch the release valve to the venting position. Remove lid once steam has stopped coming out.
PRO TIP: the natural release portion of electric pressure cooking is an important step. We have found that if you release the pressure immediately after cooking, your beef may toughen up. Letting the pressure cooker sit for 15 minutes during the natural release stage produces a more tender result.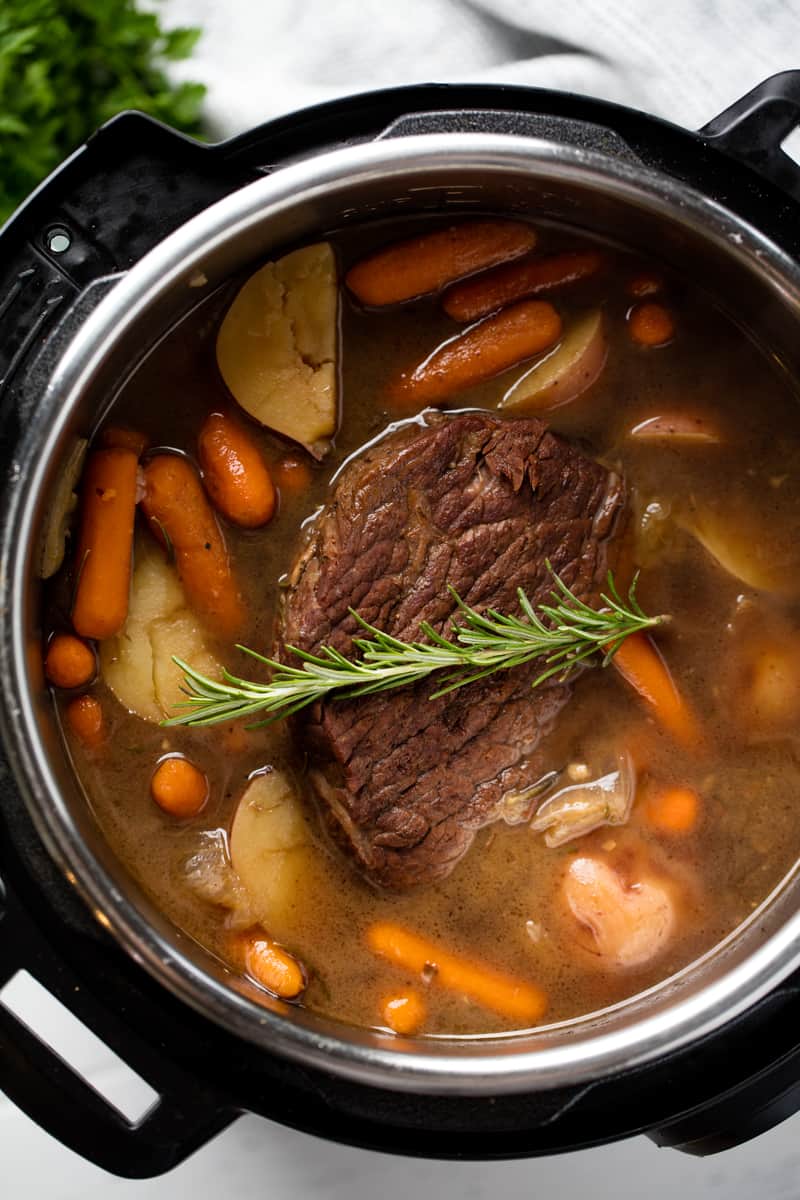 MORE GREAT RECIPES: If you liked this recipe, you may also enjoy some of our other classic Sunday dinners like Braised Beef Short Ribs, Roast Chicken, and Easy Baked Pork Chops.
Watch the video below where Rachel will walk you through every step of this recipe. Sometimes it helps to have a visual, and we've always got you covered with our cooking show. You can find the complete collection of recipes on YouTube, Facebook Watch, or our Facebook Page, or right here on our website with their corresponding recipes.