Classic Braised Beef Short Ribs are cooked low and slow until they reach fall-off-the-bone deliciousness. This simple dish is a classic that is full of comfort food flavor. Stove top, slow cooker, and instant pot instructions included!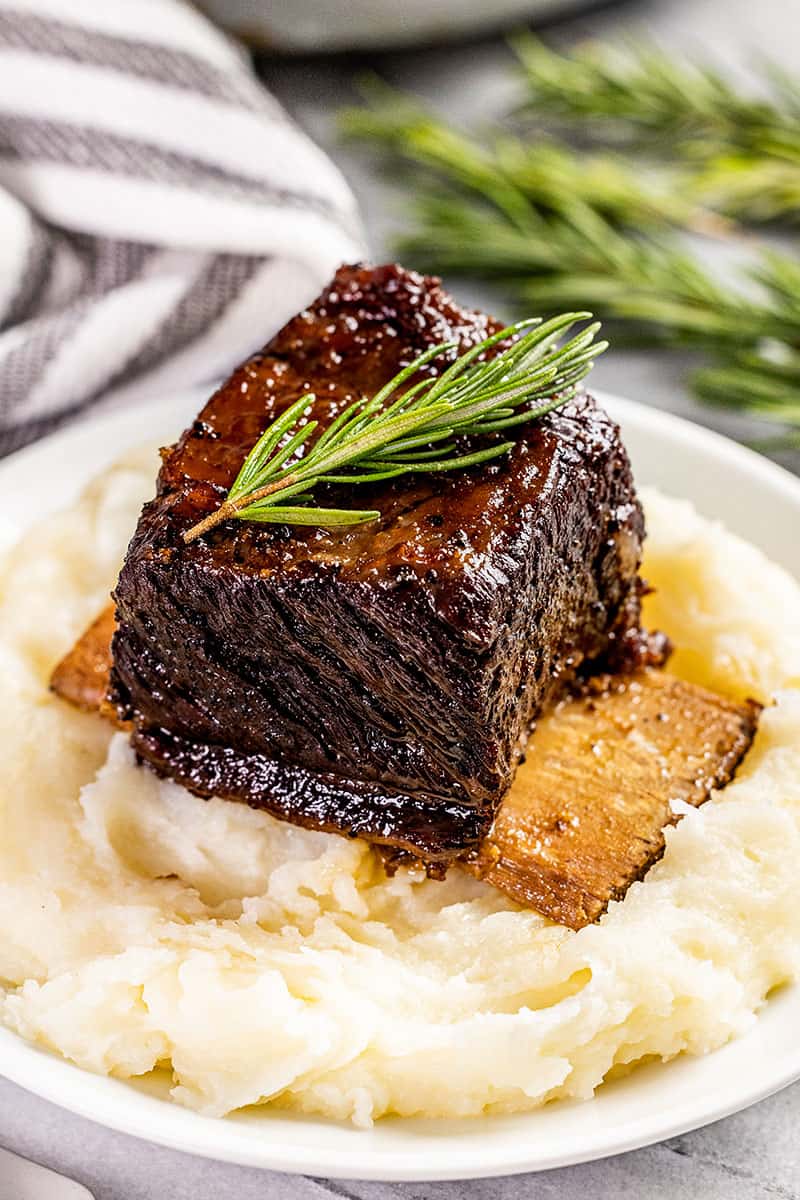 This recipe is so simple, and so flavorful. It is simply our favorite way to cook short ribs, and our family always agrees. These classic recipes really come down to few, simple, flavorful ingredients. This is the way grandma used to cook, and we always feel a little bit nostalgic cooking a recipe the exact same way she did. She always made sure to use fresh rosemary instead of dried. It may seem simple, but the long cooking time infuses the rosemary flavor throughout the liquid and the meat. Just be warned, the smell in your house will make you drool!
What is braising?
Braising is a combination cooking method where you first sear the food with a dry heat and then slowly cook it for a long period of time in a wet heat — usually a braising liquid with a lid to trap in the heat. Tough cuts of meat that require long cooking times to reach a tender, pleasant texture are great candidates for braising. If you have ever used a slow cooker, you have most likely braised meat.
Boneless vs. Bone In Short Ribs:
Short ribs can be braised whether they are boneless or bone in. We used bone-in for this recipe, but you are welcome to use boneless if you prefer.
Red Wine in Classic Braised Beef Short Ribs:
We love how red wine enhances the flavor in this dish, but if you prefer not to cook with wine you can simply substitute with 1 cup of additional beef broth.
Can I use powdered onion and garlic?
Yes, if using powdered in place of fresh, simply add one teaspoon of each to the short ribs once they are seared and proceed with adding the liquids.
What if I don't have an oven-safe pot?
If you do not have an oven-safe pot, you can let it simmer, covered, in a regular pot on the stove for 2.5 hours.
What To Do With Braising Liquid:
This braising liquid is too delicious to go to waste! Remove the meat and pour the juices into a sauce pan. Bring to a boil, reduce heat, and simmer until sauce reduces, about 15 minutes. For a smooth sauce you'd want to strain it first.
You can also make it into a gravy. Melt 2 tablespoons of butter in a saucepan. Add in 2 tablespoons of flour and whisk together into a paste. Pour in strained juices and heat over medium-high heat until thickened. If your juices are straight from the oven and still piping hot this will only take a minute or two.
Slow Cooker Instructions:
Season short ribs with salt and pepper and sear in olive oil in a skillet on the stove over high heat. Transfer seared short ribs to a 6 quart slow cooker. Season with garlic powder and onion powder and pour in beef broth, red wine, and Worcestershire sauce. Add on rosemary sprig, cover with lid, and cook on low for 8 hours, until meat is fork tender.
Instant Pot Instructions:
Use the searing feature on your electric pressure cooker to sear seasoned short ribs. Sauté onion until tender and add in garlic to sauté 1 minute. Pour in beef broth, red wine, and Worcestershire sauce. Add on rosemary sprig. Cook on high pressure for 50 minutes, followed by a 10-15 minute natural release.
Serving Suggestions:
Braised beef short ribs are often served up with mashed potatoes. The braising liquid can easily be turned into a gravy, if desired. Other classic accompaniments are a creamy polenta, or roasted vegetables.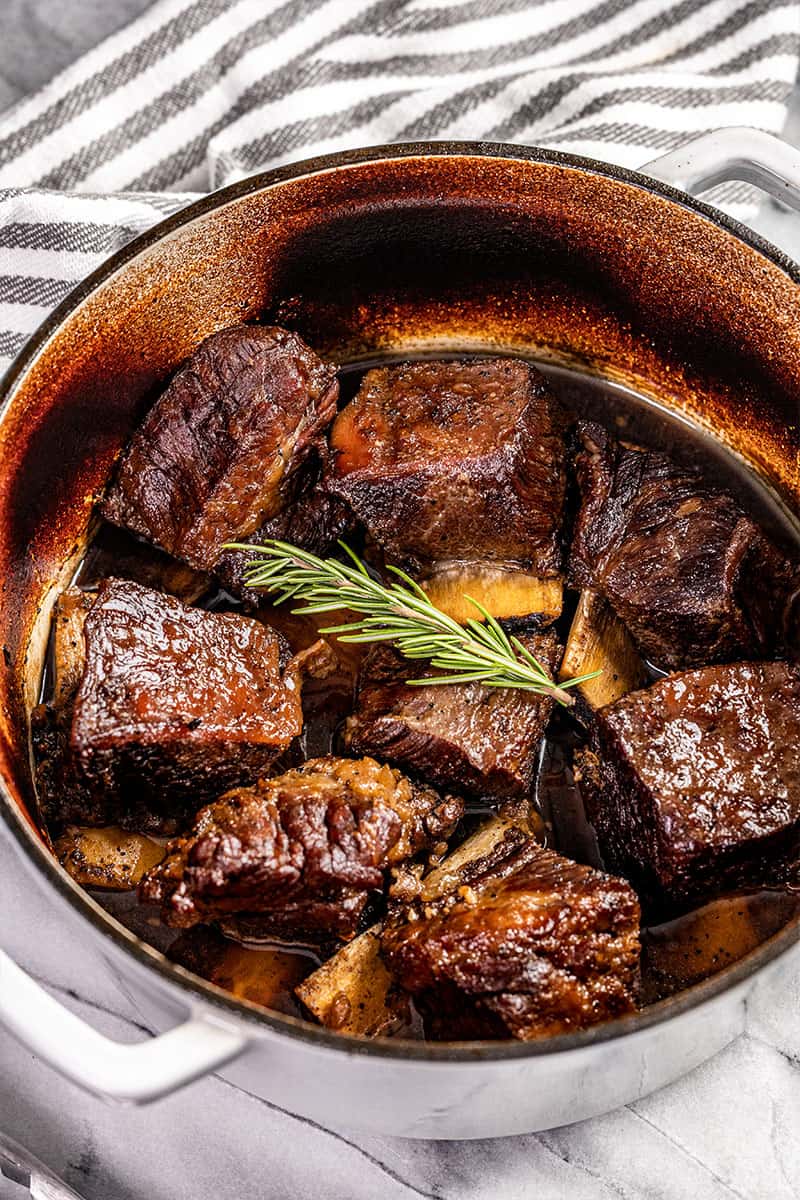 Storage and Reheating Instructions:
Store any leftovers in an airtight container in the refrigerator for up to 5 days. Reheat in an oven preheated to 350 degrees Fahrenheit until warmed through.
If you like this recipe, you may be interested in these other delicious beef recipes: