Mexican beef barbacoa made easy! This recipe features tender beef and a spicy sauce made with three different hot peppers and is served shredded. It will melt in your mouth in the best way possible!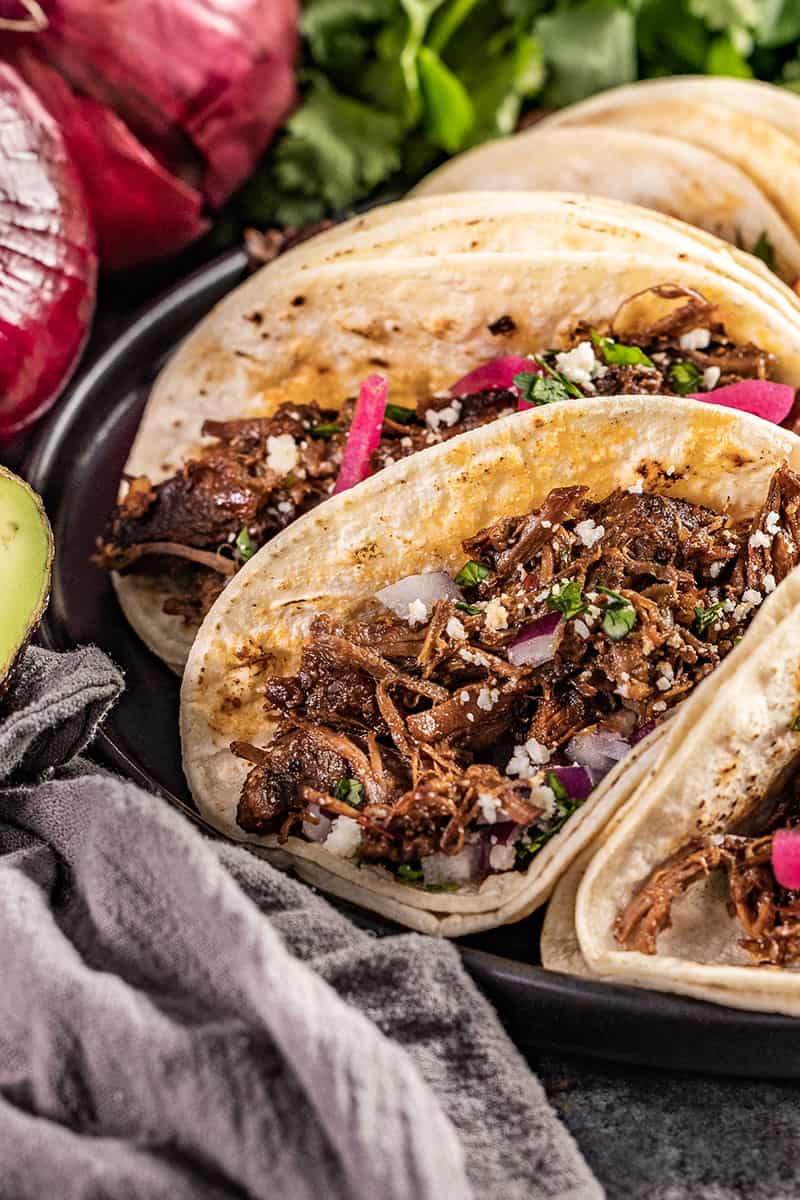 Our beef barbacoa recipe is filled with authentic flavors that will rival your favorite Mexican restaurant! You may recognize barbacoa from your favorite Chipotle order. As always, homemade is even better. Traditional recipes will call for you to slow cook the meat over an open fire. If you don't have the equipment for that, no worries! You can totally recreate this recipe at home in your oven, Instant Pot, or slow cooker. Use your beef barbacoa as a filling in tacos, burritos, or enchiladas – to name a few. You can also serve as a main dish with a side of rice and beans. We're sure that your family will quickly fall in love with this easy recipe. Don't be surprised if they lick their plates clean!
What is Barbacoa Beef?
As mentioned, barbacoa is a dish that's traditionally prepared over an open fire. Barbacoa means barbecue in Spanish, which reflects the traditional cooking method. That said, contrary to popular belief, this recipe actually originated in the Caribbean before making its way to Mexico. Today, it's often seen in Mexican restaurants. This dish was originally made using lamb, goat, or the head of a cow (beef cheeks). The meat is coated in spices and seasonings and a light broth and then cooked for hours.
Meat Options:
This recipe will work with any of the meat options listed above: lamb, goat, or beef. The meat can easily be switched out without changing cooking times! We've opted for beef chuck roast in our recipe as it is most readily available in your average supermarket. Brisket and beef cheeks also work well. Feel free to use whatever you have on hand!
Spice Level Variations:
Our beef barbacoa recipe calls for three different types of hot peppers: chipotle, guajillo, and ancho peppers. The results are a slightly tangy and spicy flavor. That said, depending on the chipotles you use, it can get a bit hot. If you don't like spicy foods, you may not enjoy this recipe. You can also cool things down by serving with a dollop of sour cream.
What to Serve With Barbacoa Beef:
Wondering what to serve with this dish? We've got you covered:
Troubleshooting: How Do You Rehydrate Peppers?
The sauce for this recipe uses dried guajillo and ancho peppers. These peppers are easily found in most supermarkets in the specialty foods section. You can also find them at a Latin American specialty store, or even online. They can be intimidating to work with if you've never done it before, but they are actually super easy! For this recipe, you'll need to rehydrate your peppers. Simply:
Place them into a bowl or jar and cover them with water.
Let them soak for 1 to 4 hours (or overnight) before using in the recipe.
If you need to speed up the process of soaking your peppers, pour boiling water over them and let them sit for at least 30 minutes. The heat will help soften them faster.
Can I Make This Recipe In the Instant Pot or Slow Cooker?
Absolutely! This recipe includes instructions for a traditional braise in the oven, as well as instructions for the slow cooker and the Instant Pot. If you aren't familiar with the Instant Pot yet, it's a trendy kitchen gadget that is an electric pressure cooker. It can cook your roast to tender in just over 1 hour. Pretty impressive!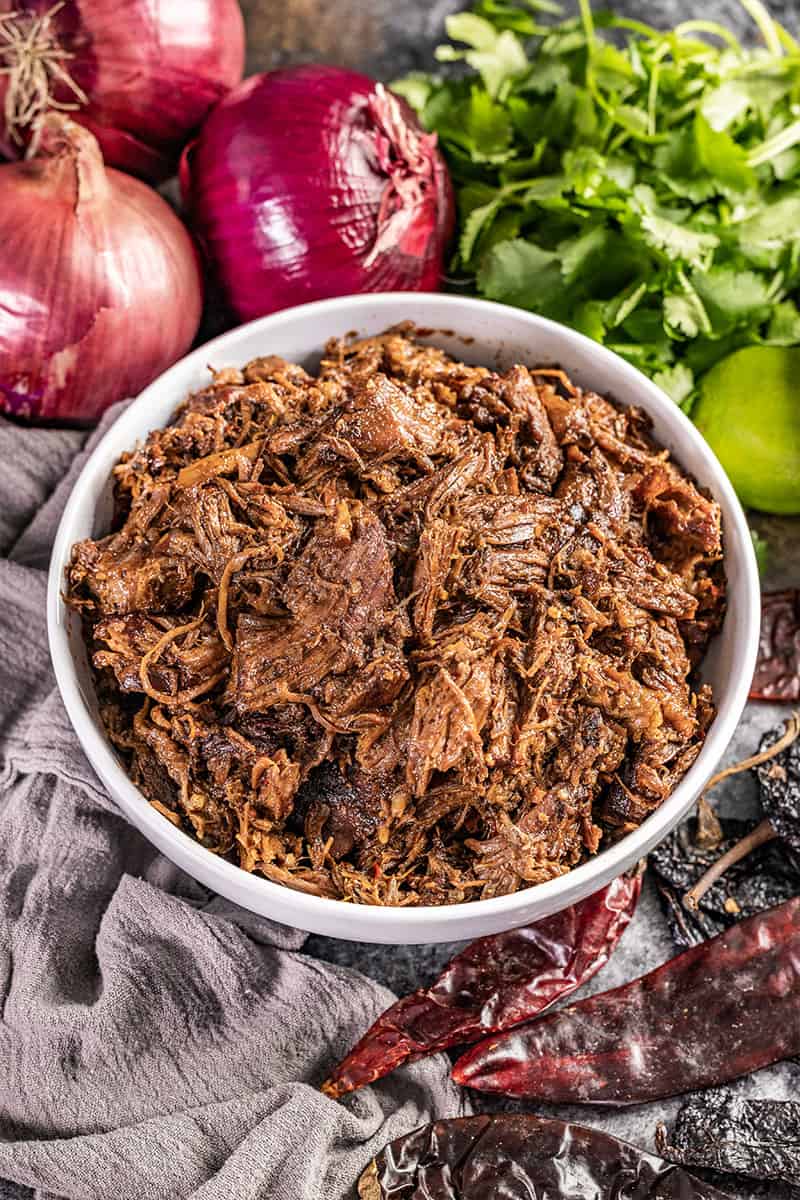 Storage and Reheating Instructions:
If by some miracle you have leftovers (seriously, it's that yummy!), you can store them in an airtight container in the fridge for up to 4 days. You can also use this recipe to meal prep for Taco Tuesday ahead of time, and in that case, you can also store it in the fridge. Reheat in the microwave in 30-second increments until warmed through.
You can also freeze beef barbacoa. Again, place in an airtight container. Place in the freezer where it will keep for 2-3 months. Let it thaw overnight in the fridge before reheating in the microwave as instructed above.
If you like this recipe, you may be interested in these other delicious Mexican-inspired recipes: