Fresh, filled with veggies and tender chicken, and bursting with flavors, this healthy taco salad is so refreshing! Paired with a tasty cilantro-lime vinaigrette, it's the perfect lunch or light dinner option.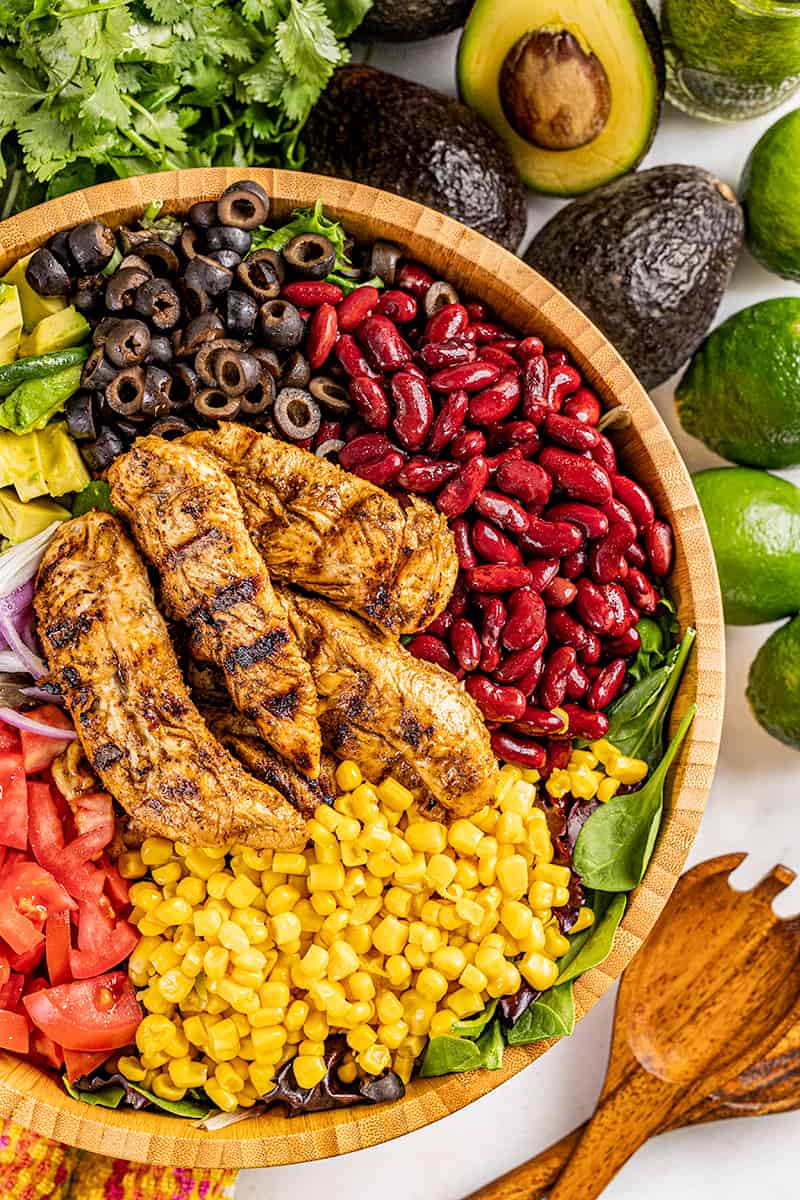 Is there anything better than a delicious salad? They are so easy to make and are a great way to get a variety of nutritious ingredients into one meal! This taco salad bowl is filled with healthy fats like avocado and olive oil and is simply bursting with veggies. You can even omit the meat to make it lighter, although the chicken really does add something special to the dish. Not to mention the homemade cilantro-lime vinaigrette — it's the perfect addition to this Mexican-inspired salad! It's tasty, refreshing, easy to make, and won't weigh you down. There are also several different variations to choose from in case you feel like getting creative. You can serve it up for lunch, or you can have it as a light summertime dinner. That's not to say you have to wait until the warmer months to enjoy it! We've been known to crave a bit of freshness in the fall as well. It only takes about 20 minutes to prepare in total. Win!
Is Taco Salad a Mexican Dish?
While tacos are traditional Mexican fare, taco salad is not. It's an American dish that was created by the Fritos company back in the 1960s. While the founder of Fritos is Mexican, he created the dish as a way to use Fritos chips as a bowl.
Are Their Corn Tortilla Chips in Taco Salad?
Our recipe doesn't include corn tortilla chips, but you can definitely feel free to add in some if you'd like! We recommend that you use tortilla strips, or that you crumble up full-sized tortilla chips.
Some other recipes are made in a tortilla chip bowl! Here's how to make them at home:
Preheat your oven to 350 degrees F.
Spray a few soft corn tortillas with cooking spray and season with chili powder, cumin, and garlic.
Place the tortillas in oven-safe bowls and bake for 10-15 minutes, or until crispy.
Protein Substitutes:
The grilled chicken in our healthy taco salad recipe is prepared with a delicious marinade made with olive oil, lime juice, chili powder, cumin, and a few other spices. While we love enjoying our salad with yummy grilled chicken on top, here are some other protein options, including some vegetarian-friendly choices:
Grilled steak
Grilled salmon
Ground turkey or ground beef
Chickpeas
Grilled tofu
Equipment Suggestions:
To grill your chicken, we recommend that you use a cast iron grill pan! It's a great solution if you don't have a full-sized grill at home, or if you do end up preparing this dish when it's too cold or rainy to stand outside.
Variations:
Here are some fun variations on our healthy taco salad recipe:
Add in some cilantro lime rice to make this dish more filling
Use more veggies. Bell peppers, cucumbers, and jalapeño peppers are great options!
Replace our cilantro-lime dressing with a yogurt-based dressing. You can use the same spices!
Serving Suggestions:
You can definitely enjoy this salad on its own, but if you want to make a heartier meal, you can serve it alongside:
Other Tacos We Love:
This healthy taco salad bowl is a lighter take on tacos, due to the fact that you don't need a shell to eat it. If you're looking for more traditional taco recipes, here are some of our favorites: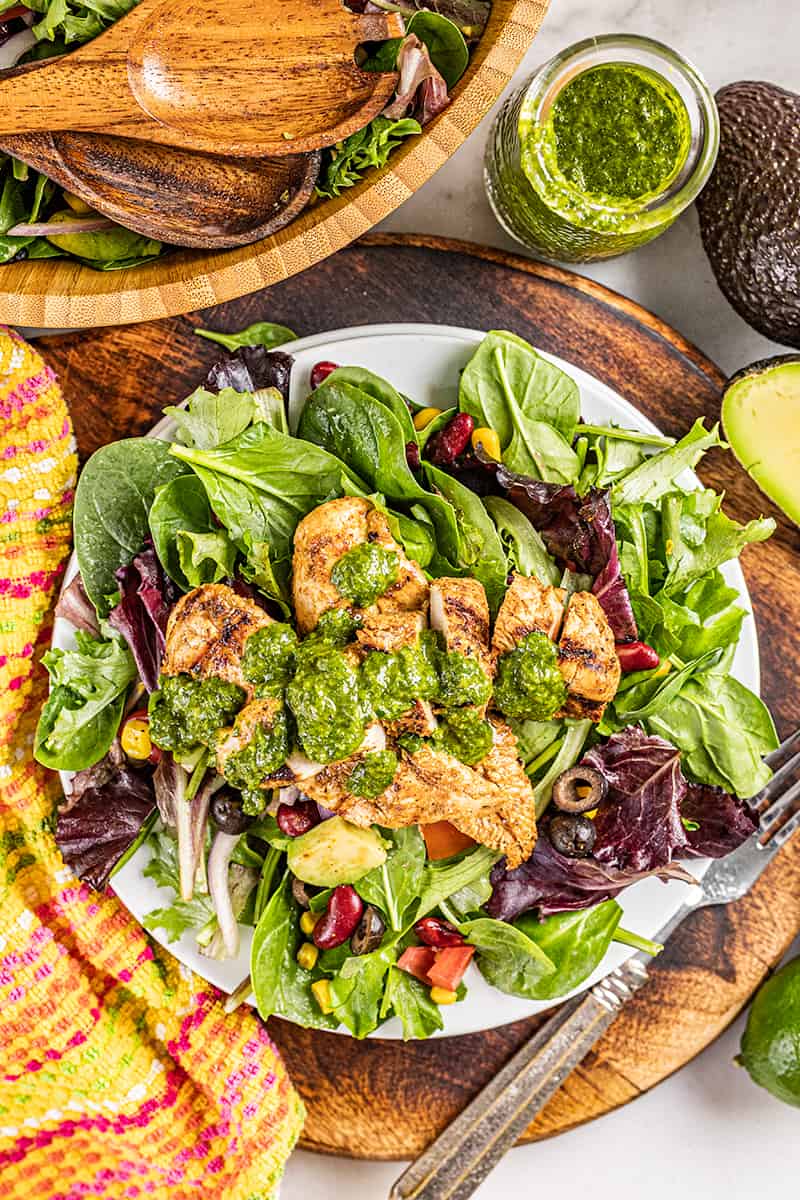 Make-Ahead Instructions:
If you want to save on time, you could make the chicken a few days in advance and store it in the refrigerator in an airtight container. It will keep for 3 to 4 days. We recommend that you hold off on assembling your healthy taco salad bowl until just before eating. The veggies lose a lot of their flavor when you cut them, so it's a dish best enjoyed fresh!
Storage Instructions:
If you have any leftover taco salad bowls, you can store them in an airtight container in the fridge where they will keep for up to 4 days. Any longer and they will get too soggy!
If you like this recipe, you may be interested in these other delicious salad recipes:
Watch the video below where Caytlin will walk you through every step of this recipe. Sometimes it helps to have a visual, and we've always got you covered with our cooking show. You can find the complete collection of recipes on YouTube, Facebook Watch, or our Facebook Page, or right here on our website with their corresponding recipes.