Skinny Chicken Fajita Salad is a recipe you'll use over and over again. This salad is ready in under 15 minute making it the perfect quick healthy lunch or dinner option.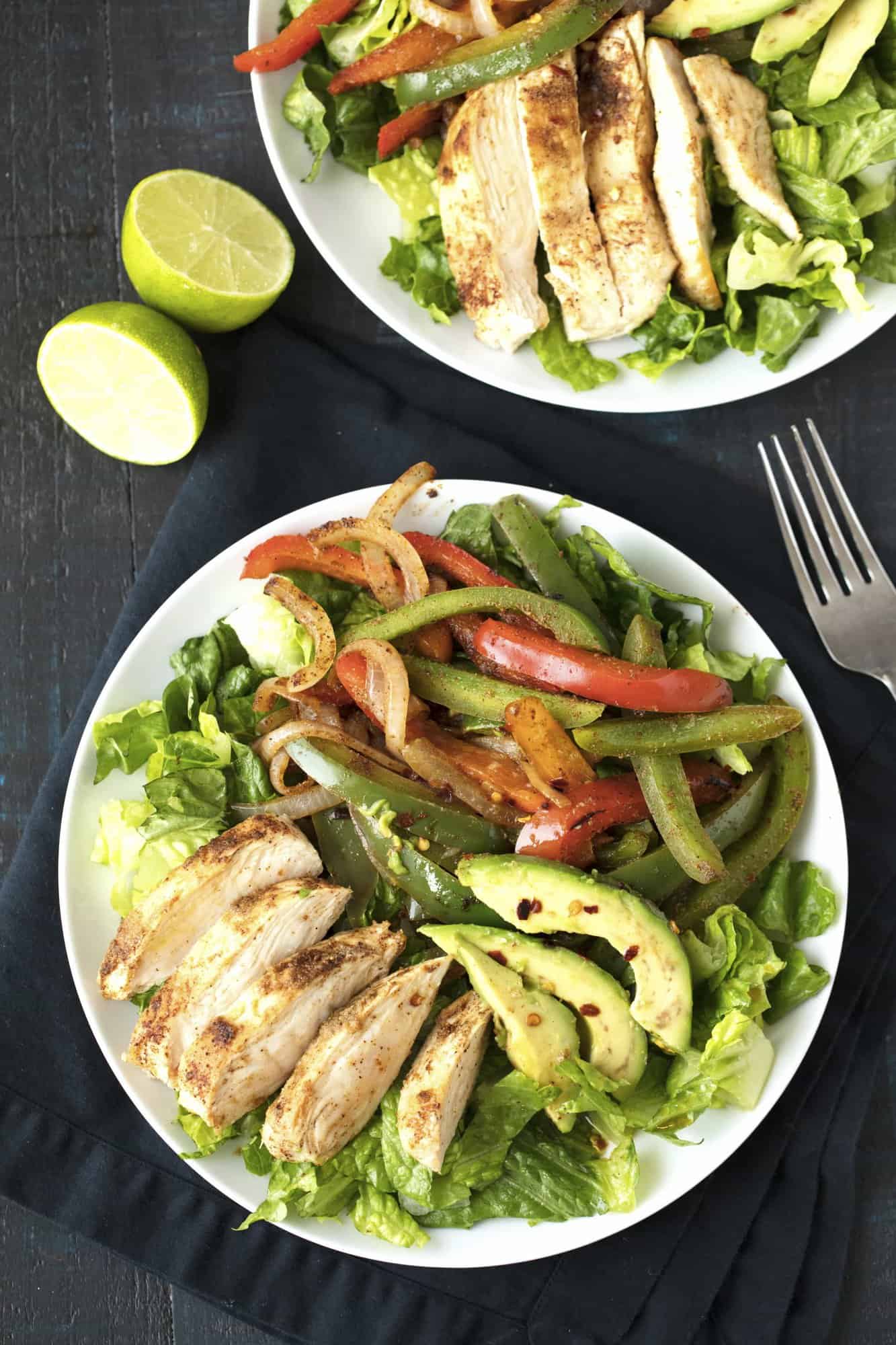 If you are trying to eat healthier then you need this salad in your life. It's super quick to throw together and that is important when it comes to eating healthy. You need food fast, not fast food. This salad is everything you love about fajitas, in a healthier form. Healthy eating is all about finding a balance of healthier habits in your life. I promise, it's okay to indulge now again, but you can also learn that a delicious salad can be an indulgence as well.
I even have a beef version from back in 2014 if you'd like to check it out. It uses steak for a hearty salad experience.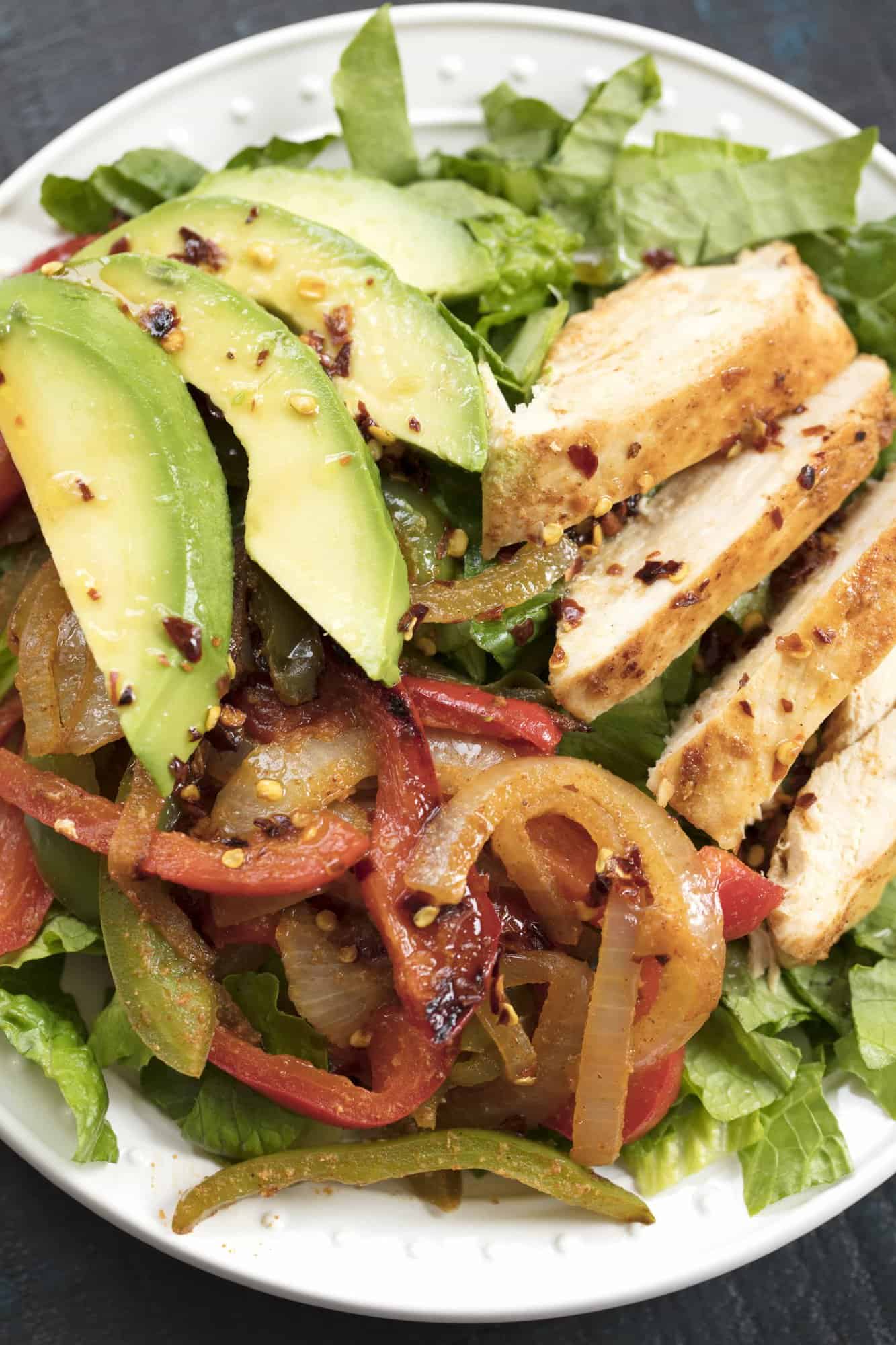 The dressing for this salad is low fat and low sugar. I give you the option of doubling the sugar in the recipe which is good for people who are new to this kind of eating. You can also use sugar substitutes in place of the brown sugar. Honey and stevia are great options.
PRO TIP: If you want to save money on meat, check out Zaycon Fresh. They have incredible deals on boneless skinless chicken breasts.
Watch the video to see just how easy it is to make this recipe. I always include a video with my recipes so that visual learners can follow along too. You can check out all of my cooking videos on my YouTube Channel. You should check them out!
Skinny Chicken Fajita Salad
Skinny Chicken Fajita Salad
Author:
Rachel Farnsworth
Ingredients
1 tablespoon olive oil
1 boneless skinless chicken breast
1 red bell pepper, sliced
1 green bell pepper, sliced
1 small onion, sliced
½ teaspoon salt
1 teaspoon chili powder
1 teaspoon ground cumin
1 teaspoon garlic powder
1 head romaine lettuce, chopped
1 avocado, sliced
Dressing
1 tablespoon olive oil
3 tablespoons lime juice
2 teaspoons soy sauce
1 to 2 teaspoons brown sugar
1 teaspoon red pepper flakes
Instructions
Pour 1 tablespoon of olive oil into a large skillet. Heat over medium-high heat.
Add in the chicken breast on one side and the bell peppers and onion on the other side.
Sprinkle the whole skillet with salt, chili powder, cumin, and garlic powder.
Toss the peppers and onions occasionally and let saute 3 to 5 minutes. Flip chicken and continue cooking another 3 to 5 minutes (tossing peppers occasionally) until the chicken is cooked through.
Remove the pan from the heat and slice the chicken.
In a small bowl, whisk together remaining olive oil, lime juice, soy sauce, brown sugar, and red pepper flakes.
Compile two individual salads, or one big salad by adding chopped romaine lettuce to a bowl or plates. Add chicken, peppers and onions, and avocado slices. Drizzle dressing on top.
Notes
If you want to save money on meat, check out
Zaycon Fresh
. They have amazing deals on boneless skinless chicken breasts.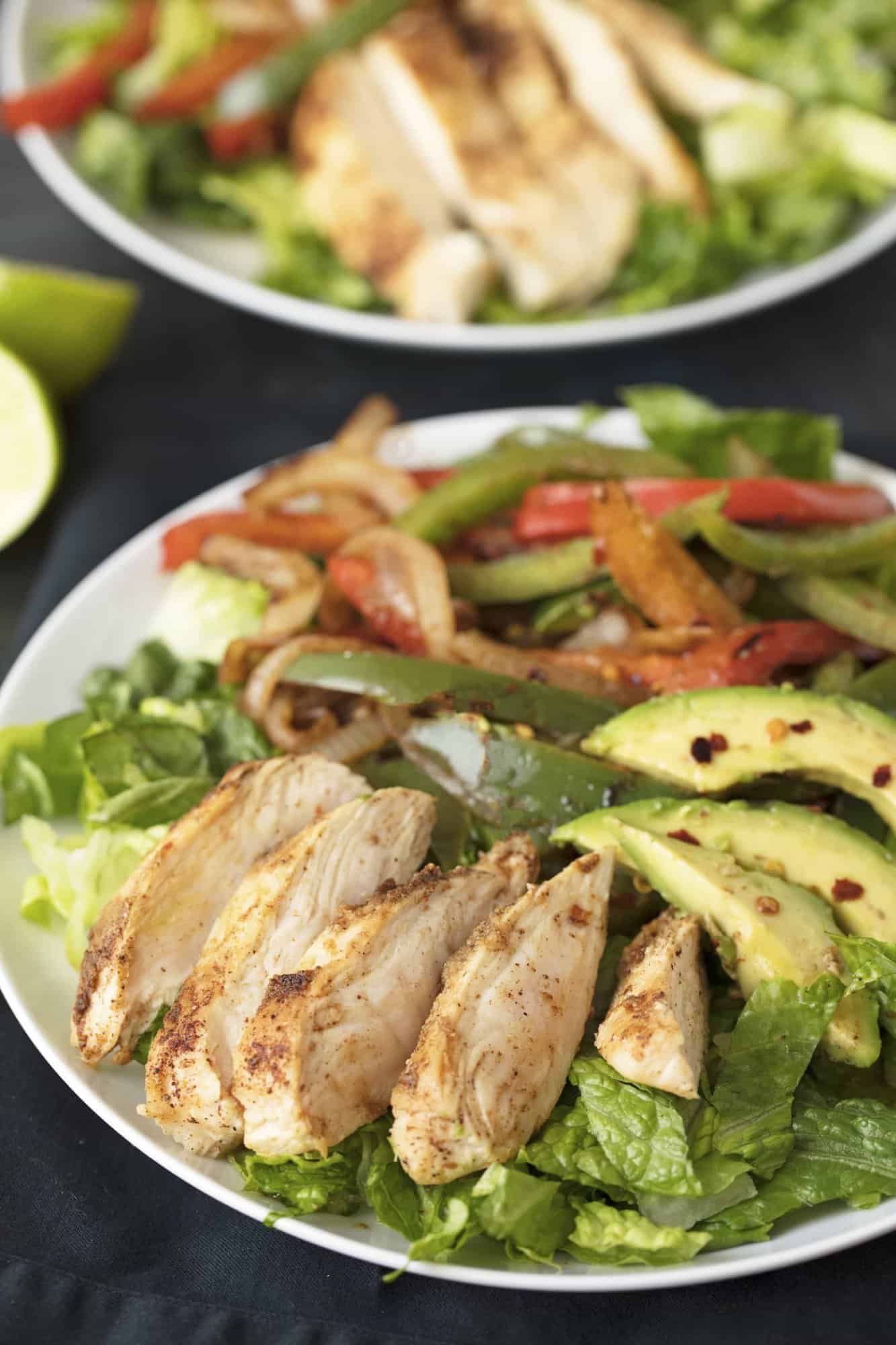 This recipe first appeared on The Stay At Home Chef on November 2, 2012.