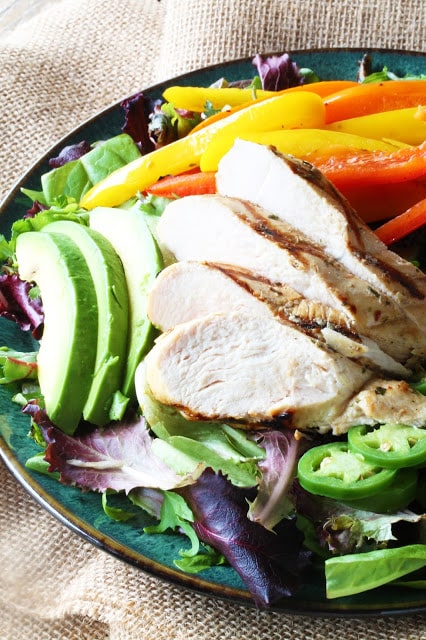 This Mojo Grilled Chicken Salad is a healthy dinner that is full of flavor. Chicken is marinated in a Cuban mojo (citrus-garlic sauce) and grilled to perfection. It's served up in a delicious salad with avocado, grilled bell peppers, pickled red onion, and jalapeno.
After taking a trip to Miami a few years ago, I absolutely fell in love with Cuban food and all things mojo. Cuba is on my list of future vacation destinations for sure. Mojo is this amazing sauce made from sour oranges, a treat you can basically only find in Cuba and Florida. We make our own sour orange with a combination of lemon juice and orange juice. Combine that with seasonings and garlic and you have an amazing combination of flavors that will make your tastebuds sing. Add in the delicious veggies and pickled onions and you have one heck of a salad! Fall in love with mojo in this tasty little salad. Bust out the grill baby!
Visual learner? Watch the video to see just how to make this recipe.