Mexican black beans are a perfect, easy side dish for any Mexican cuisine. Flavorful, and packed with good-for-you nutrients, these restaurant-style black beans are a treat worth making.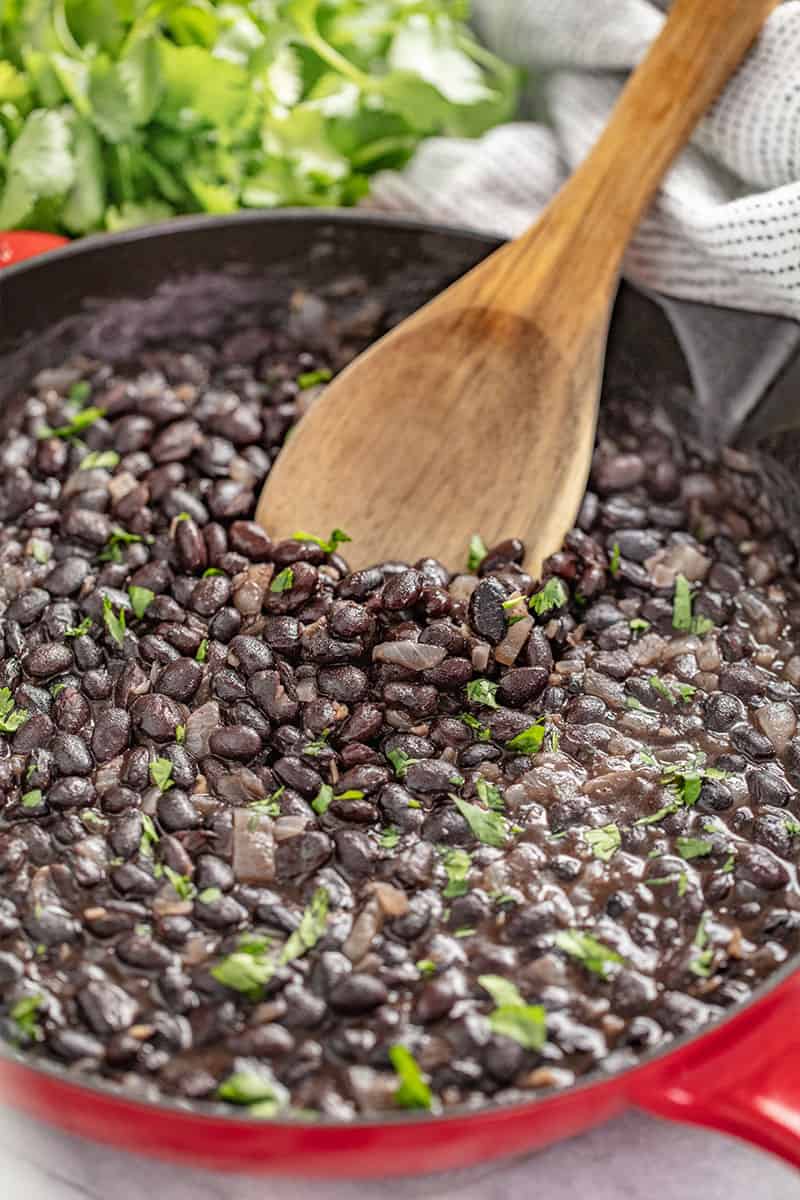 Mexican black beans are a perfect side dish for any Mexican, Jamaican or Latin American meal. They pair well with tacos, enchiladas, Carne Asada and burritos. They are simple to make and bring added flavors and texture to the table. Bonus–they are full of nutrition! A staple in many countries, but often and sadly absent from our dinner tables, the humble bean is full of fiber, iron, protein and even calcium! Black beans have become increasingly popular in restaurants over the past several years. That is because they are authentic to most Latin-American and Jamaican cuisines. They are easy to make, inexpensive and extremely healthy. Served alongside some Cilantro Lime Rice Pilaf–Oh. So. Good!
This recipe calls for a can of black beans to be mixed with sautéed onions and spices. These beans taste like a secret recipe from your favorite restaurant. Double the recipe and invite friends for a fiesta that's packed with delicious flavor!
Can the beans be smashed like refried beans?
Yes. To make these black beans like refried beans, use a potato masher and mash them directly in the skillet to a course, pureed consistency. You can add a little water, a tablespoon at a time, if the beans become too thick.
Would this recipe work for pinto beans as well?
Certainly. Pinto beans would blend well with all of the spices in this recipe. You can swap them in, can for can.
Can I use dry beans in this recipe?
Yes. Dry beans require a soaking period, so remember to get them ready the day before you plan to actually make them. You will want to soak about ¾ cup of dry black beans overnight with at least 4 inches of water over the beans, as the beans will absorb some of that water. The next day, drain the beans and lightly rinse them. Place the beans in a large pot and cover them with another 4 inches of water. Bring this to a boil, then cover and reduce to a simmer. These will need to simmer for about an hour. Check on them periodically and make sure they still have enough water. When they become tender, you can add them to the skillet and follow the instructions for preparing the canned beans.
If you enjoyed these beans, check out these other great side dishes and Mexican main courses:
Watch the video below where Rachel will walk you through every step of this recipe. Sometimes it helps to have a visual, and we've always got you covered with our cooking show. You can find the complete collection of recipes on YouTube, Facebook Watch, or our Facebook Page, or right here on our website with their corresponding recipes.