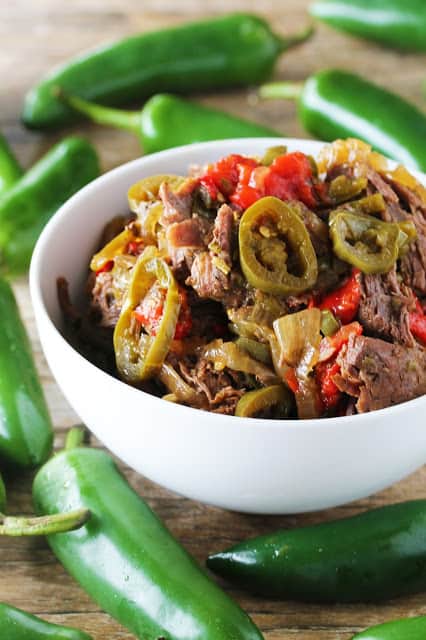 Tender and flavorful shredded beef with peppers and onions, all cooked low and slow in the crockpot.
We're all about jalapenos in our house! It took quite a few attempts to perfect this recipe, but let me tell you, the way it is written is perfection. There is a little heat from the jalapenos, and a ton of flavor. Yes, there are really 4 jalapenos in this recipe! You have to remember that the slow cooker will dull the heat a little so don't worry too much about burning your face up. During all of the testing, we ate this beef wrapped up in a tortilla. So delicious! You could also use this in enchiladas, quesadillas, tacos, burritos, and more. Eating it plain is super delicious as well. This is a flavorful, moist, and tender beef roast. Make sure you watch the video for some great tips.
The beef used in this recipe was a grass-fed chuck roast from Jones Creek Beef. They are in the same valley that I live in and I love supporting local businesses. Even though they are local to me, you can find their beef in stores all over the place. I'm a total beef snob, so I love buying higher quality beef. There are three different grades of beef–select, choice, and prime–that rate the meat on tenderness, juiciness, and flavor. I highly recommend buying a minimum of choice grade meat. It makes a huge difference! It costs a dollar or two more per pound, but the difference will blow you away. Give it a try sometime!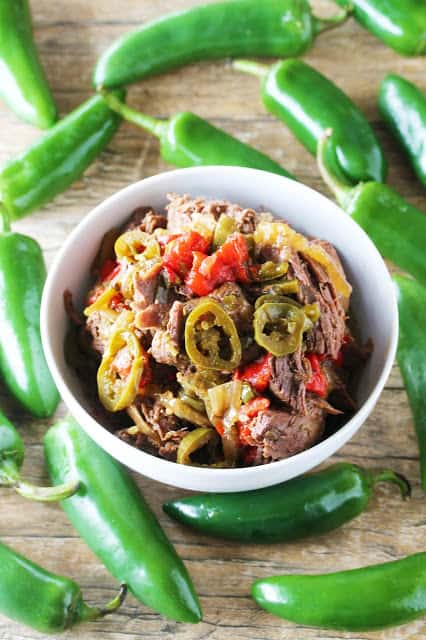 Watch the video to see how to make it!