Warm, creamy, cheesy polenta — it doesn't get much better than that. Pair it up with something you love, or eat it plain and simple. Either way, it's delish!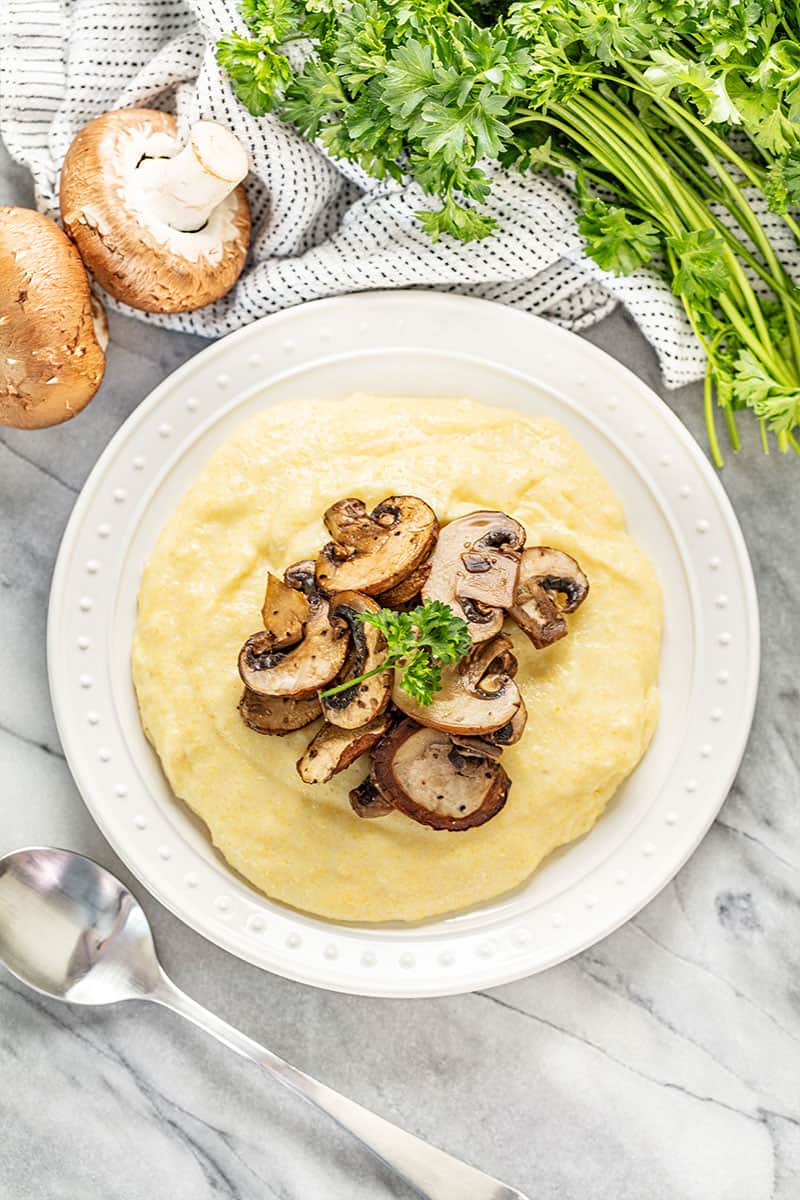 Polenta is a dish common in Italy, consisting of boiled, coarsely ground cornmeal. Originally, it was made of other grains as well. It is often confused with or compared to grits. Grits are made with a more finely ground, white corn, called hominy and is common to the southern United States. Polenta is often eaten hot, like a really thick soup or cereal. It is also cooled and solidified so it can be sliced and fried.
This easy polenta recipe calls for cornmeal to be boiled and then combined with milk and cheeses, making it a creamy, delicious dish with the consistency of mashed potatoes. Comfort food? Um, yes. The beauty of this recipe, too, is that it can be simple or made with added flavors and spices. This recipe is pretty simple, but will pair well with almost anything. Give this versatile grainy food a whirl—you will love it!
Can I make fried polenta from this recipe?

Yes. Follow the instructions for this recipe but do not add the milk at the end. Transfer the polenta into a greased baking pan and allow to cool by placing it in the refrigerator for 2 hours. The polenta will be solid at that point, and can be sliced and fried. Cut it into 2 inch by 1 inch pieces and pan fry until edges are golden brown. You can place these on a baking sheet in the oven to keep warm while you fry all of the sliced polenta.

What should I serve with Polenta?

Polenta makes a great side dish for other Italian dishes or can be topped with different foods to make it more like a main dish. I love it with caramelized onions or even just with salt and pepper. This recipe would pair beautifully with some Italian sausage and Arugula Salad. Chopped jalapeno and bacon, chives and a dollop of sour cream would be a perfect topper for this cornmeal dish as well. Who's getting hungry?

Can I use instant polenta in this recipe?

Yes, but it will not have the same rich, nutty and sweet flavor that emerges from regular polenta. If you are in a hurry or only have instant polenta on hand, you can make it according to the package directions. Once it is done cooking, you can add the butter, cheeses and milk.

Can I make polenta using regular cornmeal?

Polenta is traditionally made from a coarse ground cornmeal. It is fairly common to find coarse ground yellow cornmeal in grocery stores in the United States and it is generally found in the baking isle. It may even be labeled as polenta. If you can't find coarse ground cornmeal, you can make it with regular cornmeal as well (like the kind you'd use to make cornbread). Simply reduce the cooking time by about 5 minutes.
If you like this recipe or need some comfort food in your life, you may also want to try out some of these comfort food recipes:
Watch the video below where Rachel will walk you through every step of this recipe. Sometimes it helps to have a visual, and we've always got you covered with our cooking show. You can find the complete collection of recipes on YouTube, Facebook Watch, or our Facebook Page, or right here on our website with their corresponding recipes.