This classic chicken noodle soup is simple to make in less than an hour with ingredients you already have in your pantry. It's loaded with chicken & herbs.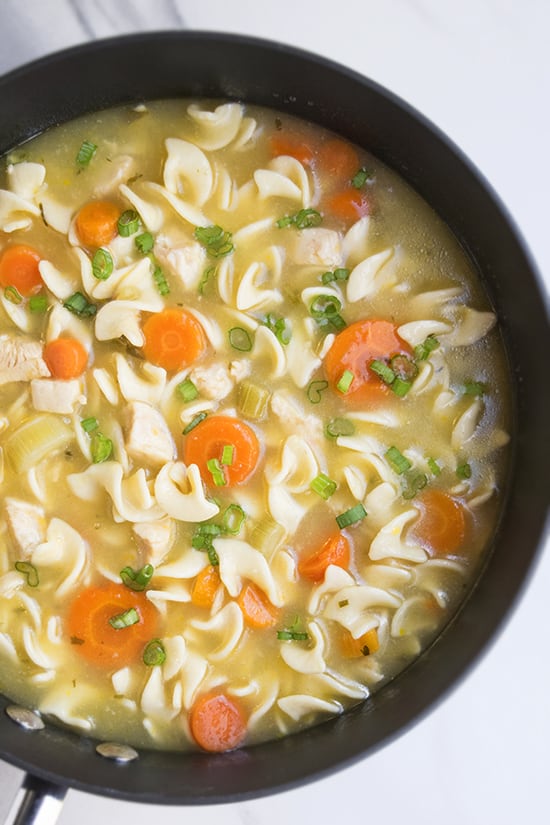 This chicken noodle soup is a life saver when the whole family is down with a bad cold. There is something about a bowl of chicken noodle soup that just makes you feel better and truly warms your soul. I bet you anything your family will be coming back for seconds and thirds. My kiddo asked for another bowl, which was shocking but also made me very happy! This is my Mom's recipe and I LOVE it plus the entire house smells heavenly.
It's made with basic ingredients and everything comes together in less than an hour, making it a great weeknight dinner during the cold and dreary Winter season. In case you are wondering, I have tried making a very creamy chicken noodle soup before and honestly, I did not like it when I was sick. I think when you are sick, you just want simple food and that soup did not have the classic flavor I grew up on.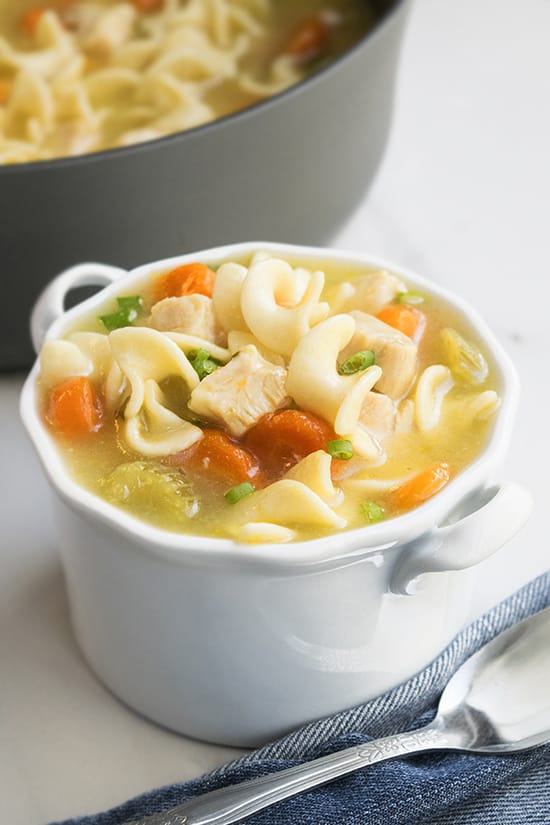 Here are some notes about this recipe:
You can use oil but I like to use butter since it adds more flavor.
You can adjust the quantity of herbs, based on your preference.
I like to use low sodium broth because I find the regular one very salty.
You can use fresh of dried herbs. Fresh is obviously better and has a stronger flavor and aroma.
I highly recommend using egg noodles since that tastes the best in this soup but you can use regular pasta too. The cooking time may vary slightly.
For a spicy kick, add 1/4 tsp red chili flakes too. I love spicy food! So, I always add this.
I always use rotisserie chicken or leftover baked chicken from the night before to speed up the process.
Don't add any cornstarch or heavy cream in this soup because that will change the texture and flavor completely.
You can serve this soup with cornbread, dinner rolls or plain crackers. I like to keep it simple!
If you are fond of soups, you may also like this hamburger soup or this slow cooker healthy Fall soup.