Delicious marshmallow cream and chocolate sandwiched between two chewy peanut butter cookies.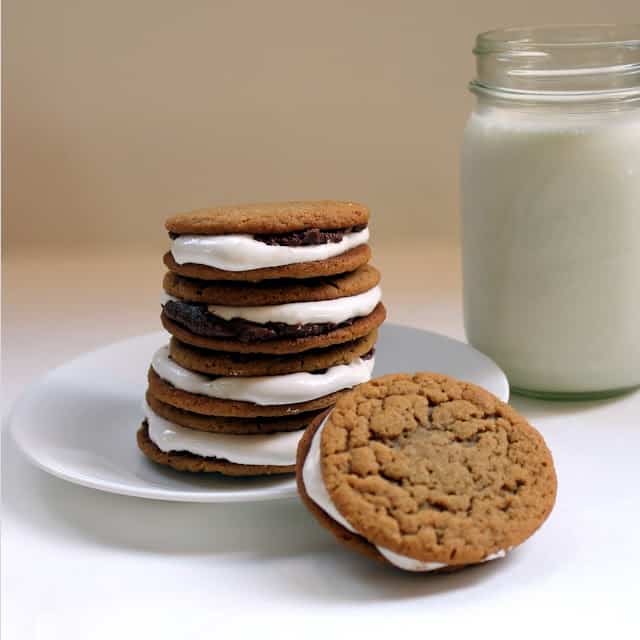 Who needs store bought cookies? These cookies are soft, gooey piles of mouth watering tastiness. They are to die for, which means this recipe needs to come with a few warnings:
Warning #1: Don't just eat the peanut butter cookies as they come out of the oven. Save some for the sandwiching!
Warning #2: Possibly addicting. Judging by my cravings for them, they might be in the same category as crack and heroin.
Warning #3: You should probably share. I understand the temptation to hoard them all for yourself, but really, you'll feel better about yourself if you share at least a couple!
When baking cookies, especially with a new recipe or a different oven, it is always a good idea to make a test cookie. This way you can check just how long it'll take to bake the cookies without overcooking them. Overcooked cookies are hard, and boy do I hate hard cookies! Giving just one cookie a test run can save a whole batch.
Gluten Free Options:

Celiac or gluten sensitivity? We've got your back. Simply substitute the peanut butter cookie recipe with my 5 Ingredient Peanut Butter Cookie recipe and you've got yourself an amazing gluten free dessert!

Cookie Variations:

So you've made the peanut butter chocolate and marshmallow sandwich cookies and you're looking to branch out a bit? Try this out with different cookies! Chocolate Chip Cookies, Best Ever Chocolate Cookies, Cinnamon Roll Cookies, and Nutella Sugar Cookies would all be delicious sandwiched with some marshmallow and chocolate in the middle!

Storage Instructions:

These cookies should be stored in the fridge or another cool place. A warm room will cause the marshmallow cream and chocolate to soften and the cookies could melt apart.
If you like this recipe, you may be interested in these other delicious cookie recipes:
Peanut Butter Chocolate and Marshmallow Sandwich Cookies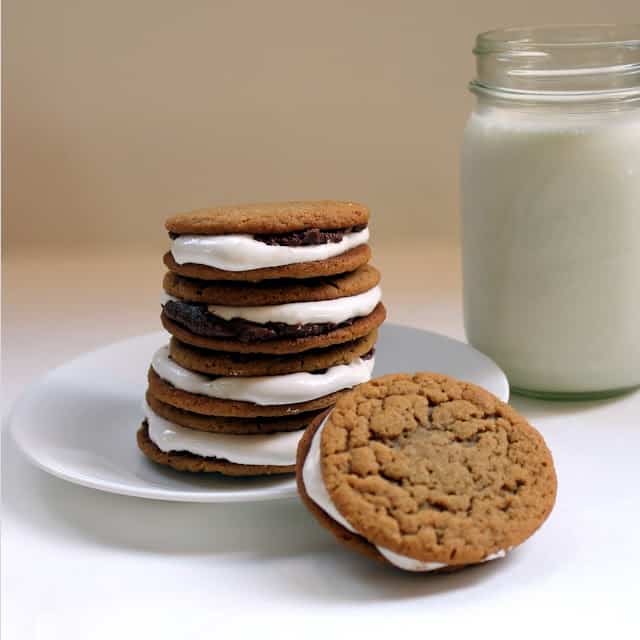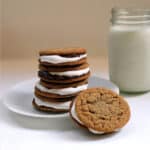 Ingredients
Cookie
2/3

cup

flour

1

teaspoon

baking soda

1/2

cup

butter

1

cup

peanut butter

smooth

1 1/3

cup

brown sugar

1

egg

3/4

teaspoon

vanilla
Filling
1

cup

milk chocolate chips

4

tablespoons

butter

1 (7 oz.)

jar

marshmallow cream
Instructions
Using a stand or hand mixer, mix cookie ingredients together in a large mixing bowl until well combined.

Use a spoon to scoop out small amounts of dough to roll into 1/2 inch spheres. Place the dough balls onto a lightly greased cookie sheet. Press down on the dough balls to slightly flatten.

Bake the cookies at 375 degrees for about 8 minutes. The amount of baking time will depend entirely upon the size of the cookies. Watch closely! Take them out as soon as they get a hint of brown.

Let the cookies stand on the cookie sheet for 2-3 minutes after baking. Remove from cookie sheet and let cool on a wire rack for another 10 minutes.

Refrigerate baked cookies for about 20 minutes.

Meanwhile, melt the chocolate chips and butter together in the microwave. Melt for 10-15 seconds at a time, remove, stir, and continue until the chocolate is completely melted. Let stand 30 minutes until chocolate thickens to a spreadable consistency.

When cookies and chocolate are ready, heat the marshmallow cream in the microwave for about 10 seconds. This will make it easier to spread.

Spread marshmallow cream on one cookie, chocolate on the other and sandwich together. Repeat until all cookies are used.
Notes
These cookies should be stored in the fridge or another cool place. A warm room will cause the marshmallow cream and chocolate to soften and the cookies could melt apart.