Mexican shrimp cocktail is filled with fresh vegetables, a homemade tangy tomato sauce, and perfectly cooked shrimp! This is the ultimate poolside treat.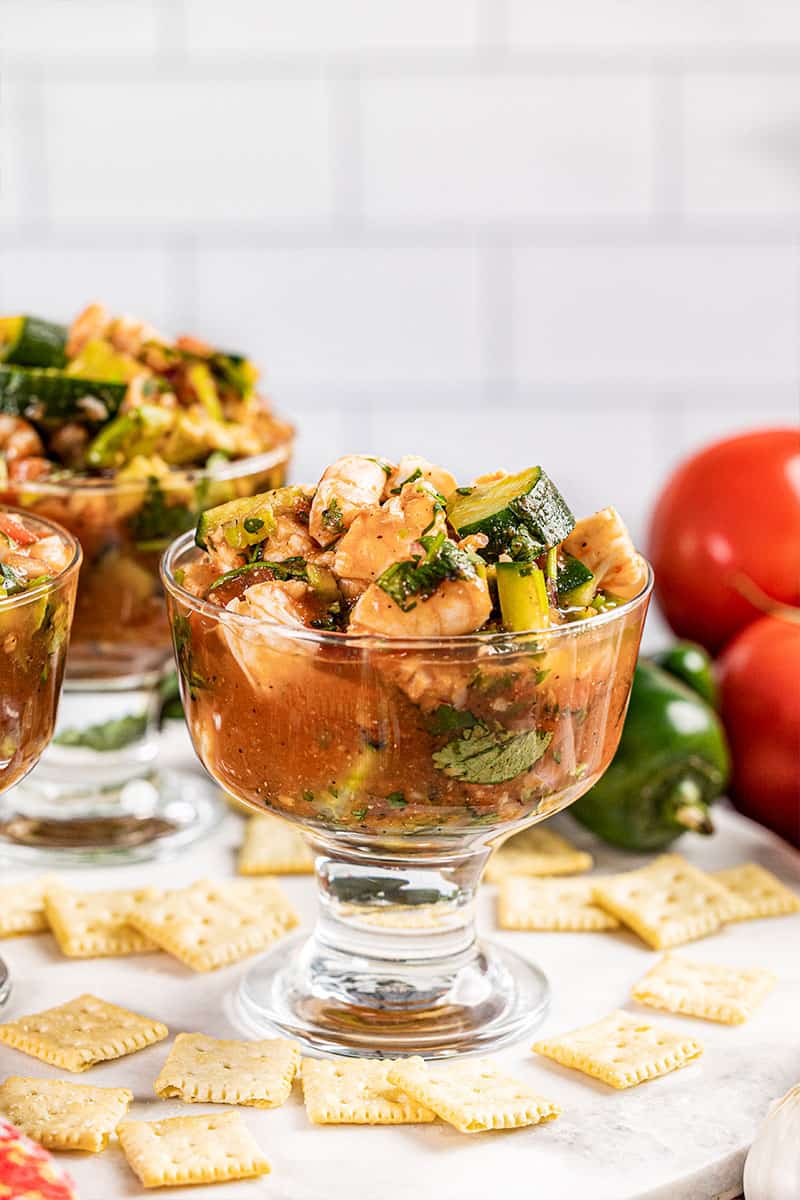 There's something so satisfying about fresh fruits and vegetables in the spring and summer. Today, we're focusing on the veggies. This Mexican shrimp cocktail is made up of three main parts: tender shrimp, fresh vegetables, and a tomato sauce made from scratch. Seafood is another food group that we can't get enough of in the warmer months! This dish is perfect for socializing on a hot day — or while hanging out at home with the family. If you're looking for a fun take on a classic shrimp cocktail, this Mexican-inspired version is your best bet. It's refreshing, satisfying, and comes together in just about 30 minutes.
What is a Traditional Mexican Shrimp Cocktail?
The traditional Mexican shrimp cocktail is called coctel de camarones, which means shrimp cocktail in Spanish. Authentic recipes call for:
Shrimp
Spanish onions
Lime juice
Celery
Tomato
Cucumber
Jalapeño
Tomato and clam juice
…and a few other ingredients! As you can see, we were totally inspired by this dish to create our own version.
What's the Difference Between Mexican Shrimp Cocktail and Ceviche?
Mexican shrimp cocktail is sometimes confused with ceviche, another cold seafood-based dish. The difference is that shrimp cocktail always starts with cooked seafood, while ceviche consists of raw seafood that is served with an acid (like lemon or lime juice) — this ingredient cooks it slightly before it's eaten. Both are then served with fresh vegetables and usually some sort of sauce.
Can I Use Precooked Shrimp?
If you're in a pinch for time, you can absolutely use precooked shrimp for this recipe! Now, if you do want to cook your own shrimp at home, don't forget to check out our guide on the best ways to cook shrimp. We opt for the boiling method for this recipe, but you could also steam your shrimp if desired.
You can also use frozen shrimp, but be sure to let them thaw in the fridge overnight before using them.
Tomato Options:
We use Roma tomatoes for this dish because they are hearty, meaty, and hold up best in this dish. That said, if you have other varieties on hand at home, feel free to use those instead.
Spice Level Variations:
Like most Mexican-inspired dishes, this recipe calls for a bit of heat. If you like spicy foods, go ahead and use an entire jalapeño pepper. You could also use just half, or omit it completely if you don't like spicy foods.
The same goes for using horseradish. It's usually found in shrimp cocktail sauce and would make a wonderful addition to this recipe. It is a bit on the spicy side, though, so hold off if you don't like it.
Serving Dish Options:
We like to get a bit fancy sometimes! Serving up your creations in a specially made shrimp cocktail dish will really set this recipe apart. Alternatively, you can also serve them in a deep and wide cocktail glass to get the same effect.
Serving Suggestions:
We love the idea of serving this dish at a cookout, barbecue, or pool party! You could also serve it at your next outdoor dinner get-together. It's so fresh that it's just begging to be eaten outside. For a more filling meal, we suggest that you serve with: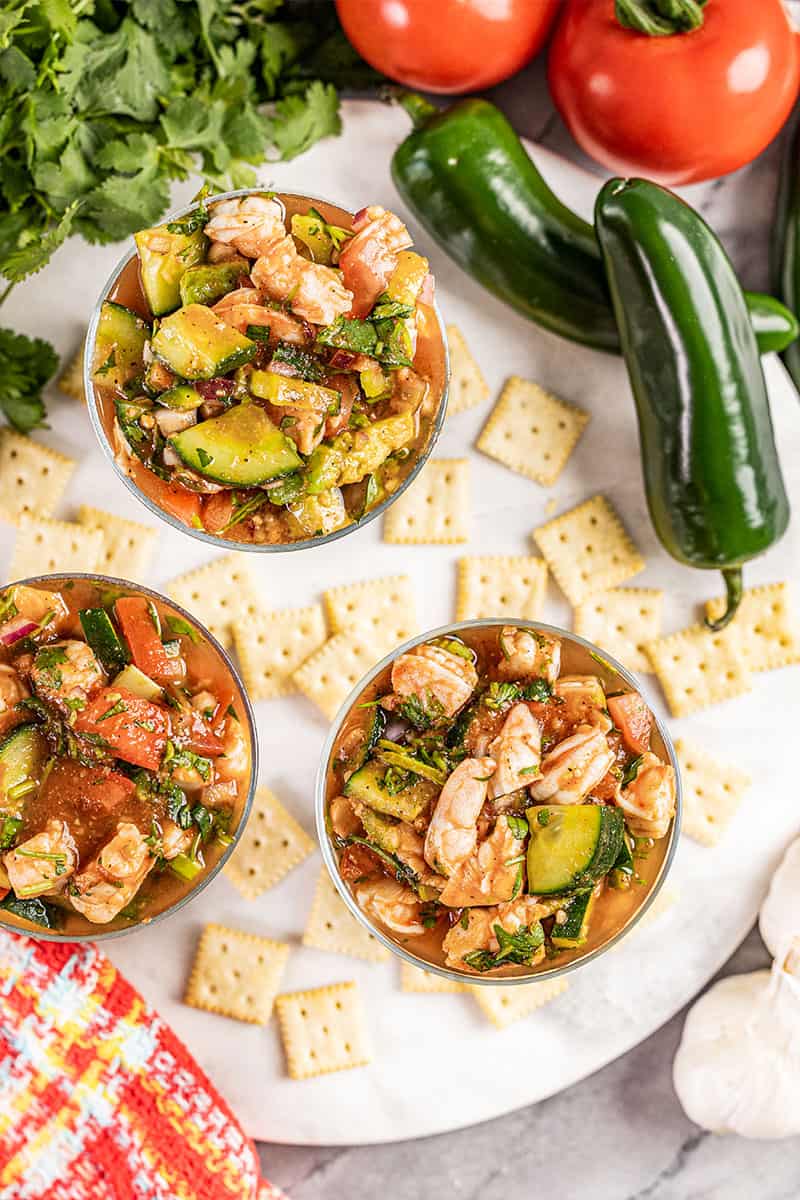 Make-Ahead Instructions:
If you do decide to prepare this dish for a party, you may want to prepare it ahead of time. To do so, you can cook your shrimp a day or two in advance. You can also cut up all of the ingredients a few hours before serving, but make sure to hold off on adding in the homemade tomato sauce just before serving. If you mix in the tomato sauce too early, you could end up with soggy results!
Storage Instructions:
Mexican shrimp cocktail will keep in the fridge for up to 3 days. If you leave it any longer, the shrimp, tomatoes, and avocado, in particular, will start to go bad. Make sure to keep it in an airtight container to ensure that it stays fresh.
If you like this recipe, you may be interested in these other delicious Mexican-inspired recipes: