The Most Amazing Chocolate Cake is moist, decadent, chocolatey perfection with a batter that is made in just one bowl. With thousands of rave reviews, this is the chocolate cake you've been dreaming of!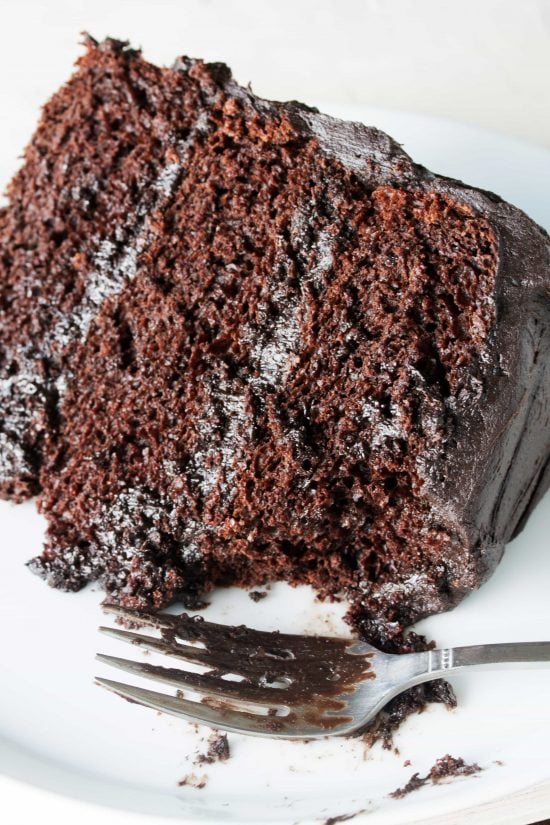 It took years of testing to come up with the perfect chocolate cake recipe. This recipe has been made by tens of thousands of people all over the world who all agree: this is the most amazing chocolate cake ever. This cake is moist and has the perfect crumb. It is so easy to make, using just one bowl for the batter, and puts doctored cake mix recipes to shame. They even call it "The Matilda Cake" because it looks just like the decadent cake Bruce Bogtrotter ate in the movie Matilda.

What is buttermilk? Can I use a buttermilk Substitute?
Buttermilk is necessary for this recipe. It has to do with the way it interacts with other ingredients. Buttermilk is the liquid leftover after churning butter. It can easily be substituted using milk and either vinegar or lemon juice, but there are other options as well. Check out my more in-depth post about how to make a buttermilk substitute.
Can I make this dairy-free?
Yes! Add 2 tablespoons of white vinegar to almond or soy milk. Let stand 5 minutes and use in place of the buttermilk. For the frosting, use a dairy-free frosting option.
Can I make this a gluten-free?
Yes! Use "Cup for Cup" gluten-free flour blend in this recipe in the same amounts.
What can I substitute for eggs in chocolate cake?
Yes! There are several options that work well when substituting for eggs in this recipe.
1/4 cup of plain yogurt per egg
1 tablespoon vinegar+ 1 teaspoon baking powder whisked together per egg
1/4 cup mashed banana per egg
1/4 cup unsweetened applesauce per egg
Can I use this recipe to make other types of chocolate cakes?
Yes! This cake recipe can be used for all sorts of different sizes and kinds of chocolate cakes. Click on one of the images below to view the four most popular variations.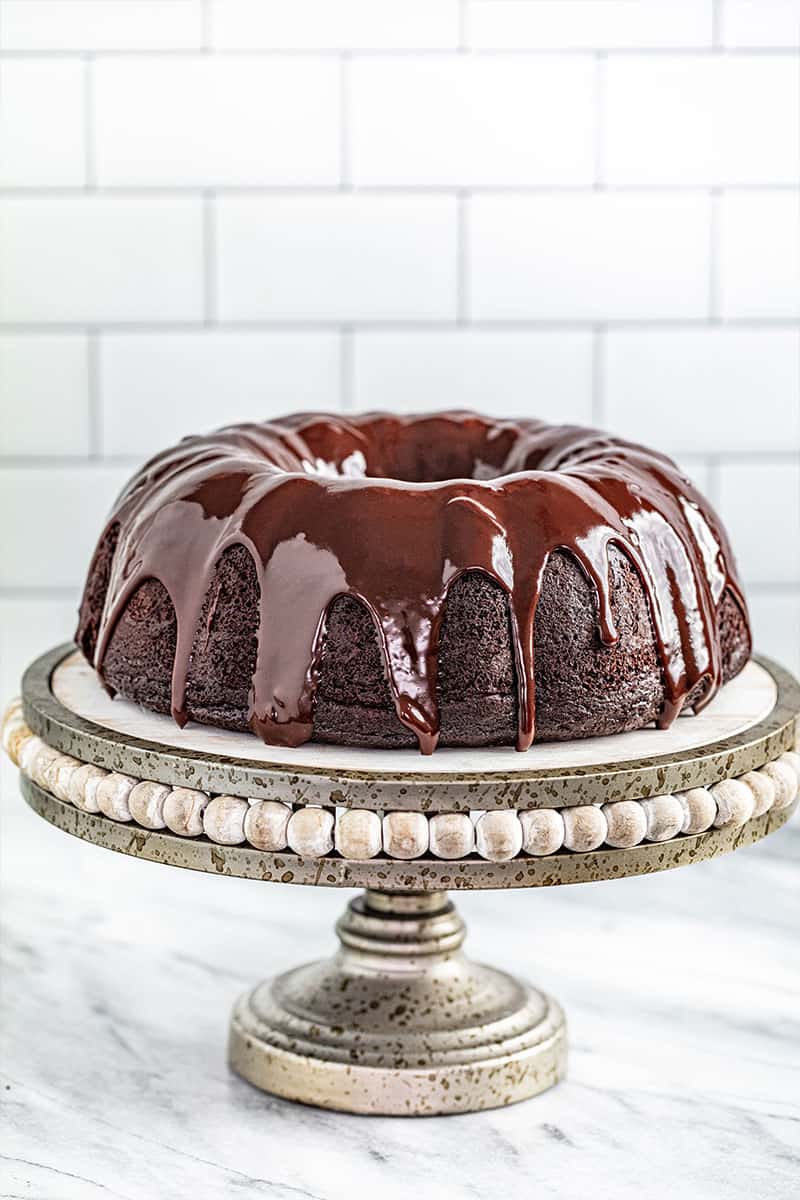 Can I make this recipe into only two layers? Can I make this recipe in a 9×13 pan?
Yes you can, for both you'll need to divide the recipe by 2/3rds. I realize that there are 4 eggs in this recipe so that's the hard part. Just use 3 eggs.
What kind of cocoa powder did you use?
Hershey's Unsweetened Cocoa Powder was used in this cake in order to use a brand that is most widely available to my readers. You can also use higher quality cocoa powders like Ghiradelli or cocoa powders from specialty chocolatier shops, but those can be expensive. We recommend staying away from inexpensive store brands as their quality tends to not yield the best results.
How did you get your frosting so dark?
For these photos, Hershey's Special Dark Unsweetened Cocoa powder was used to achieve the dark-looking frosting.
Other Frosting Options
We love the chocolate cream cheese buttercream frosting used in this recipe, but you can use this cake with any frosting of your choice to mix and match flavors and create your own amazing custom cake creation. Click on the images below for other frosting options including a plain chocolate buttercream, whipped chocolate ganache, ermine frosting, 7-minute frosting, sweetened condensed milk frosting, and a pourable chocolate fudge icing that's great for sheet cakes and 9×13 cakes.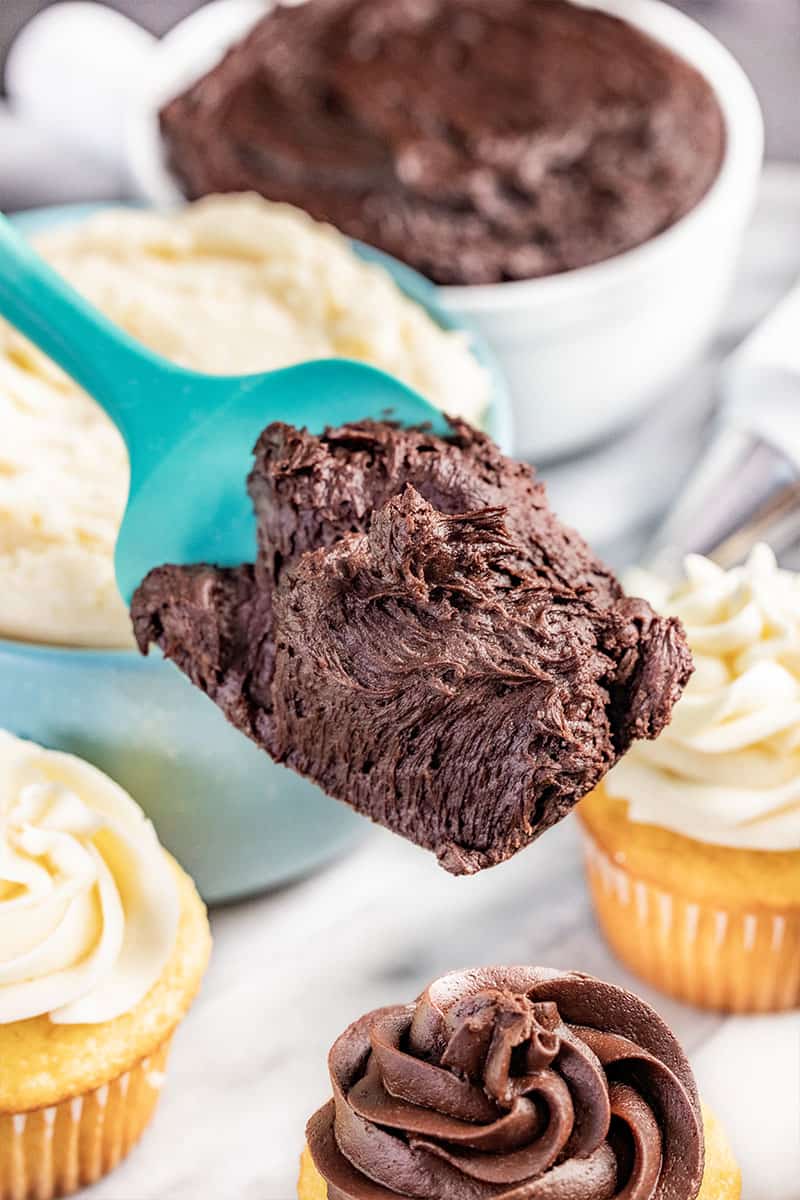 If you like this recipe, be sure to check out my other amazing cake recipes:
Watch the video below where Rachel will walk you through every step of this recipe. Sometimes it helps to have a visual, and we've always got you covered with our cooking show. You can find the complete collection of recipes on YouTube, Facebook Watch, or our Facebook Page, or right here on our website with their corresponding recipes.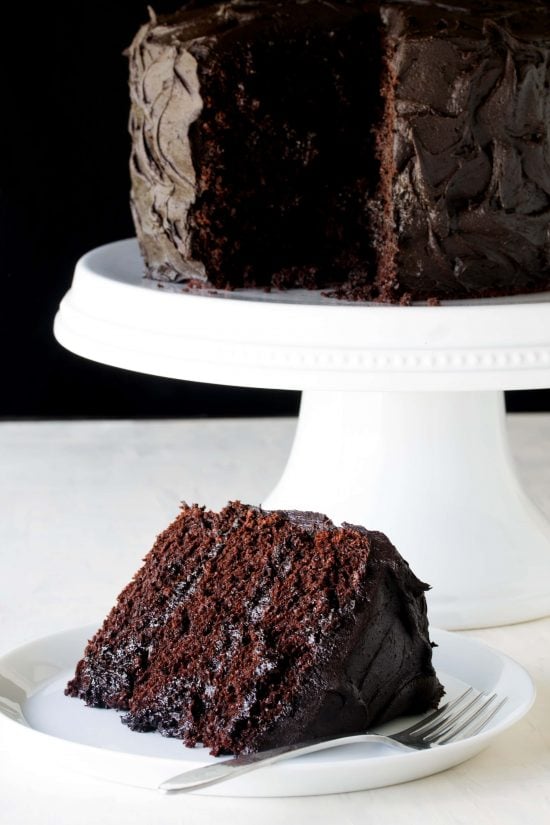 The Most Amazing Chocolate Cake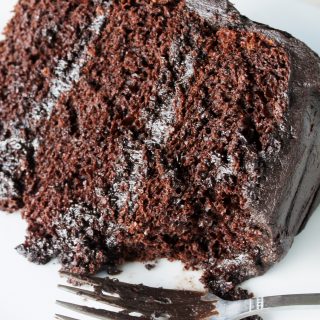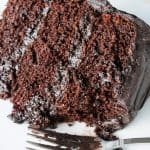 The Most Amazing Chocolate Cake is moist, decadent, chocolatey perfection with a batter that is made in just one bowl. With thousands of rave reviews, this is the chocolate cake you've been dreaming of!
Ingredients
The Most Amazing Chocolate Cake
3

cups

all-purpose flour

3

cups

granulated sugar

1 1/2

cups

unsweetened cocoa powder

1

tablespoon

baking soda

1 1/2

teaspoons

baking powder

1 1/2

teaspoons

salt

4

large eggs

1 1/2

cups

buttermilk

1 1/2

cups

warm water

(or brewed coffee)

1/2

cup

vegetable oil

2

teaspoons

vanilla extract
Chocolate Cream Cheese Buttercream Frosting
1 1/2

cups

butter

softened

8

oz

cream cheese

softened

1 1/2

cups

unsweetened cocoa powder

3

teaspoons

vanilla extract

7

cups

powdered sugar

about 1/4 cup milk

as needed
Instructions
The Most Amazing Chocolate Cake
Preheat oven to 350 degrees Fahrenheit. Lightly butter three 9-inch cake rounds. Dust with flour or cocoa powder and tap out the excess. Alternatively, you can lightly grease the pans and line with parchment paper.

In a large mixing bowl, mix together flour, sugar, cocoa, baking soda, baking powder, and salt in a stand mixer using a low speed until combined.

Add eggs, buttermilk, warm water, oil, and vanilla. Beat on a low speed until smooth. This should take just a couple of minutes. Be sure to scrape the sides and bottom of the bowl so that everything gets mixed in.

Divide batter evenly amongst the three prepared pans, about 3 cups of batter per pan. Tap the cake pans gently on the counter to allow any bubbles to rise to the top and escape.

Bake for 30-35 minutes in a 350 degree oven until a toothpick inserted into the center comes out clean.

Cool on wire racks for 15 minutes and then remove the cakes from the pan and place on the wire rack to cool completely.

Frost with your favorite frosting and enjoy!
Chocolate Cream Cheese Buttercream Frosting
In a large bowl, use a hand mixer or stand mixer to beat together butter and cream cheese until fluffy, about 3 minutes.

Add in cocoa powder and vanilla extract. Beat until just combined, about 30 seconds.

Beat in powdered sugar, 1 cup at a time. Add milk as necessary to make a spreadable consistency. The frosting should be very thick and will thicken even more once refrigerated.

Use frosting to frost and assemble cake, or transfer to a piping bag for decorating. Once frosted, this cake should be refrigerated, but can remain at room temperature for up to 4 hours.
Notes
For metric measurements, click on the metric tab.  Bake at 176 degrees celsius in three 23 centimeter pans
Coffee can be used in place of warm water to enhance the flavor of chocolate. This option is great for dark chocolate lovers.
The servings on this cake are listed as 3 layers to allow you to use the built-in scaling feature to adjust the recipe larger or smaller depending on how many layers you want to make. 
Nutrition
Serving:
1
large slice
|
Calories:
767
kcal
|
Carbohydrates:
119
g
|
Protein:
8
g
|
Fat:
33
g
|
Saturated Fat:
21
g
|
Cholesterol:
105
mg
|
Sodium:
668
mg
|
Potassium:
383
mg
|
Fiber:
5
g
|
Sugar:
91
g
|
Vitamin A:
825
IU
|
Calcium:
96
mg
|
Iron:
3.7
mg