Chocolate lovers will be in heaven with Chocolate Tiramisu. Chocolate soaked lady fingers are layered with mascarpone cream and chocolate custard in this alcohol and coffee free take on the classic tiramisu.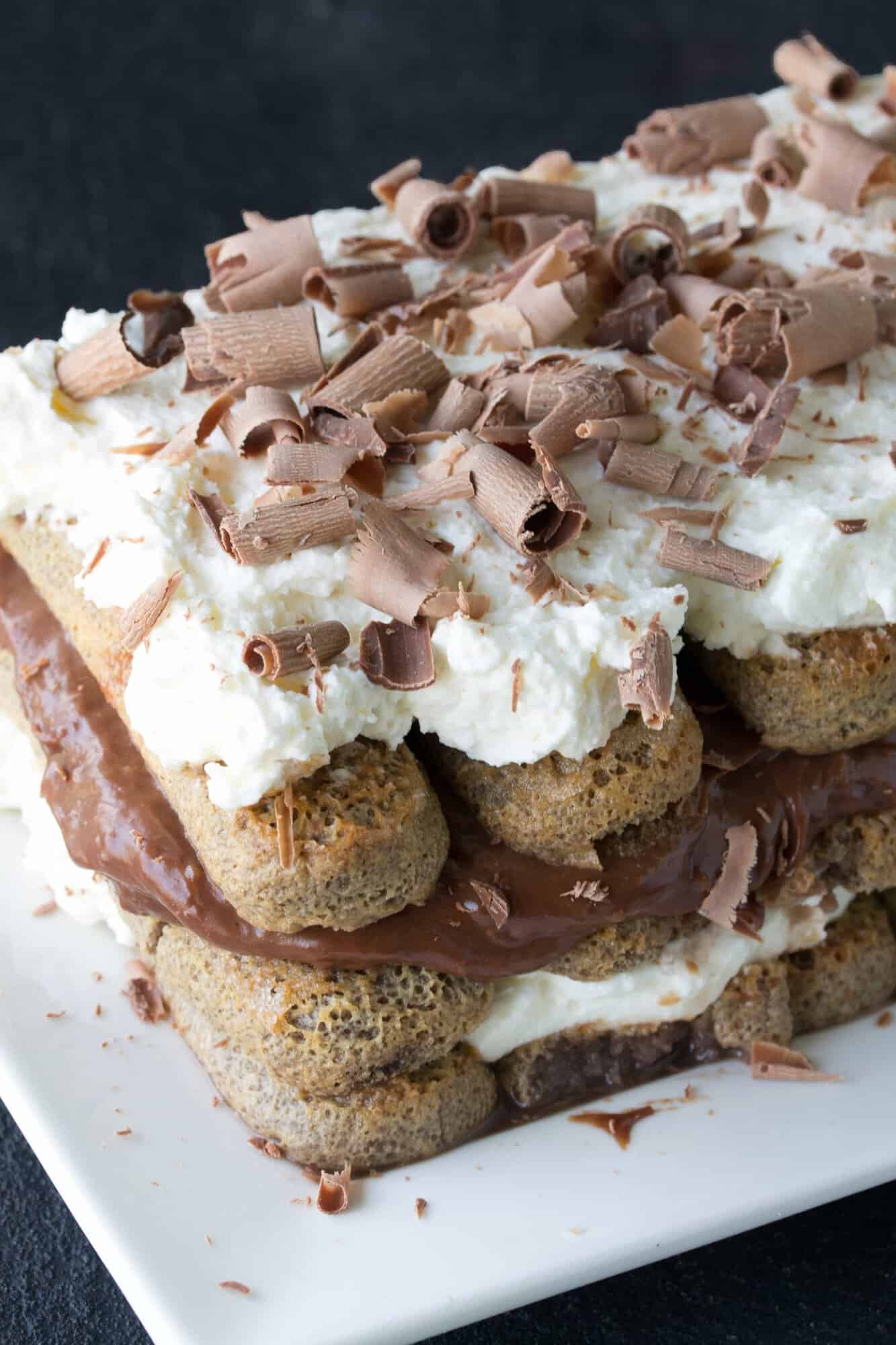 Tiramisu is a classic Italian dessert where lady fingers are dipped into variations of rum and coffee and topped with a mascarpone cream mixture. We are a coffee and alcohol free family so I've come up with a family friendly tiramisu recipe that focuses on chocolate. In this delectable alternative version, lady fingers are dipped into hot chocolate, and layered with a mascarpone cream mixture and a chocolate custard layer. The result is a heavenly dessert that everyone in the family can enjoy!


My husband lived in Italy a couple different times growing up. In our religious culture we don't drink coffee or alcohol so there were numerous Italian grandmothers and mothers from church who would make similar chocolate variations of tiramisu. While this may not be the way most Italians enjoy it, I can promise you there are numerous ones who do!
Watch the video to wet your appetite and see just how I make this fun dessert. I have several great tips and tricks to help you through every step of the recipe. You can also check out the rest of my YouTube Channel were you can find hundreds of quality recipe videos.
MY OTHER RECIPES
Chocolate Tiramisu
Chocolate Tiramisu (No Coffee, No Alcohol)
Author:
Rachel Farnsworth
Ingredients
Chocolate Custard
¼ cup white sugar
3 tablespoons cornstarch
½ cup milk
½ cup heavy cream
2 oz. dark chocolate, chopped (OR ¼ cup chocolate chips)
2 egg yolks
1 tablespoon butter
½ teaspoon vanilla extract
Chocolate Tiramisu
42 lady fingers
4 cups hot chocolate, cooled
2 teaspoons vanilla extract
1 cup heavy cream
16 oz mascarpone
2 tablespoons white sugar, divided
½ cup chocolate curls
Instructions
Make your chocolate custard: In a small saucepan over medium heat, whisk together sugar, cornstarch, milk, heavy cream, and chocolate. Stir constantly until mixture begins to bubble and thicken. Put the egg yolks in a small mixing bowl off to the side. Pour in a little of the heated chocolate mixture and beat rapidly for a few seconds, then pour the entire egg yolk mixture back into the saucepan with the chocolate. Whisk together constantly and cook for an additional 90 seconds. Remove from heat and stir in butter and vanilla until melted. Pour into a glass bowl and cool completely in the refrigerator.
Mix the hot chocolate with vanilla extract. Working one at a time, dip the lady fingers into the hot chocolate and arrange 14 of the lady fingers on a serving platter or in a 9x9 pan to form a bottom layer. Break the lady fingers in half, if necessary, before dipping to get your desired shape.
In a medium-size mixing bowl, use a hand mixer to beat together heavy cream and sugar until it forms stiff peaks. Fold in the mascarpone.
Spread half of the mascarpone mixture onto the bottom layer of lady fingers. Create another layer of lady fingers using another 14, working one at a time to dip the lady fingers into the hot chocolate.
Top the second layer of lady fingers with the chocolate custard. Create a final layer of lady fingers using the remaining 14, working one at a time to dip the lady fingers into the hot chocolate and layer.
Top the final layer of lady fingers with the remaining mascarpone. Refrigerate the cake for at least 2 hours before serving.
Dust the cake with cocoa powder or use a vegetable peeler to shave chocolate onto the top.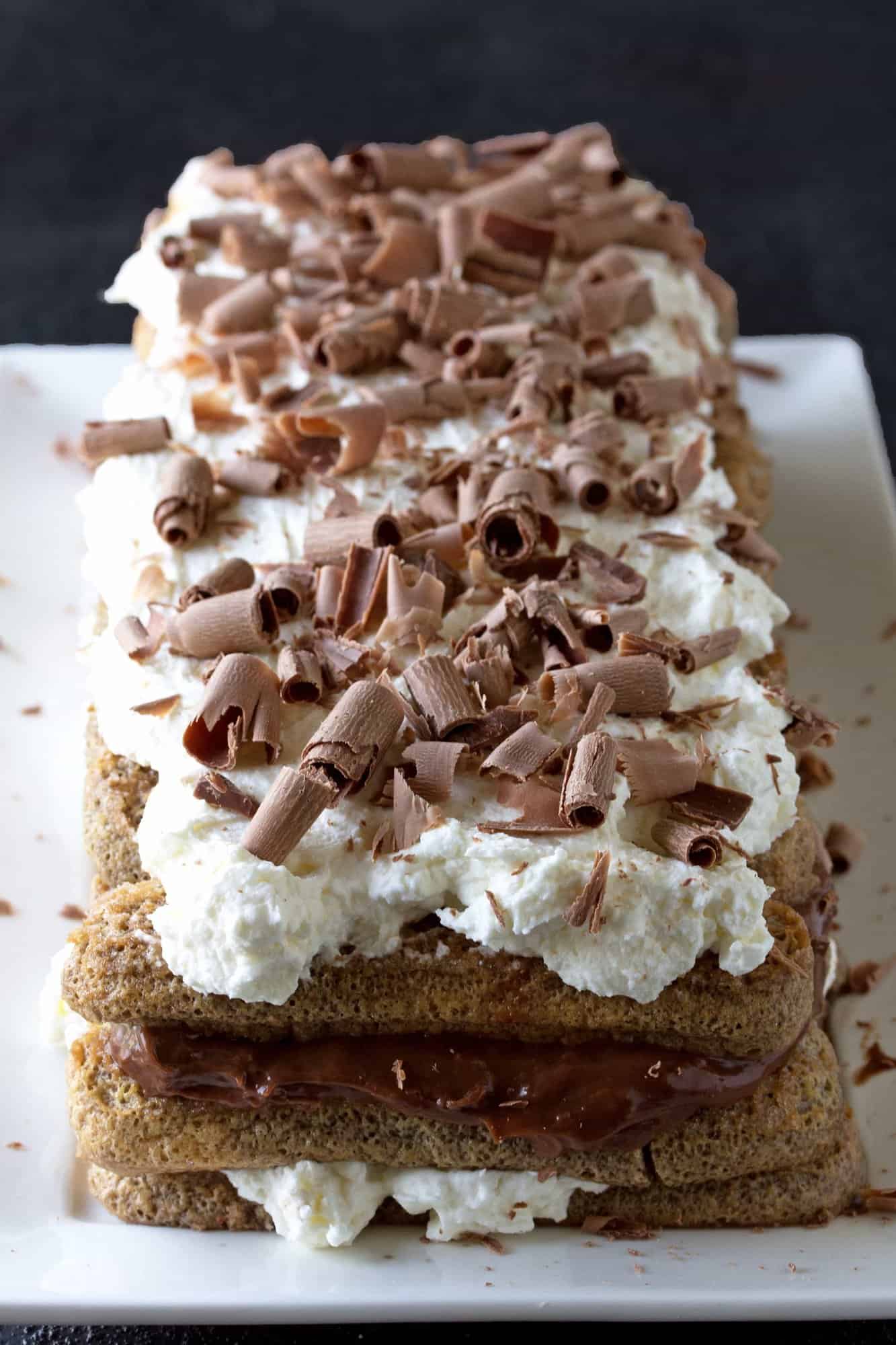 This recipe first appeared on The Stay At Home Chef on January 29, 2014