Gooey, chocolatey, and melty, this is the best chocolate fudge icing recipe for Texas sheet cakes and brownies. It is so soft and fudgy you may get the impression you're eating candy.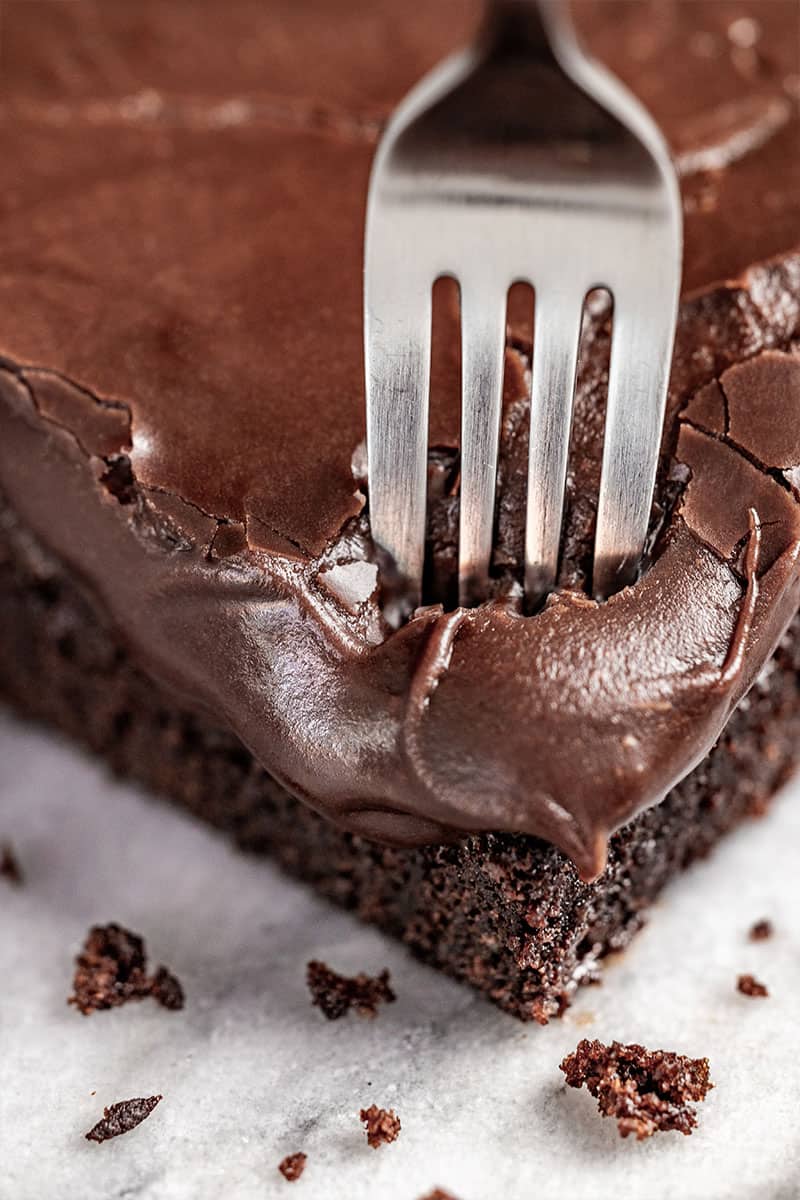 Is there anything better than chocolate icing? It takes a plain old vanilla cake to the next level. It's a great addition to gooey brownies. It can add even more chocolaty goodness to an already chocolaty cake. You get the idea! No matter which way you decide to use it, homemade chocolate icing is much more satisfying than frosting from a can. You can pour it over your baked goods while it's still warm and get thick and rich results every time. Once it hardens, you'll end up with a layer of chocolate that's reminiscent of fudge. A fudge-covered cake? Consider us sold!
Ganache, Boiled Icing, and Icing, Oh My!
If you've been scouring the internet for the perfect homemade chocolate icing, you may have come across a few ganache recipes. So, what's the difference?
Ganache recipes are much simpler to make – all you need is chocolate and heavy cream. It's often used as icing or as a filling. Some chefs even use it as a dipping sauce paired with fruit like strawberries. You'll also see it on donuts and cupcakes. It's rich, thick, and sweet.
Chocolate icing is a much more general term. You'll find it on top of cakes, cupcakes, brownies, and many other baked goods. Icing is often used interchangeably with frosting. Frosting does tend to be a bit thicker, while icing is usually smoother and easier to spread than frosting.
Boiled icing is a white cake frosting that's fluffy and light. It's made by pouring a sugar syrup that's been heated over beaten egg whites. You're then required to continue whisking the mixture so that it forms a smooth and silky result. It's the same technique used in Italian meringue. As you can see – it's nothing like this recipe!
Buttermilk:
This recipe features buttermilk! We use it quite often – in cornbread muffins, in syrups, and we've even shared our best buttermilk substitutes. It's not always easy to find in the store, but it's really easy to concoct at home. Buttermilk adds thickness and a very slight tart flavor to your recipes. Basically, it adds a little something special to whatever you put it in.
Simply add 1 tablespoon of lemon juice or white vinegar for every cup of milk and you're in business! You can also use 1 ¾ teaspoon of cream of tartar instead for the same results.
Troubleshooting: Why is My Homemade Chocolate Fudge Icing Grainy?
If your chocolate fudge icing takes on a grainy texture, that means that it has "seized." When chocolate is melted, its ingredients will naturally spread out evenly to produce a smooth and silky texture. Seizing can happen when moisture gets into the mix or when you've overheated your icing. You can prevent it by keeping a close eye on the temperature. Plus, because this recipe calls for cocoa powder instead of chunks or chips, you don't necessarily need to worry about added moisture. You should be able to avoid grainy icing if you follow the instructions carefully.
Serving Suggestions:
What desserts should you add your chocolate fudge icing to? Glad you asked!
You can also feel free to get creative! Add it to cookies or use it to top an ice cream sundae!
Substitutions:
Some recipes are more flexible and allow you to substitute certain ingredients. Unfortunately, this recipe isn't one of them. You could theoretically replace the butter and milk with plant-based options, but we've never tried it so we can't guarantee that it will work!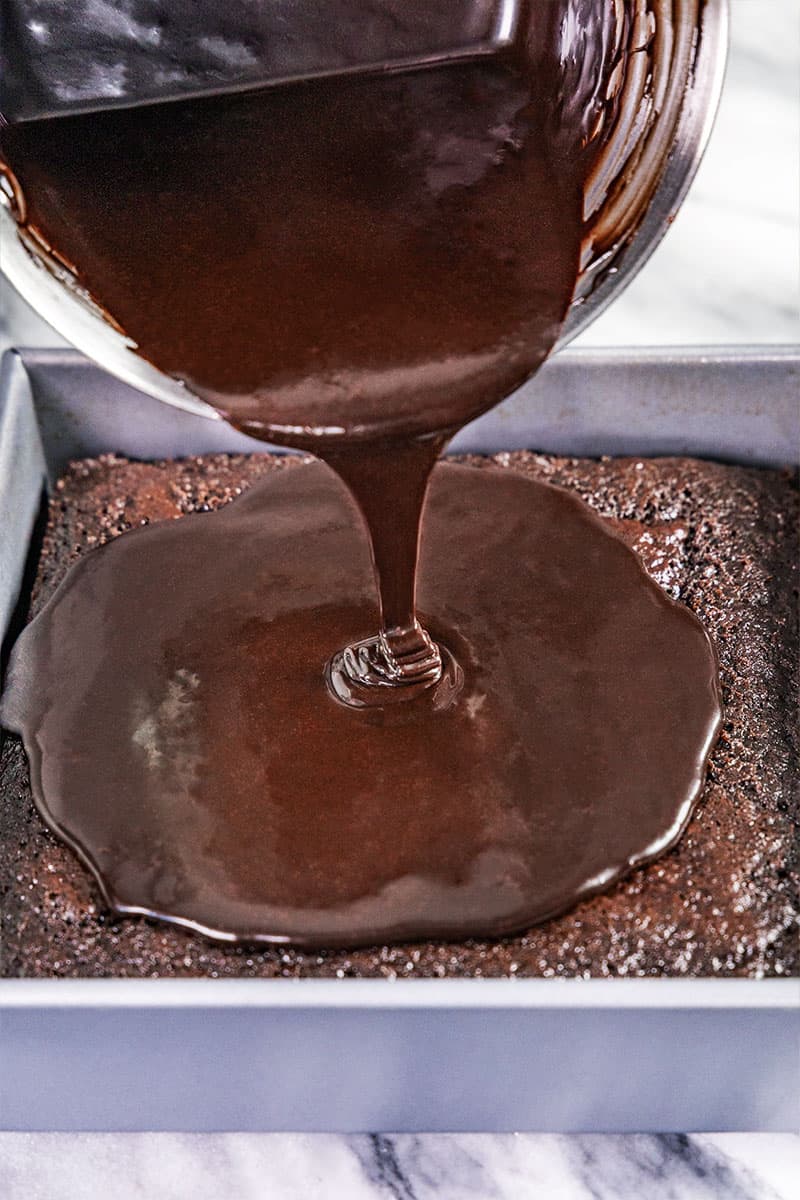 Storage Instructions:
Place any leftover chocolate fudge icing in an airtight container in the fridge, where it will keep for up to one week. It will also keep in the freezer for about one month. Make sure that in either case, it's completely cooled before storing. If working from frozen, be sure to let it thaw overnight in the fridge before use. You may need to heat it in the microwave before spreading it on your dessert of choice.
If you like this recipe, you may be interested in these other delicious frosting recipes:
Watch the video below where Rachel will walk you through every step of this recipe. Sometimes it helps to have a visual, and we've always got you covered with our cooking show. You can find the complete collection of recipes on YouTube, Facebook Watch, or our Facebook Page, or right here on our website with their corresponding recipes.
Cooked Chocolate Fudge Icing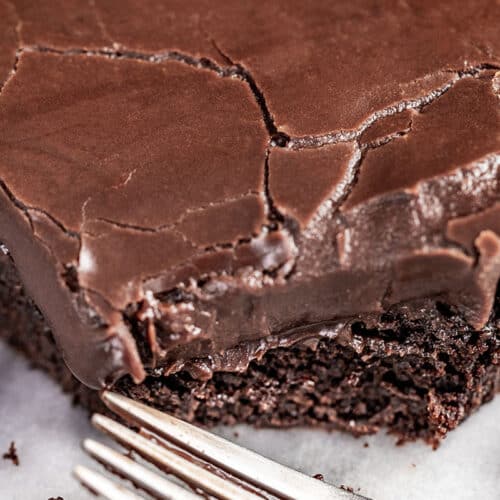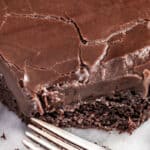 Gooey, chocolatey, and melty, this is the best chocolate fudge icing recipe for Texas sheet cakes and brownies. It is so soft and fudgy you may get the impression you're eating candy.
Ingredients
1/2

cup

salted butter

1/3

cup

unsweetened cocoa powder

1/3

cup

buttermilk

3

cups

powdered sugar

1

teaspoon

vanilla extract
Instructions
Melt butter in a medium-sized saucepan over low heat. Whisk in cocoa powder, then pour in buttermilk. Increase heat to medium high and bring to a simmer, whisking constantly.

Once the mixture is simmering, remove from the heat and whisk in powdered sugar and vanilla until smooth. Pour over cake or brownies to cover. Use a rubber spatula to smooth out and spread if needed. Cake or brownies can still be warm.