The Most Amazing Brownies are the perfect chewy fudge squares of chocolate. You'll never buy a boxed brownie mix again! You can make these brownies with either baking chocolate or cocoa powder too!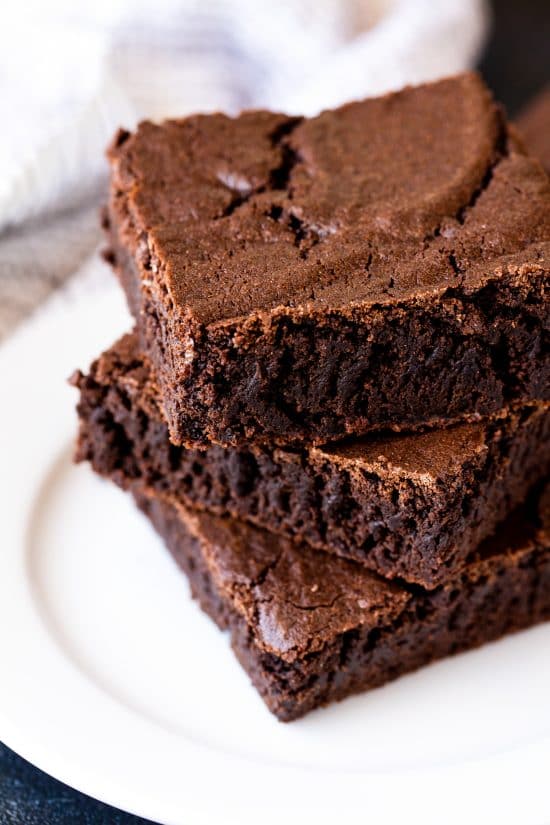 Looking for the perfect brownie recipe? Look no further! I've been making these brownies for years and have used them a base for some of my favorite brownie creations like my Oreo Fudge Brownies. Lately I've had so many friends ask for my basic brownie recipe I decided it was about dang time to publish just the brownie recipe itself.
These brownies are absolutely perfect. Several years ago my friend Sally had me make a boxed brownie mix for an event. We used a box so they'd all end up the same. Sally laughed when I told her I needed the box directions, not just the bag of mix because it had been so long since I had made a boxed mix. My kids and husband were stunned when they saw the completed box mix brownies. They wondered why anyone would ever eat that instead of homemade. Once you go from scratch, you'll never be able to go back. It ruins you! Even the best, highest end of brownie mixes just don't compare
I've included two recipes below, one where you use baking chocolate and one that is based off of cocoa powder. Both of them are absolutely fantastic and are really the same recipe. The only difference is where the chocolate flavoring comes from and the amount of fat needed to balance it out. Some people are all about using real chocolate in their brownies, and others love the convenience of cocoa powder so use whichever one suites your fancy!