Decadent fudge brownies filled with chunks of Oreo cookies, topped off with raw cookie dough. I call them my Triple Threat Brownies. Oreo Fudge Brownies with Cookie Dough Frosting. What's not to love?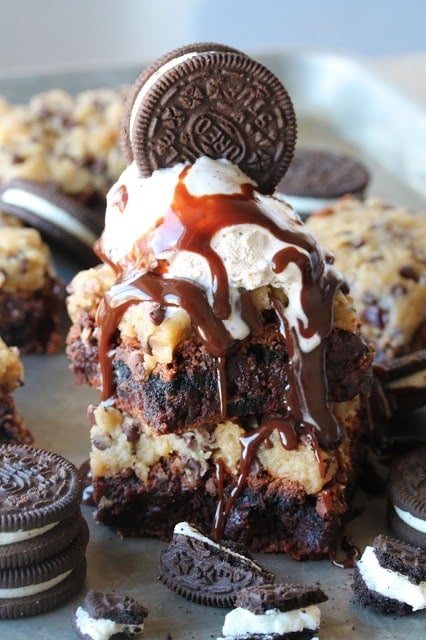 When it comes to dessert making sometimes I just sit and think about how I can fit the most calories possible into one bite. Let me tell you friends, I don't know how many calories these brownies have in each bite, but I'm guessing the number is frightfully high. Which means? These are some dang tasty brownies. I'm always getting cookie dough, brownies, and oreos mixed into things (hello Coldstone!), so why not put the 3 together? I used my tried-and-forever-true brownie recipe, added some oreo pieces, and stacked some egg-less cookie dough on top and let me tell you, the result is something straight from heaven.
Scroll down for 12 more amazing Oreo recipes
Watch the video to see just how to make these incredible brownies!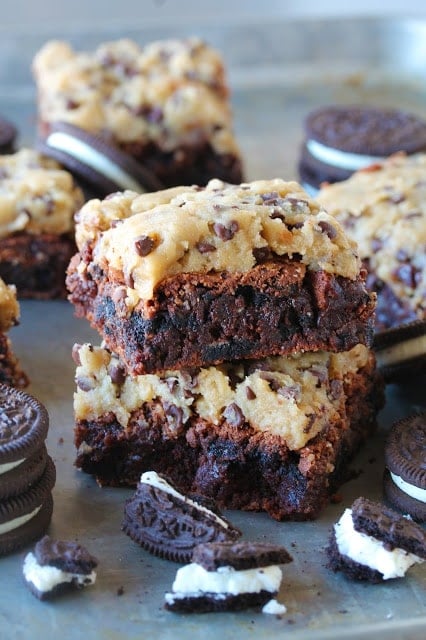 More Delicious Oreo Recipes!
Fried Oreos from Ashlee Marie
Oreo Buttercream Frosting from Real Mom Kitchen
Grasshopper Icecream Dessert (Asphalt Pie) from Jamie Cooks It Up!
Thin Mint Oreo Pops from Like Mother Like Daughter
Cookies and Cream Poke Cake from Butter With A Side of Bread
Oreo Chocolate Chip Cookies from The Baker Upstairs
Mint Oreo Pops from 365 Days of Slow Cooking
Lighter Mini Cheesecakes with Oreo Crust from Yummy Healthy Easy
Oreo Rice Krispie Treats from Creations by Kara
Mint Cookies and Cream Fudge from Life Made Simple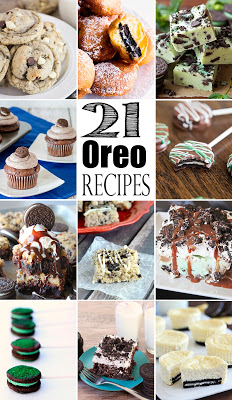 Oreo Truffles from Ashlee Marie
Chocolate Oreo Cream Cake from Real Mom Kitchen
Homemade Cookie Dough Oreos from The Stay At Home Chef
Oreo Turtle Bars from Jamie Cooks It Up!
Mint Chocolate Ice Cream Pie from Like Mother Like Daughter
Easy Oreo Ice Cream Cake from Butter With A Side of Bread
Peanut Butter Cream Oreos from The Baker Upstairs
Oreo Cheesecake Pudding Cups from Creations by Kara
Peanut Butter Oreo Brownie Cups from Like Mother Like Daughter
Oreo Cheesecake Brownies from Life Made Simple