The Most Amazing German Chocolate Cake is moist, rich, and layered with the most delicious coconut pecan filling. This is the German Chocolate Cake you've been dreaming of!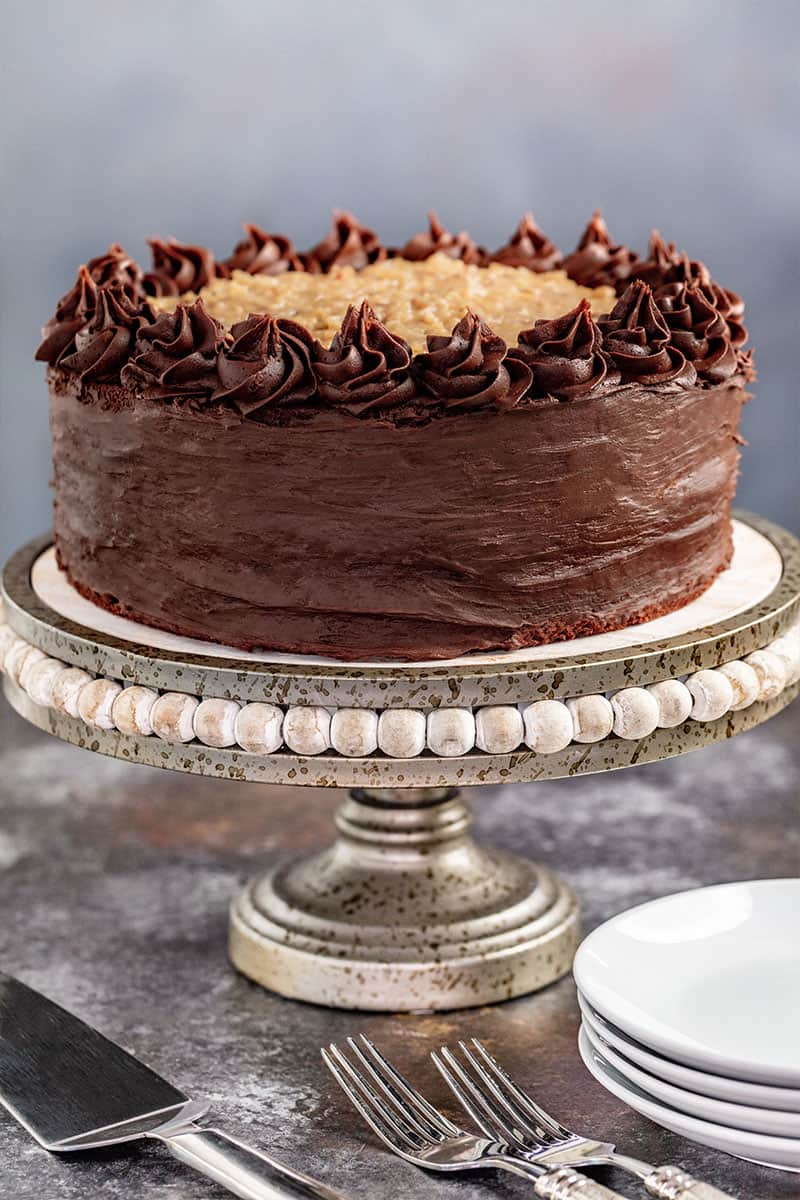 Whatever happened to good old fashioned chocolate cake? Obviously the standard chocolate cake recipe is still alive and well over here at The Stay At Home Chef, and you all sure do seem to love it! While we are still head over heels for The Most Amazing Chocolate Cake, we have also come to recognize that there is so much variety in chocolate cake out there. Luckily for you, we are here to help you navigate the world of chocolate cake.
Between devils food cake, red velvet, and German chocolate cake, it is easy to get these all mixed up. Fortunately, there are plenty of distinguishing traits once you bite into them! German chocolate is easily identifiable due to its coconut pecan filling. While the chocolate cake itself just can't be beat, it is the filling that truly makes this the most amazing German chocolate cake ever!
Can I make German Chocolate Cake in a 9×13 pan?
Yes, you can! No changes needed! If you'd rather make this into a single 9×13 rather than a 2 layer round cake, go right ahead!
Can I use milk instead of buttermilk?
We recommend using buttermilk for the best result. Luckily enough, making a buttermilk substitute is really easy! Just add 1 teaspoons of white vinegar to your milk and let sit for 5 minutes. Voila! Buttermilk!
Dairy-Free Options:
You can certainly make this cake dairy free. Substitute the milk or buttermilk by adding 2 tablespoons of white vinegar to your preferred plant based milk. Soy, almond, and oat milk are all good options. Let stand 5 minutes before using. For the frosting, use a dairy-free frosting.
Gluten-Free Options:
This recipe has not been tested with any of the many gluten-free substitutions and replacement options available. If you want to try this recipe using a gluten-free alternative, we recommend using a gluten free flour blend that is designed to directly replace all-purpose flour in the same amount.
Egg Substitutes:
There are several options that work well when substituting for eggs in cakes.
1/4 cup of plain yogurt per egg
1 tablespoon vinegar+ 1 teaspoon baking powder whisked together per egg
1/4 cup mashed banana per egg
1/4 cup unsweetened applesauce per egg
Buttercream: Optional?
German Chocolate Cake can be made with or without buttercream. The important required elements for this cake are the chocolate cake itself and the coconut pecan filling. Chocolate buttercream can be used to frost the outside edges of the cake and for decoration, but it is not used in between the layers or on top of the cake. Whether or not you include chocolate buttercream on your German Chocolate Cake is a matter of personal preference.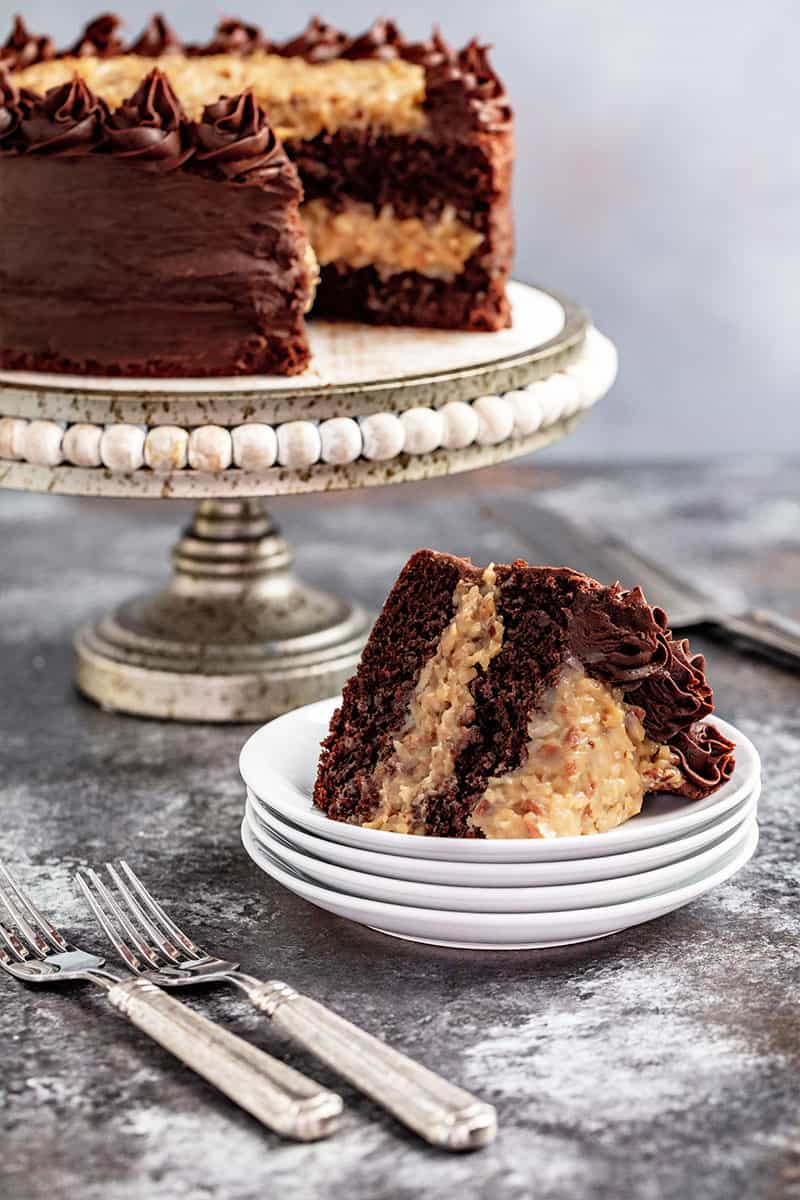 Storage Instructions:
Store your German Chocolate cake in an airtight container at room temperature for up to 5 days.
If you like this recipe, you may be interested in these other delicious chocolate cake recipes:
Watch the video below where Rachel will walk you through every step of this recipe. Sometimes it helps to have a visual, and we've always got you covered with our cooking show. You can find the complete collection of recipes on YouTube, Facebook Watch, or our Facebook Page, or right here on our website with their corresponding recipes.