This fried cabbage is delicious and super easy to make with a few ingredients. It comes together in less than 30 minutes!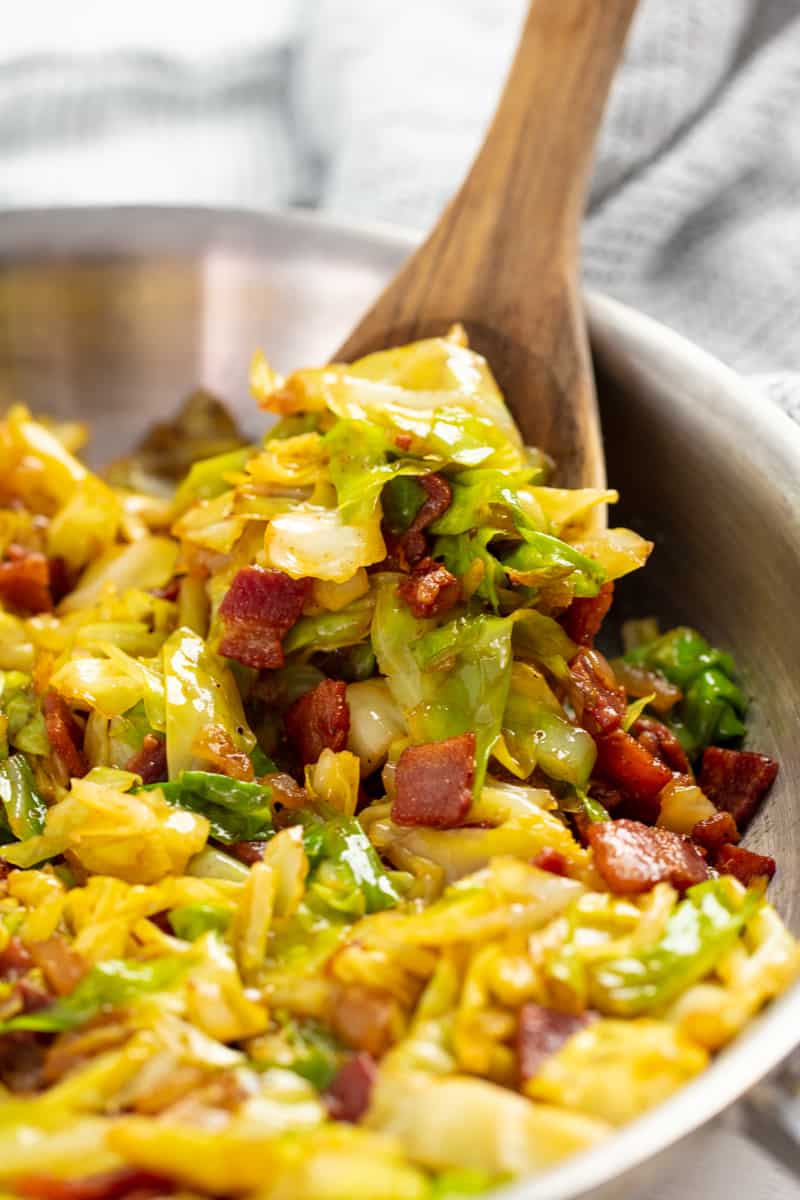 I used to hate cabbage until I tried fried cabbage a few years ago and I really enjoy it now. I made it last weekend for a St.Paddy's day potluck and there were no leftovers, which was awesome! It goes really well with corned beef, pot roast, grilled chicken and even pork chops.
Now, fried cabbage can be made in various ways but my favorite way involves pan frying it with bacon and onions. I also like to keep the spices very simple and only use salt, pepper and a bit of paprika to add a smoky flavor.
Here are some notes about this recipe:
– Use whatever type of bacon you like- regular, turkey or even vegan. Just remember that turkey bacon and vegan bacon are not very oily and additional oil or butter must be added.
– Use a non-stick pan so that none of the ingredients stick to the pan.
– Make sure to finely chop your onions because they blend together much better with the cabbage.
– Don't over-cook the cabbage or else the texture becomes very soft and "mushy" and it's just weird. – Instead of bacon, you can also use sausage.
I know that cabbage is one of those weird vegetables that people either hate or love. If you are not fond of it, seriously, give this recipe a shot and you might start enjoying cabbage too.

What is fried cabbage?
It's an Irish side dish that's made by pan-frying cabbage with onions and basic spices and served predominantly with corned beef.
How do you pan fry cabbage?
Melt butter in a large pan over medium heat. Then, add shredded cabbage, salt, pepper and saute for a few minutes until the cabbage is tender and that's it. Some recipes (such as mine) also include additional ingredients like onion and bacon.
If you are looking for other sides, you may like these easy honey glazed carrots or these jalapeno garlic mashed potatoes.