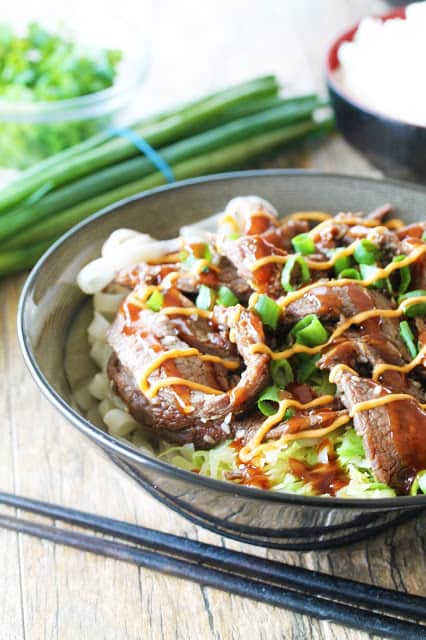 Rice noodles, rice, and cabbage, topped with delicious Korean bulgogi, drizzled with sriracha mayo and Korean barbecue sauce….it's seriously so good!
So there's this amazing food truck in Utah called Cupbop. It's so popular it has expanded to multiple states with several permanent locations. I grew up eating bulgogi at home so a Korean food truck is something I could totally dig. They serve beef bulgogi (thinly sliced Korean beef) over noodles, rice, and cabbage with these totally delicious sauces. Cupbop is one of my favorite food trucks and I've chased it all over the place. But I swear, I have to drive 30 minutes to get to the food truck locations. Time to make my own recipe at home.
Now, those sauces are what makes the dish. It is served with a sriracha mayo and some kind of Korean barbecue sauce. Now, I don't know if these are exactly what Cupbop uses in their truck, but I can tell you it is pretty dang good. I've decided to keep it quick by using a plain barbecue sauce and adding in Korean ingredients. It's a nice little cheat.