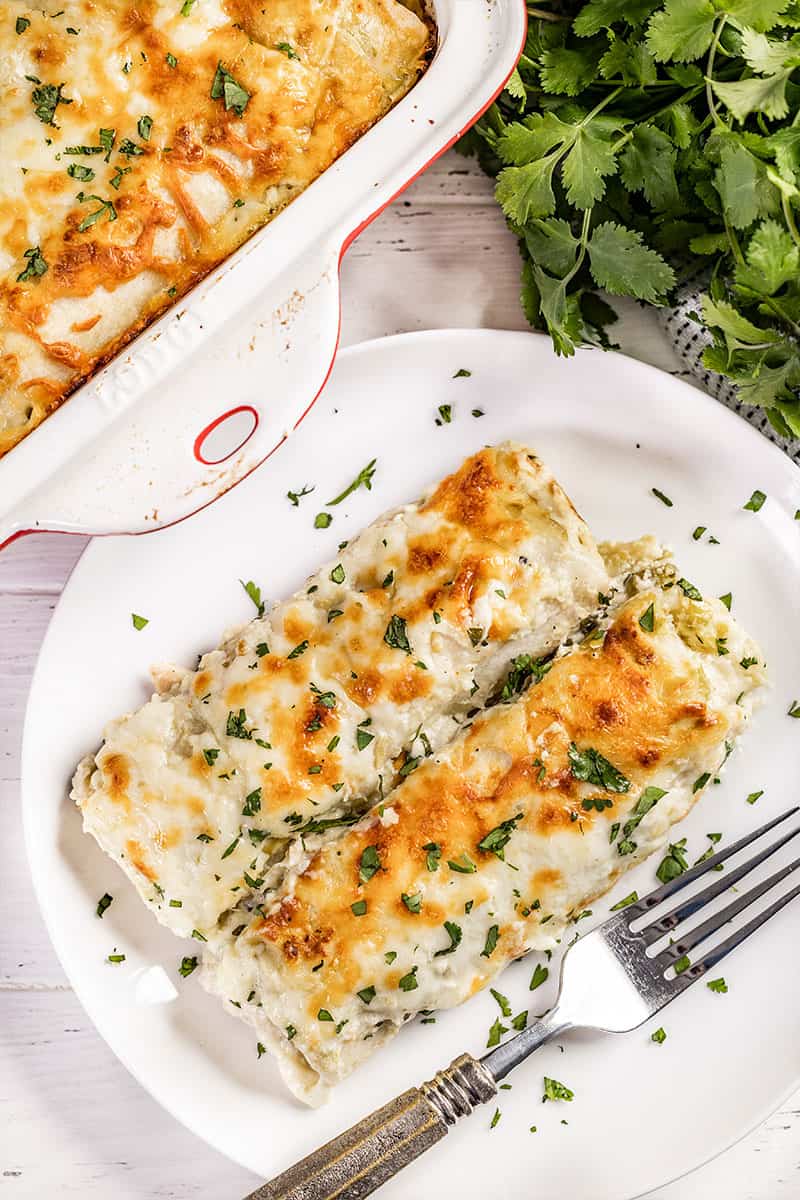 Green chile chicken enchiladas are a major twist on classic enchiladas that your whole family will enjoy! Filled with tender chicken, cream cheese, green chiles, and a whole lot of seasonings, you're in for a Southwest American treat.
We're constantly inspired by Mexican cuisine here at the Stay at Home Chef! Enchiladas are a traditional Mexican dish, and we use the general idea as a base for this green chile chicken enchiladas recipe. Our recipe features juicy chicken, Monterey Jack, sour cream, cream cheese, plenty of green chiles, and spices like cumin and chili powder. The results are some seriously melt-in-your-mouth green chicken enchiladas. It's a hearty weeknight dinner idea that takes under an hour to prepare and bake. Don't be surprised if you go back for seconds! It also freezes beautifully if you want to make a double batch to save for later.
Chicken Options
When a recipe calls for pre-cooked chicken (like this green enchilada recipe!), there are several great options. You can use leftover chicken, but depending on the seasonings and flavors added, it may not work well in just any recipe. Consider some of these ideas instead:
Rotisserie Chicken: Many American grocery stores sell cooked rotisserie chickens that you can buy and shred. Many stores are also now offering the rotisserie chicken pre-shredded and packaged too!
Frozen Cooked Chicken: Check out the freezer section of your grocery store for pre-cooked chicken strips and pieces.
Bake Your Own Chicken: Lay chicken breasts out into a lightly greased 9×13 pan. Season with salt and pepper. Bake at 350 degrees for 25 to 30 minutes until cooked through. Chop into chunks and use right away, or freeze for later use.
Boil Your Own Chicken: Place chicken breasts into a large pot of boiling water or chicken broth. Boil for 15 minutes, until chicken is cooked through. Shred or chop.
Quick Skillet Chicken: Heat a large heavy skillet over medium-high heat. Add in 1 tablespoon vegetable oil. Place chicken breasts into skillet. Season with salt and pepper. Cook 5 to 7 minutes per side.
Vegetable Add-On Ideas
You can add some extra veggies to your green chile chicken enchiladas to make this dish even more filling. Below are some ideas, feel free to mix and match to your liking:
Corn
Spinach
Black beans
Zucchini
Sweet potatoes.
Bell peppers
Can I Use Corn Tortillas Instead?
Yes! You can use corn tortillas in place of the flour tortillas for this green enchilada recipe. Be sure to warm your corn tortillas to make them easier to work with and to prevent tearing. Because corn tortillas are smaller, you'll need 12 to 15 for this recipe. If you're feeling really ambitious, you can try making your corn tortillas from scratch.
Are Green Chiles Spicy?
Our green chile chicken enchiladas pack a bit of heat thanks to the green chiles, salsa verde (made with green chiles), and chili powder. Green chiles are considered to be moderately hot – spicier than green bell peppers, but not as spicy as jalapeños. That said, the sour cream, cream cheese, and Monterey Jack cool down the peppers a bit. You can also opt for mild canned green chiles and omit the chili powder when in doubt.
Serving Suggestions
Our green enchilada recipe stands out on its own, but if you're looking for some add-ons, here's what we suggest you serve with yours: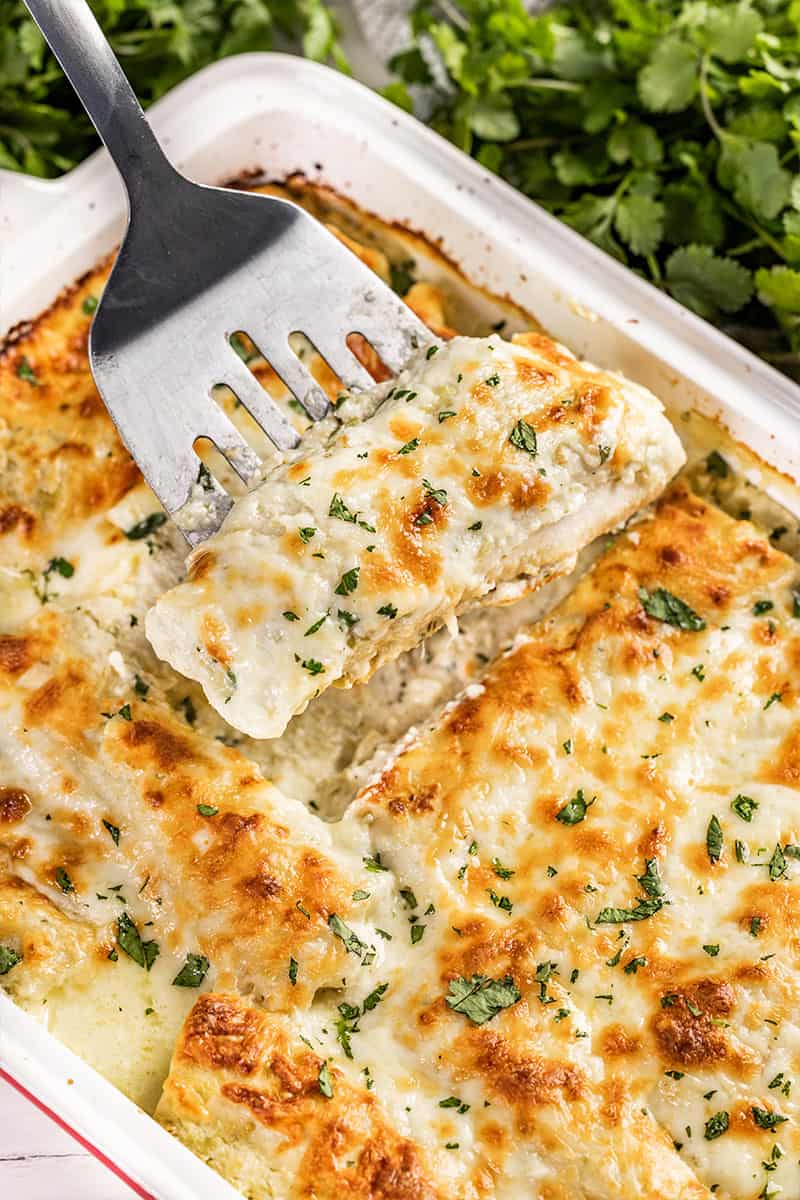 Freezing Instructions
Green chicken enchiladas can easily be frozen and reheated later. Simply assemble the enchiladas as instructed in the recipe. But, instead of baking, freeze. You can freeze them in a 9×13 disposable aluminum pan or in individual portions. Once frozen, you'll want to protect them from freezer burn by placing them into a resealable plastic bag or wrapping them in plastic wrap. When ready to eat, preheat an oven to 375 degrees. Remove any plastic, and bake for 45 minutes until the cheese on top is melted and centers are heated through.
Storage & Reheating Instructions
If you have any leftover green chile chicken enchiladas, you can store them in the fridge covered with plastic wrap or aluminum foil. They will keep for 3-4 days. You can reheat single servings in the microwave at 30 second increments until heated through. You can also reheat a tray of green chicken enchiladas in the oven at 350 degrees F until warm. Add a bit of extra cheese on top as it reheats to keep the dish fresh.
More Mexican-Inspired Meals!
Watch the video below where Rachel will walk you through every step of this recipe. Sometimes it helps to have a visual, and we've always got you covered with our cooking show. You can find the complete collection of recipes on YouTube, Facebook Watch, or our Facebook Page, or right here on our website with their corresponding recipes.