Our easy black bean soup can be prepared in under 20 minutes! Made with tender black beans, fire-roasted tomatoes, onion, and bell pepper, this is an easy weeknight vegetarian meal that will fill up your whole family.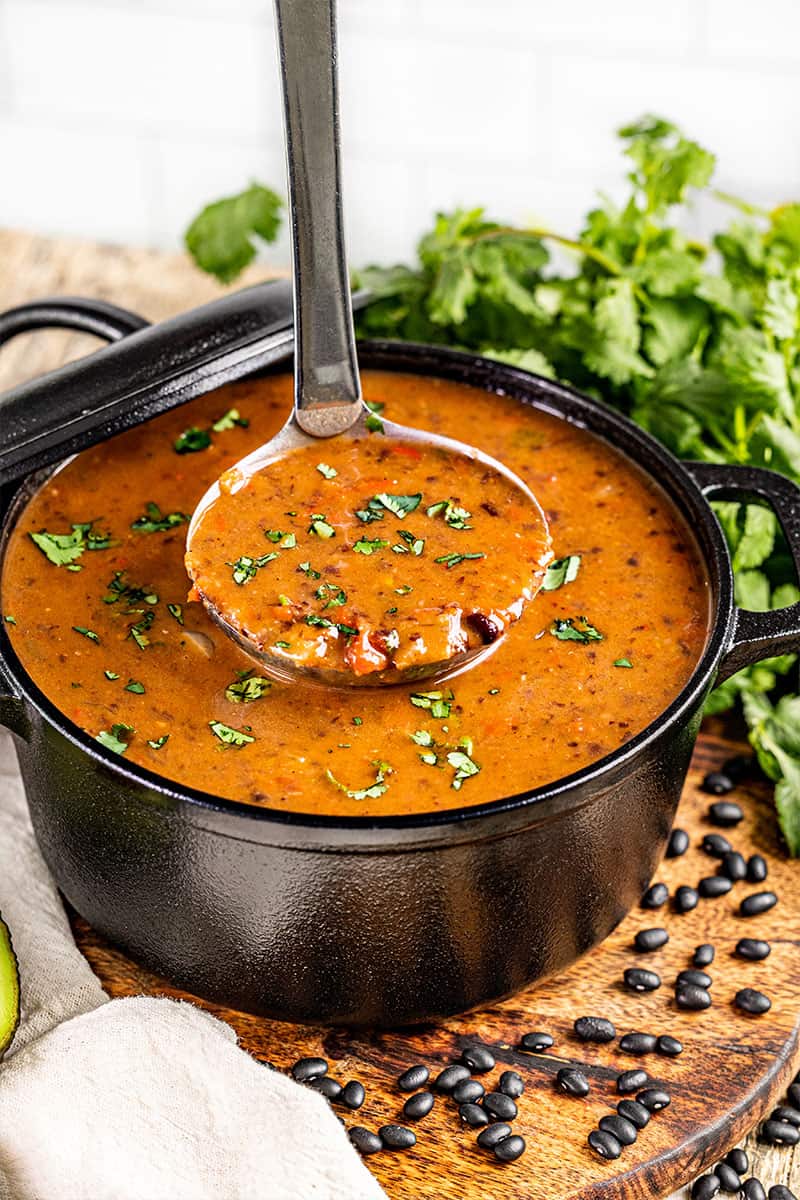 Weekdays can be hectic. After a busy day at work, school, or running errands, we know that the last thing you want to think about is what to serve up for dinner! We've got you covered. This easy black bean soup from scratch recipe is about to become one of your go-to's. It's filled with yummy ingredients like black beans (of course), roasted tomatoes, onion, bell pepper, green chiles, and a handful of spices. It all comes together in less than 20 minutes, meaning you can use all of that extra time to relax at home with your loved ones. You can also make it in your slow cooker (perfect for all of you always-on-the-go chefs) or even your Instant Pot. It's vegetarian, hearty, and delicious!
Bean Options:
You can easily use canned black beans for this recipe! That said, if you're feeling up to it, you can opt to use dried beans. You'll have to let them soak in water overnight and then cook them in boiling water until they're tender before you add them to your soup. It's an extra step, but totally worth it if you've got some extra time on your hands!
Topping Ideas:
We love topping our black bean soup from scratch with:
A crumbly cheese like Cotija
Mexican crema or sour cream
Sliced avocado
Lime juice
Crumbled tortilla chips or tortilla strips
Fresh cilantro
Plant-Based Options:
If you use vegetable broth instead of chicken broth in this recipe it will be naturally vegetarian! If you're vegan and don't eat any animal products, simply omit the cheese garnish. You can replace it with a plant-based cheese replacement, or you can go without and use only avocado, tortilla chips, and cilantro.
Spice Level Adjustments:
If you're cooking for young children who don't like spicy foods, or if you yourself don't like them, there are a few adjustments that you can make to our recipe. Green chiles are moderately hot, so you can replace those with some extra green bell pepper. You can also skip the added hot sauce.
Immersion Blender Options:
You'll need to blend your black bean soup from scratch to get the perfect texture. To do so, you can use a handheld immersion blender – just be sure not to blend completely as you want the end results to be a bit chunky. You can also use a standard blender. Blend just half of the soup for the best results!
Troubleshooting: How Do You Thicken Black Bean Soup?
One of the biggest reasons for blending this soup as instructed above is to give it a thick and hearty texture. If, after blending, you're still not satisfied with the consistency, you can add in a cornstarch slurry. To make a cornstarch slurry you'll need to mix together 1 tablespoon cornstarch with 1 tablespoon water, and then stir that slurry mixture into your soup.
Can I Make This Recipe in the Slow Cooker or Instant Pot?
Absolutely! Whether you're a set it and forget it kind of chef, or you're obsessed with your Instant Pot, you can make this dish in a slow cooker or your IP. We've included directions for both below. When you use your slow cooker, you'll have to let your soup cook for much longer, but all you'll have to do is load up all of your ingredients and set the temperature and cook time. If you use an Instant Pot, your soup will be ready in just 15 minutes.
Serving Suggestions
Our easy black bean soup recipe can be served on its own for a hearty weeknight dinner. If you want to beef up your meal a little bit, consider serving with: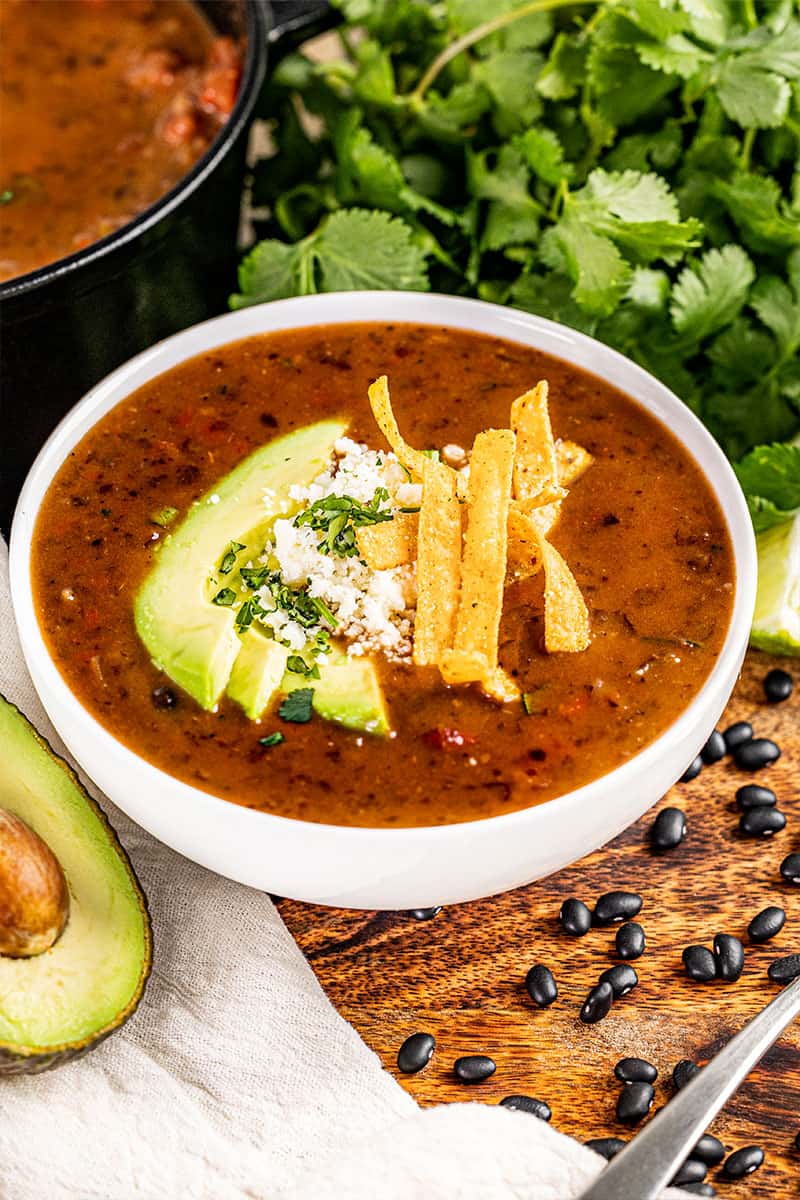 Storage and Reheating Instructions
Place any leftovers in an airtight container and store them in the refrigerator where they will keep for up to 5 days. When you're ready to enjoy, heat the soup in a saucepan on the stovetop over medium heat until it's warmed through. You can also reheat it in the microwave. Warm at 30 second increments until you get the desired temperature.
This soup freezes wonderfully as well. Place your fully cooled black bean soup from scratch in a freezer-safe container. It will keep for up to 2 months. Make sure to let it thaw overnight in the fridge before you reheat it for the best results.
If you like this recipe, you may be interested in these other delicious soup recipes: