Nothing beats warm flaky old fashioned biscuits straight from the oven. This fool-proof homemade biscuit recipe is easy to make and requires just 6 ingredients.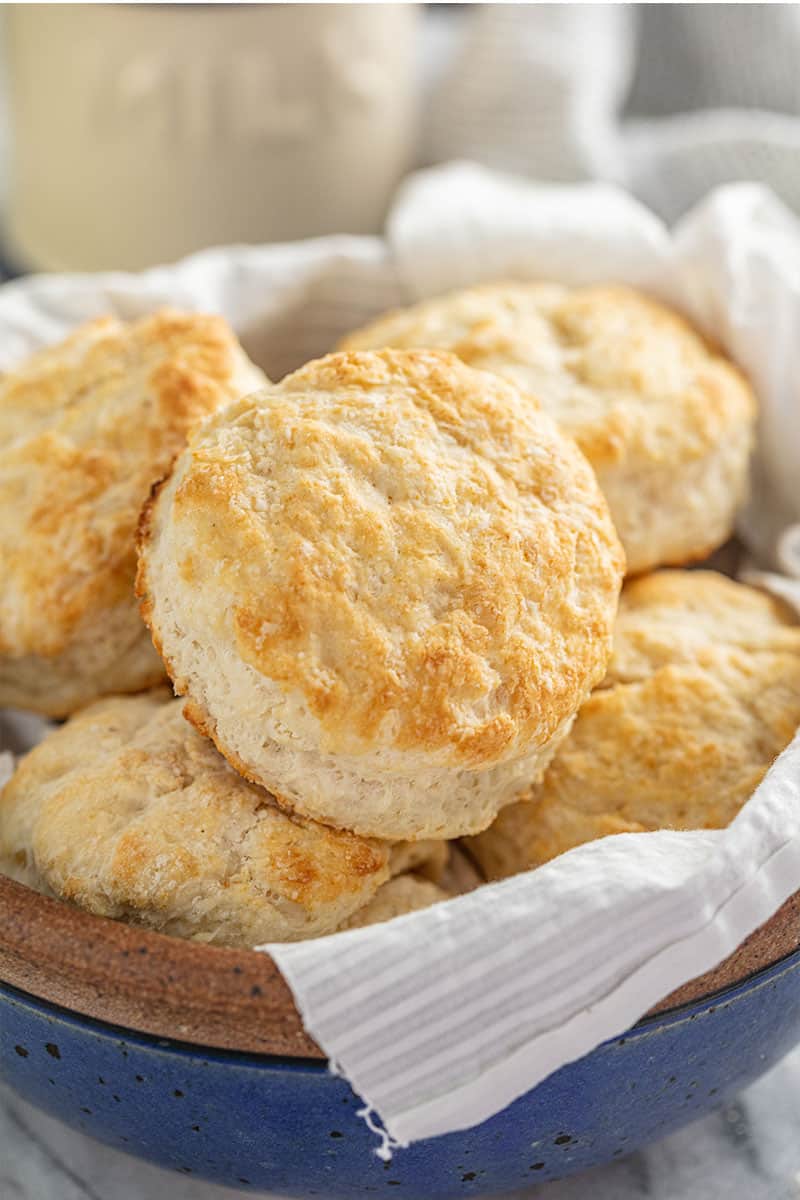 Comfort food of comfort foods! Warm, flaky biscuits that pull apart in the middle for a little pat of butter are so yummy. That is why they are a staple of southern cooking and once you make them, this will be one of your favorite go-to recipes as well. No need to buy a mix or can ever again! Now you can make biscuits quick and like a pro, with this easy, 6-ingredient recipe. Warm, flaky, old fashioned biscuits are the best! These biscuits go with almost any meal and are easy to throw together in a hurry.
Can I use baking soda in place of baking powder?
Yes. Baking soda has 3 to 4 times the strength as baking powder so you'll need to reduce the amount called for in this recipe when making a substitution. To replace the 1 tablespoon of Baking Powder in this recipe, use 1 teaspoon of Baking Soda instead. That's it, and it will still make some delicious, warm, flaky, old-fashioned biscuits.
Can I use self-rising flour instead of all-purpose in this biscuit recipe?
Yes, you can. Self-rising flour contains flour, baking powder and salt. While it is hard to predict the exact ratios of flour to baking powder to salt in the mixture, you will most likely still get great results. Be sure to leave out adding any additional baking powder or salt until you've seen how it turns out with your particular brand of self rising flour. For best results, simply follow the recipe using all-purpose flour.

How to cut fat into flour to make homemade biscuits:
Homemade biscuits require you to cut fat (like butter or shortening) into a flour mixture until it resembles coarse meal or sand. There are several options to do this.
GRATER: The easiest way to cut fat into flour is to grate it using a cheese grater. This works particularly well for cold butter.
PASTRY CUTTER: A traditional, old fashioned way to cut fat into flour is to use a pastry cutter. This specialized kitchen tool has 3 to 4 curved blades attached to a handle so that you can cut the fat into the flour using a rocking motion.
FOOD PROCESSOR: A food processor is a great modern small kitchen appliance that makes it really easy to cut fat into flour. Simply place your flour mixture into the bowl of the food processor along with your cold fat. Using the S-blade, pulse the mixture together until it resembles coarse meal or sand.
TWO KNIFE METHOD: The hardest method uses two knives to cut the solid fat into the flour by cutting the knives parallel against each other. Hold one butter knife in each hand. Criss cross the two knives to form an X-shape, with the flat sides of the blades touching each other. Place the knives in this shape into the fat and flour and slice the blades against each other in an outward motion repeatedly, similar to how scissors work.
Butter or shortening: Which is best for making a biscuit?
Like many pastries, biscuits require a solid fat source to achieve their flaky texture. Every source of fat will yield a slightly different result as they have different flavors and result in a different texture.
SHORTENING: For the tallest biscuits, use shortening because it has a higher melting point. As they bake, the flour and shortening are forced apart until the shortening melts. By this point, the biscuit will be set, creating that highly sought-after flaky texture. For the best flavor, use butter flavored shortening, as regular shortening often lacks a little bit in the flavor department.
BUTTER: Butter provides a great flavor for your biscuit recipe, but has a lower melting point than shortening. Because butter contains somewhere around 15% water, you'll notice some shrinkage as the water evaporates during baking, resulting in a shorter biscuit.
COCONUT OIL: A popular trend in baking today is to use coconut oil. Coconut oil can be used to make a flaky biscuits, but you'll want to measure and freeze the coconut oil first. Because coconut oil has such a low melting point, it's best to make smaller biscuits so that the baking process happens faster and more evenly, forcing apart the fat and flour as quickly as possible.

LARD: If you want to make these the way our not-so-distant ancestors did, use lard. Lard is very similar to shortening, but usually comes from pig fat. It has a distinctive flavor that many enjoy.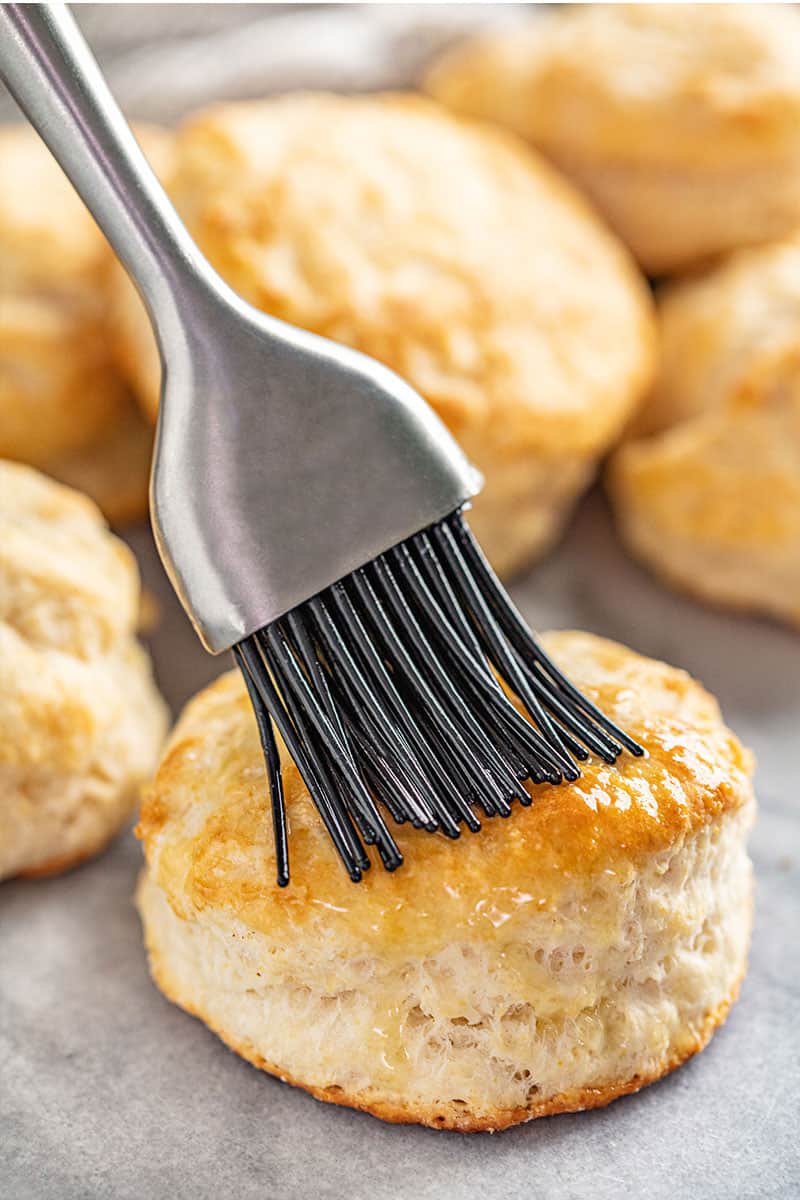 PRO TIP: Always ensure that whatever fat you use in your homemade biscuits is as cold as possible. Cold fats that haven't softened yield the flakiest biscuits.
If you like this recipe you may be interested in these other similar recipes involving biscuits:
Watch the video below where Rachel will walk you through every step of this recipe. Sometimes it helps to have a visual, and we've always got you covered with our cooking show. You can find the complete collection of recipes on YouTube, Facebook Watch, or our Facebook Page, or right here on our website with their corresponding recipes.
This recipe first appeared on The Stay At Home Chef on March 12, 2013