Are you ready for the best baked meatballs out there? Crispy on the outside, juicy and flavorful on the inside, these oven baked meatballs are sure to quickly become a fan favorite! You won't be able to eat just one.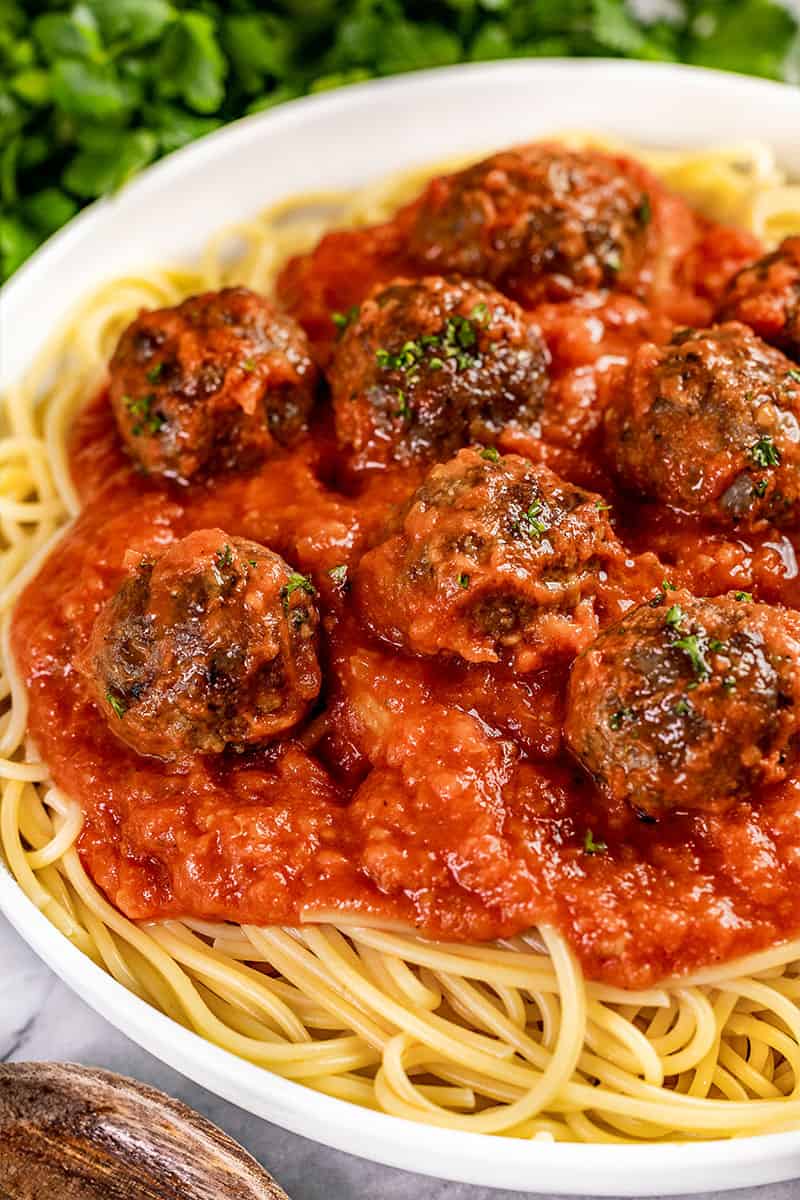 When cooking for a large family (or, let's face it, any sized family!) it can sometimes be difficult to come up with a recipe that everyone will eat and love. Here at the Stay at Home Chef household, that fan favorite is definitely spaghetti and meatballs. Not only is it super simple to throw together, but it's also filling and always delicious. The secret? These oven baked meatballs! Some chefs boil or fry their meatballs, but we swear by this baking technique. You'll get meatballs that are perfectly crispy on the outside and tender and juicy on the inside every time. These are so good that you'll want to double or triple the recipe and freeze the leftovers. You'll have a quick meal on hand that is a guaranteed winner!
Spice Level:
Our oven baked meatballs include a few red pepper flakes. We find that the spice works wonderfully with the rest of the ingredients, and in the end, lends a bit of heat. If you're really spice-averse, then you can skip it.
No Egg, No Problem!
You may notice that this baked beef meatballs recipe doesn't call for an egg. That's no mistake! The ingredients hold up well on their own, without the addition of an egg.
Baking vs Frying vs Boiling:
Again, we love our oven baked meatballs recipe best. But, it all comes down to personal preference. We will mention that frying involves a lot of excess oil, and boiling takes away a lot of the flavor you'll get from baking. Chef's choice, as always, but we stand by our baking method!
Should I Sear Meatballs Before Baking?
Some baked meatball recipes will call for you to sear the meat before baking. We've decided to keep things simple and have omitted this step completely. We find that if we let them bake for the full 30 minutes, they crisp up really nicely on their own. If you like an extra crispy meatball, leave them in the oven for 35 minutes – just make sure that they don't burn.
Can I Make This With Ground Chicken?
Absolutely! You can easily turn this baked beef meatballs recipe into a baked chicken meatball – we know because we've done it. You'll want to follow the exact same instructions that you'll find below, simply replace the ground beef with ground chicken. You can even use ground turkey if you're interested in giving that a try.
What Can I Use in Meatballs Instead of Breadcrumbs?
If you're following a gluten-free diet, or are simply gluten sensitive and can't eat it, there are a few ingredients you can use in the place of breadcrumbs in our baked beef meatballs:
Oats
Crushed tortilla chips (make sure to opt for no-added-salt varieties)
Unsweetened cereal like cornflakes or bran
Gluten-free crackers (again, no salt added works best)
Troubleshooting: How Do You Stop Meatballs From Falling Apart?
The key is in the binder. In this recipe, that binder is the breadcrumbs or whatever you use to substitute them. You need to find the perfect balance as too many breadcrumbs make for a loose meatball, while too little means that they'll fall apart. Follow our recipe to a tee and you shouldn't have any problems.
Serving Suggestions:
There are many different ways to serve up your baked beef meatballs. Here are some of our favorite options: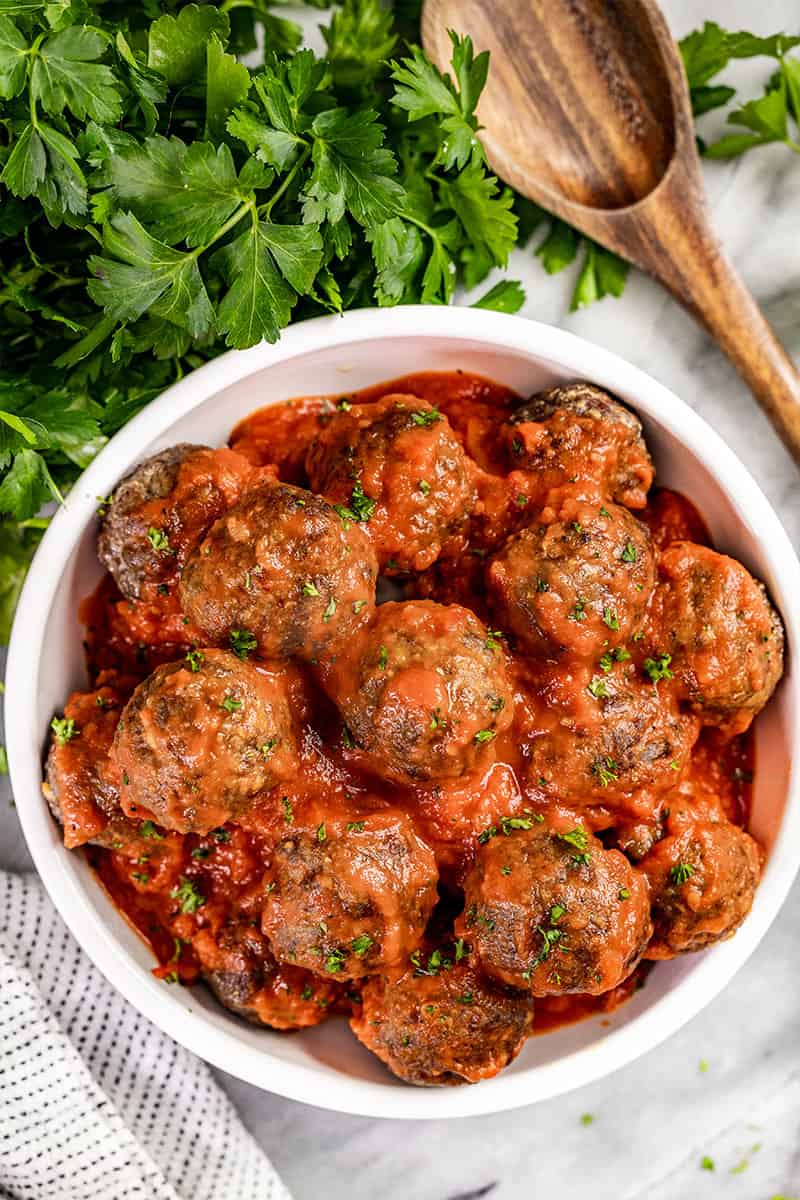 Make-Ahead and Freezing Instructions:
These meatballs can be frozen. Place on a baking sheet after forming into meatballs and place the pan in the freezer. Once frozen, remove from baking sheet and transfer to a resealable plastic bag for longer-term storage. They will stay good in the freezer for 1 to 3 months.
This is an excellent recipe for meal prepping too! Freeze any extras to use later down the line, or store in the fridge for up to 5 days to get ahead for the week.
Storage and Reheating Instructions:
Store any leftover baked meatballs in an airtight container or plastic bag in the refrigerator. They will keep for up to 5 days. When you're ready to eat, you can reheat them in the microwave at 30-second increments until warmed through.
You could also reheat them on the stovetop in a saucepan with a bit of added marinara sauce. Heat on medium-low until they are completely heated.
If you like this recipe, you may be interested in these other delicious Italian-inspired recipes:
Watch the video below where Rachel will walk you through every step of this recipe. Sometimes it helps to have a visual, and we've always got you covered with our cooking show. You can find the complete collection of recipes on YouTube, Facebook Watch, or our Facebook Page, or right here on our website with their corresponding recipes.