Air fryer apple fries taste just like an apple pie — but are way easier to whip up. As a bonus, your entire house will be filled with the wonderful aromas of apple, cinnamon, and sugar.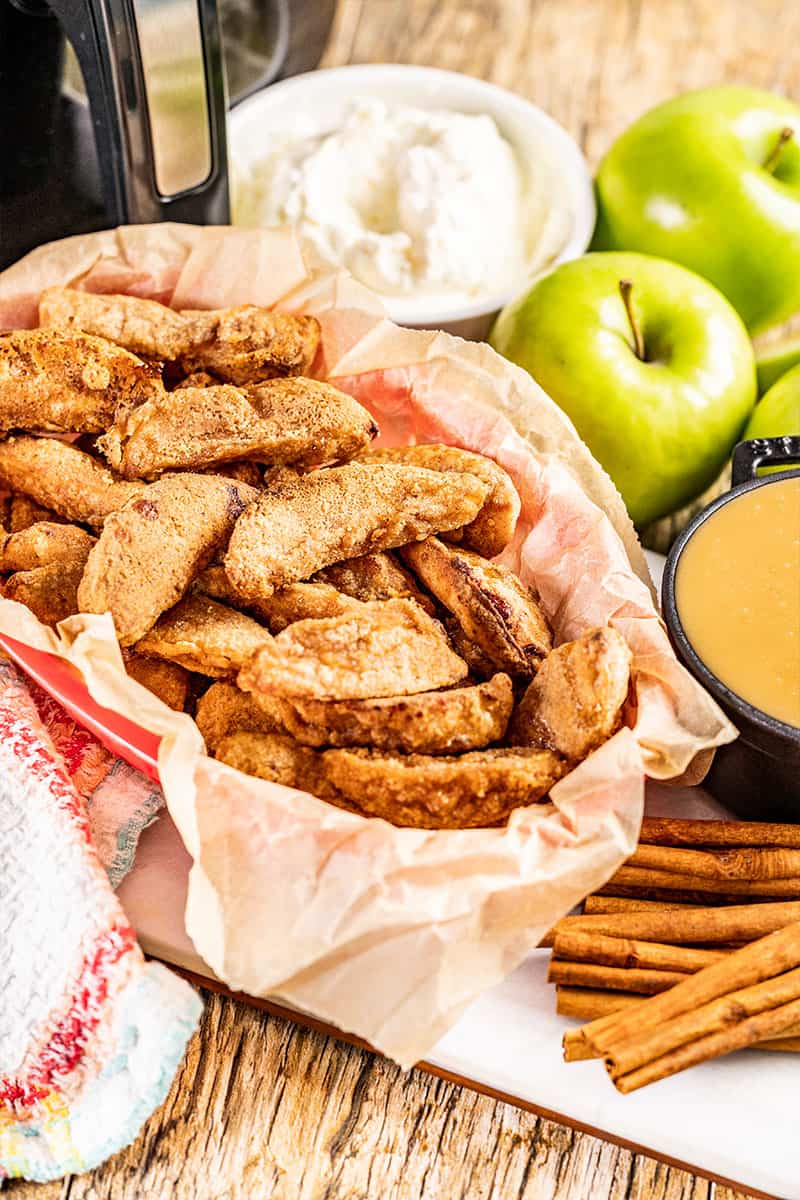 It's no secret — we love apples here at the Stay at Home Chef! Between caramel apples, apple nachos, caramel apple cinnamon rolls, and classic baked apples, we can't get enough of this versatile fruit. Our air fryer apple fries are such a fun snack idea. If you love pie as much as we do, you're going to want to give these a try. We make our fried apple sticks in the air fryer, which means a lot less mess than deep frying. This method also uses next to no added oil! One of the best parts about this recipe is that it will make your entire kitchen smell spicy and fruity, thanks to the cinnamon, nutmeg, and (of course) apples. Update your snack routine with this easy recipe! You can also serve them as a light dessert.
Apple Options:
We love using Granny Smith. They are deliciously tart and also hold up really well when baking or frying. If you can't find any at the supermarket, opt for these instead:
Honey Crisp
Pink Lady
Gala
Braeburn
How Do You Cut Apples to Make Fries?
It's really simple to cut up fresh apples for this apple fries recipe. Start by peeling your apples — the coating won't stick to the waxy peel. Then, cut off all four sides of the apple and discard the core. Slice the sections into half-inch sticks and you're ready to add the flour and sugar-based coating!
Flour Options:
This recipe calls for all-purpose flour to help the coating stick to your fried apple sticks. If you have a gluten sensitivity, you can replace it with:
Rice flour
Millet flour
Almond flour
Tapioca starch
Don't be tempted to use cornstarch for the flour as it's not a very good substitute.
Seasonings:
Our air fryer apple fries recipe calls for a mix of seasonings that includes cinnamon, nutmeg, and ground cloves. If you really want your snack to taste like an apple pie, you can use an apple pie spice mix, which includes:
Cinnamon
Nutmeg
Cardamom
Allspice
Ground ginger
Dipping Suggestions:
No fries recipe is complete without some yummy dipping options! We recommend that you opt for a bourbon apple caramel dip or our marshmallow fruit dip. You'll find the recipe for the caramel dip below. Here are the ingredients you'll need to make it:
Salted butter
Brown sugar
Sweetened condensed milk
Corn syrup
Apple bourbon
Vanilla extract
Salt
Troubleshooting: Why Are My Apple Fries Not Crispy in The Air Fryer?
There are a few reasons why your fried apple sticks aren't crisping up enough in the air fryer. Make sure that you follow the cooking instructions and the indicated temperature. When the air isn't hot enough, you'll get mushy results. You also need to be careful not to overcrowd the air fryer basket. Leave enough room in between each apple fry so that the hot air can surround it completely. You can cook in batches if necessary!
What Oil is the Best For An Air Fryer?
One of the best parts about frying with an air fryer is that you don't need to load up your food with a lot of excess oil. That said, you will need to lightly spray the apples to ensure that crispy and golden brown outer layer. We like to use light cooking oil from a spray bottle.
Can I Make This Dish in the Oven?
We swear by our air fryer and definitely recommend that you purchase one if you haven't yet. That said, if you don't have one at home, you can make this recipe in your oven. Follow the instructions as indicated on the recipe card below, but bake in the oven at 375 degrees F for 15 minutes instead.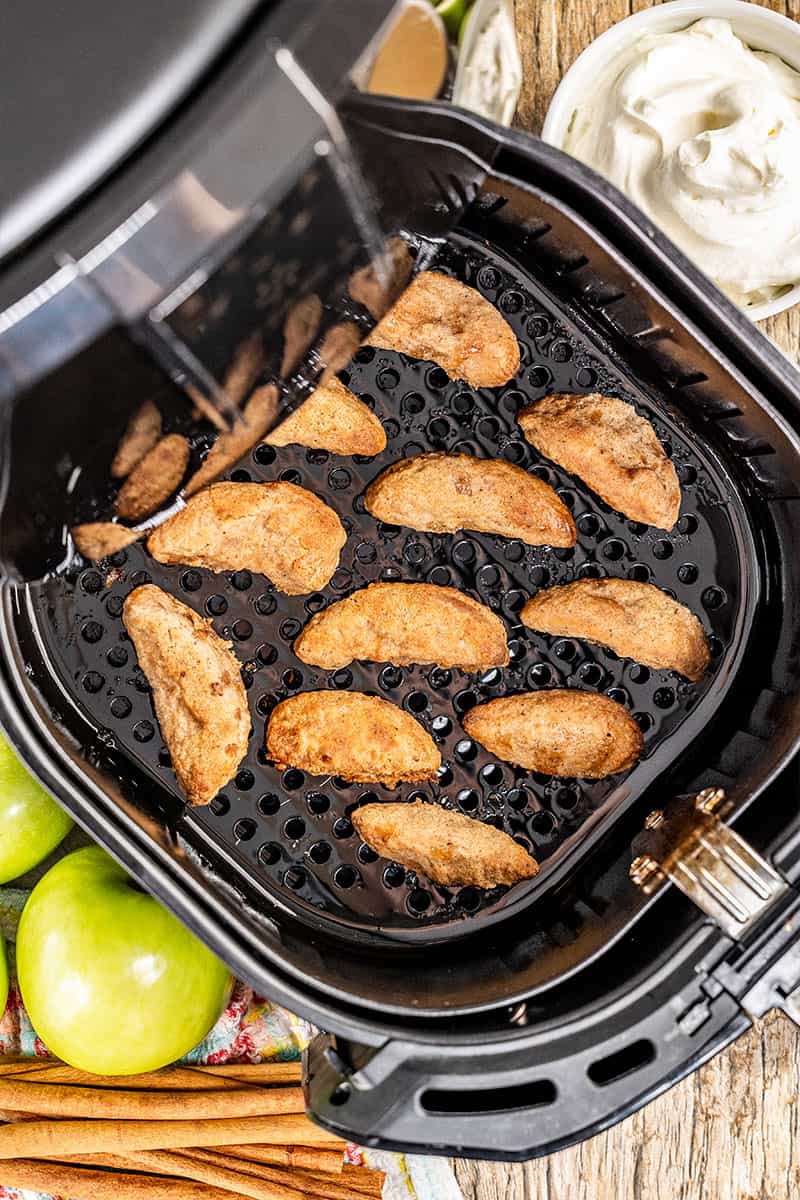 Storage and Reheating Instructions:
If you have any leftover air fryer apple fries, you should store them in the refrigerator in an airtight container. They will keep for 2-3 days. When you're ready to enjoy them, you can crisp them back up by reheating them in the air fryer for 2-3 minutes.
You can also freeze your fried apple sticks. Let them cool completely before placing them in an airtight freezer-safe container. They will keep for 3-6 months. Let them thaw in the fridge overnight before reheating in the air fryer as instructed above.
If you like this recipe, you may be interested in these other delicious apple recipes: