All your favorite breakfast staples come together in an easy to make Sausage and Apple Breakfast Strata. Perfect for breakfast or brunch and it can even be made the night before.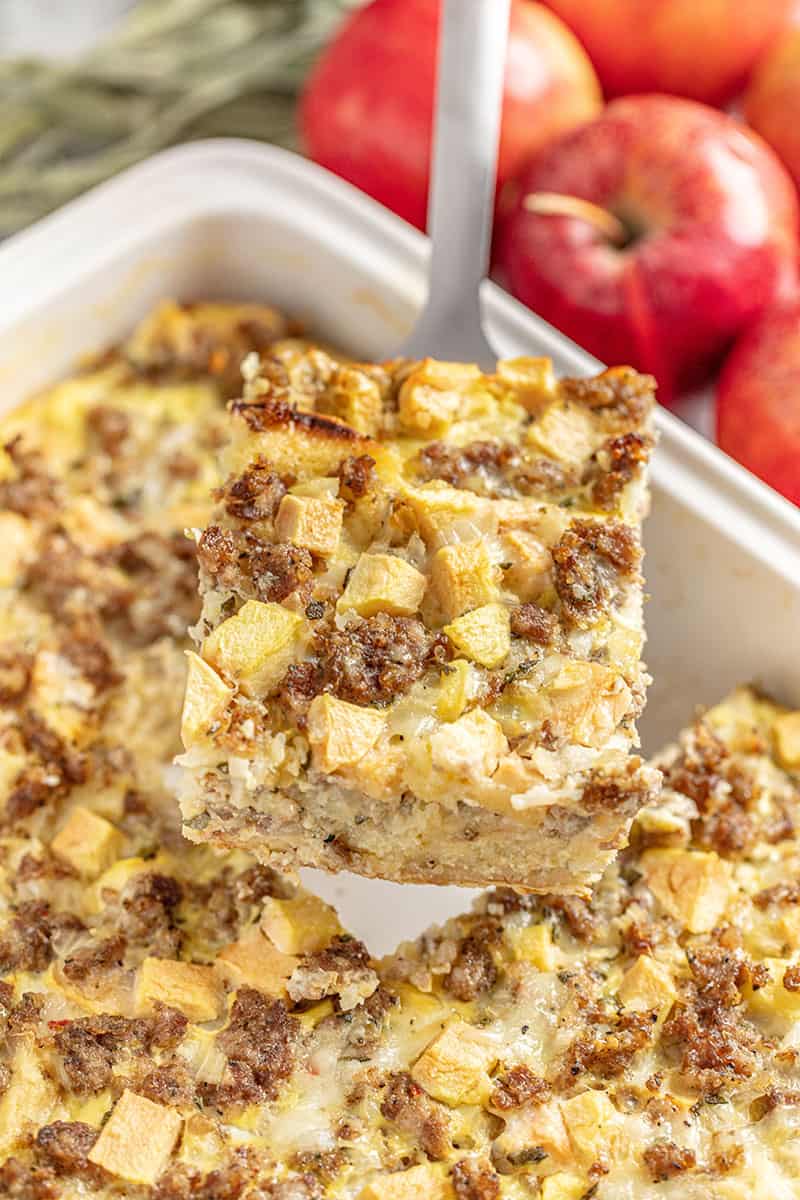 This delicious egg and bread based strata is full of savory and sweet flavor and satisfying textures—the perfect breakfast or brunch for family, friends, holidays, or all of the above. It has become quite a tradition in our home to make this yummy dish when we have company and want to gather for a fun breakfast together. Make this breakfast of champions and kick cold cereal out of the strata-sphere (see what we did there?).
This rich strata combines the flavors and textures of savory maple sausage, fresh sage, sweet apple, eggs, and sharp Parmesan cheese. But it isn't just delicious, sweet and savory, it's also a perfectly satisfying way to start your day. This is a great dish to serve family or friends for a breakfast or brunch get-together, especially over a vacation or holiday. You can also make it the night before, so your morning can be spent visiting instead of cooking.
What is a breakfast strata?
A strata is an egg-based breakfast casserole, much like a quiche or a frittata, that has a bread-based element to it. In this recipe we use English muffins as our bread element, but you could also use croissants, bagels, or a crusty sourdough baguette.
Can I use dried sage in Sausage and Apple Breakfast Sausage?
Yes. Fresh is best, but two teaspoons of dried sage will work in place of the fresh sage in this recipe.
What kind of sausage should I use?
We recommend using a ground maple sausage because it has amazing flavor, but a mild Italian sausage or a country-style sausage will work as well. If you can't find a ground sausage you like, or you simply prefer a sausage in a casing, you can make adjustments to this recipe to accommodate whole sausage as well. You'll want to cook the sausage and then slice it.
What kind of apple should I use?
There are hundreds of varieties of apples so it can be hard to know which to purchase. There are a number of commonly sold apples that are great for baking. Green apples like Granny Smith provide a nice tart flavor and are great for baking. Other yellow and red varieties that are good for baking include Golden Delicious, Honey Crisp, Gala, Braeburn, Jonathan, Fuji, and Pink Lady.
Can I use milk instead of half and half?
No. Plain milk doesn't have enough fat to blend correctly with this dish. If you don't have or can't get half and half, you can mix one cup of milk with one cup of heavy cream.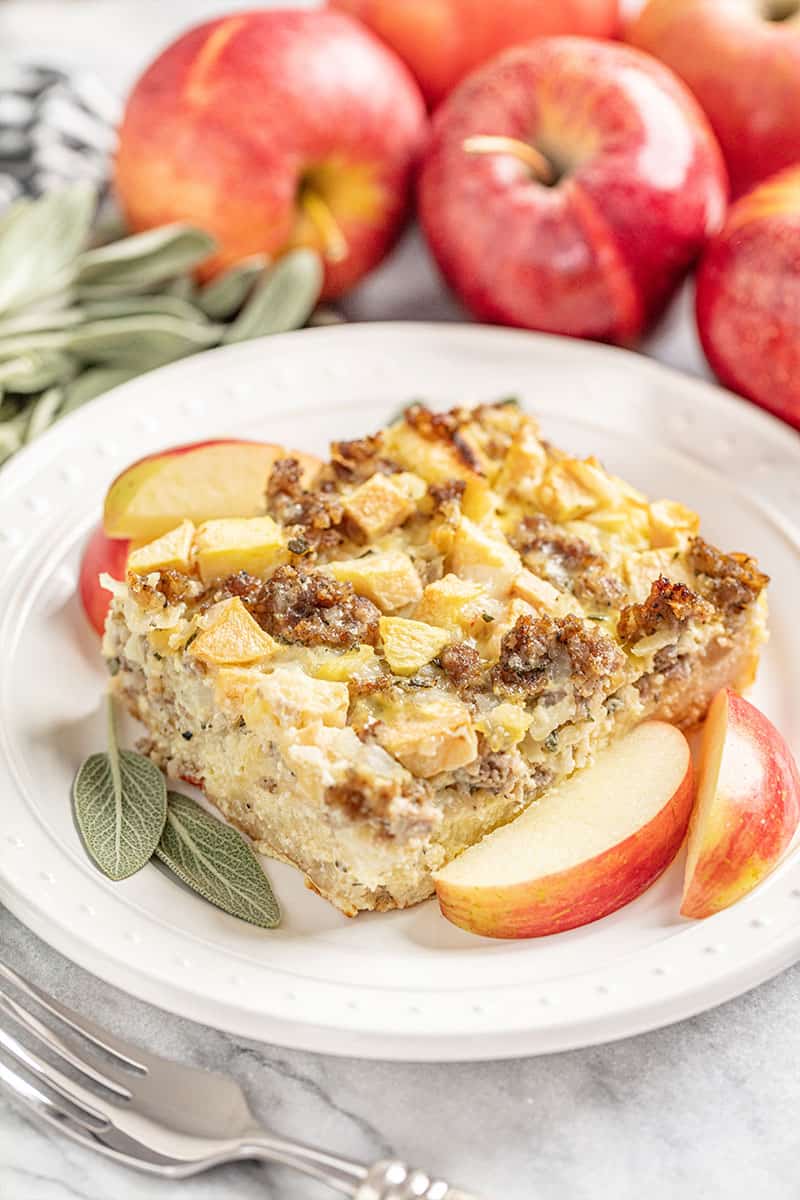 Make Ahead Instructions:
This recipe can easily be made ahead the night before and store in the refrigerator. Simply follow all instructions and compile the entire recipe. Instead of baking, cover the dish with plastic wrap, overnight, and bake it in the morning as directed. This is a great way to prepare for a hassle-free morning.
Storage and Reheating Instructions:
This breakfast casserole is best eaten fresh. However, you can always store leftovers in an airtight container in the refrigerator for up to 5 days. Reheat individual servings in the microwave in 30 second increments until warmed through. 
If you're looking for other amazing breakfast recipes, here are some others we love:
Watch the video below where Rachel will walk you through every step of this recipe. Sometimes it helps to have a visual, and we've always got you covered with our cooking show. You can find the complete collection of recipes on YouTube, Facebook Watch, or our Facebook Page, or right here on our website with their corresponding recipes.