Gingerbread Pancakes are smothered with a quick and easy Butter Pecan Syrup in this holiday breakfast fit for a king! This could easily become your new family Christmas tradition!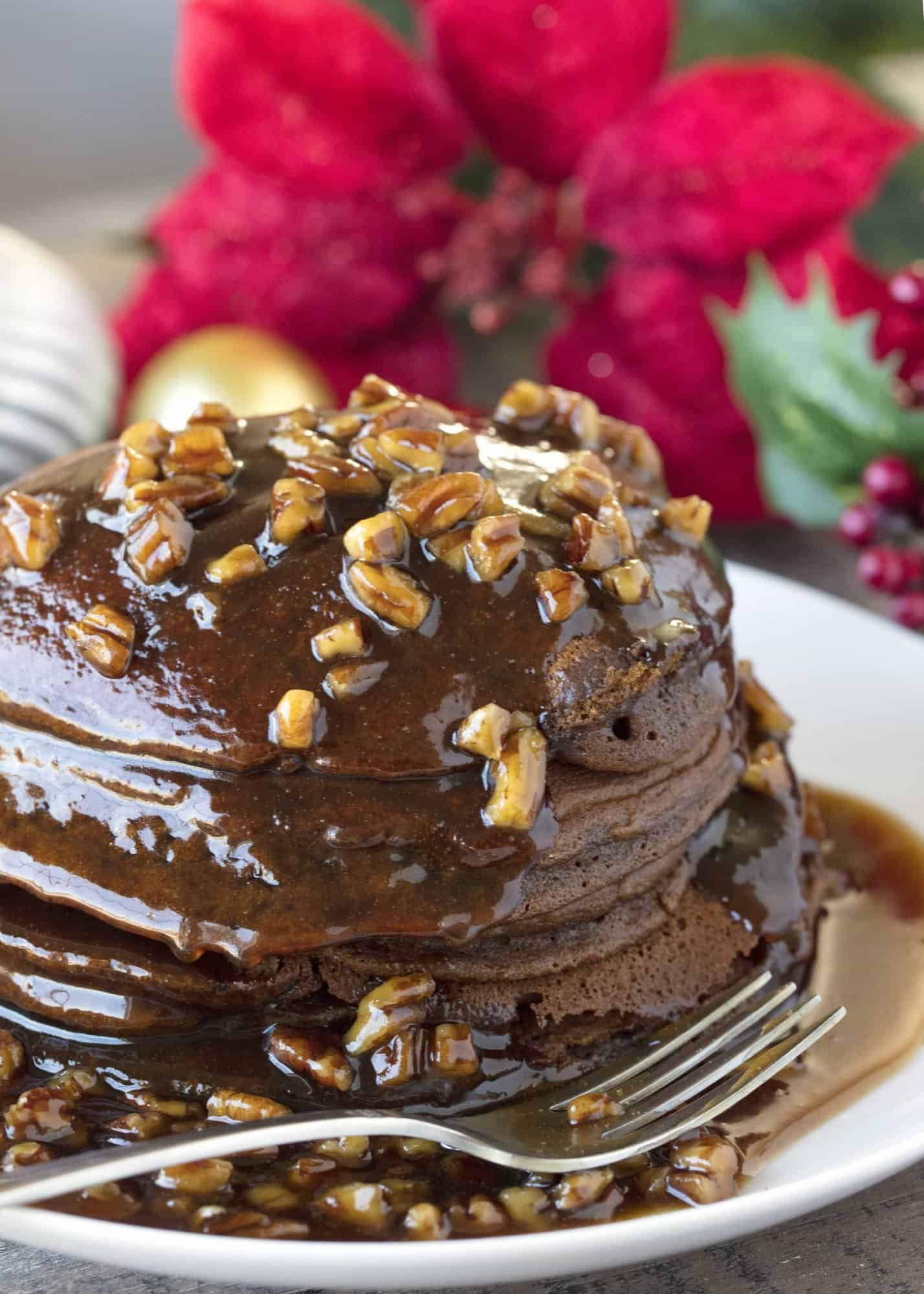 Gingerbread spiced pancakes are smothered with a buttery pecan syrup. These are a family favorite during the months of November and December. As the holidays approach and the weather gets colder, gingerbread just makes perfect sense.
The syrup and pancakes come together so quickly that you can easily have this festive breakfast ready to go in 15 minutes. Whether you are cuddling up together on a cold winter morning, or you are exhausted from unwrapping presents and need a Christmas morning breakfast, these pancakes will be a delicious reward your family can enjoy for years to come.
MY OTHER RECIPES
Watch the video to see just how easy it is to enjoy these amazing pancakes. The video includes great tips and tricks for making perfect pancakes every time. While you are at it, subscribe to my YouTube Channel and check out my cooking show!
Gingerbread Pancakes
Gingerbread Pancakes
Gingerbread spiced pancakes are smothered with a buttery pecan syrup.
Author:
Rachel Farnsworth
Ingredients
½ cup butter
1 cup molasses
1 large egg
1½ cups buttermilk
2 cups all-purpose flour
¼ cup cornstarch
1½ teaspoons baking soda
½ teaspoon salt
1 teaspoon ground cinnamon
1 teaspoon ground ginger
½ teaspoon ground cloves
Instructions
Using a hand mixer, whip the butter in a large mixing bowl.
Mix in the molasses, egg, and milk until well combined.
Add in the flour, cornstarch, salt, baking soda, cinnamon, ginger cloves, and salt and mix until well combined. The batter should be pour-able, but not runny.
Heat a non-stick griddle to medium high heat.
Cook your pancakes on the griddle by scooping ¼ cup of the batter onto the griddle. Flip the pancake over when bubbles appear. The pancakes is done when it is lightly browned on both sides and cooked through.
Serve with the hot butter pecan syrup.
Butter Pecan Syrup
Butter Pecan Syrup
Author:
Rachel Farnsworth
Ingredients
4 teaspoons cornstarch
1 cup brown sugar
1 cup water
4 tablespoons butter
½ cup pecans, finely chopped
Instructions
Prepare the syrup by combining cornstarch, brown sugar, and water in a medium saucepan. Heat to a boil over medium-high heat, whisking often. When the mixture boils, remove it from the heat and add in the butter and pecans, stirring until the butter melts.

Tips for great pancakes:
1. Pancakes are ready to be flipped when bubbles form, and the edges are getting cooked.
2. Always do a test pancake or two so that you can check adjust the temperature on your griddle. It's better to waste one or two than a whole batch.
3. Don't press them with your spatula. It doesn't help them cook any faster and makes them lose fluffiness.
4. Once cooked, don't stack your pancakes. All of the steam from the hot cakes will make them all soggy. Hold them in a single layer on a baking pan in the oven (warmed to the lowest temperature setting, mine is 175).
5. Pancake batter can be frozen and taken out to thaw when ready to use. Freeze it in a ziploc bag and you can just cut off the tip and squeeze out the batter. Just take a bag out of the freezer and put it in the fridge the night before you want your pancakes.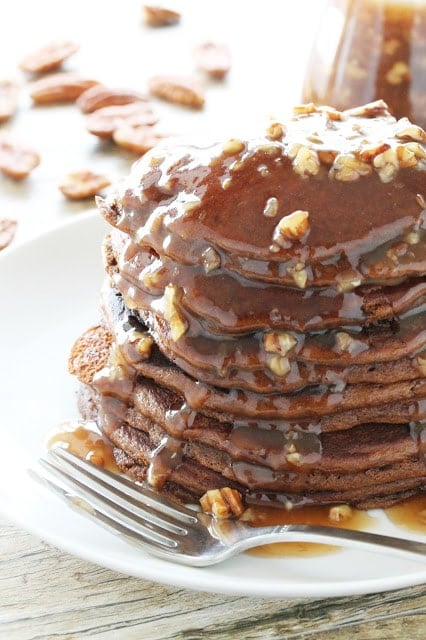 This recipe first appeared on The Stay At Home Chef on October 27, 2014.