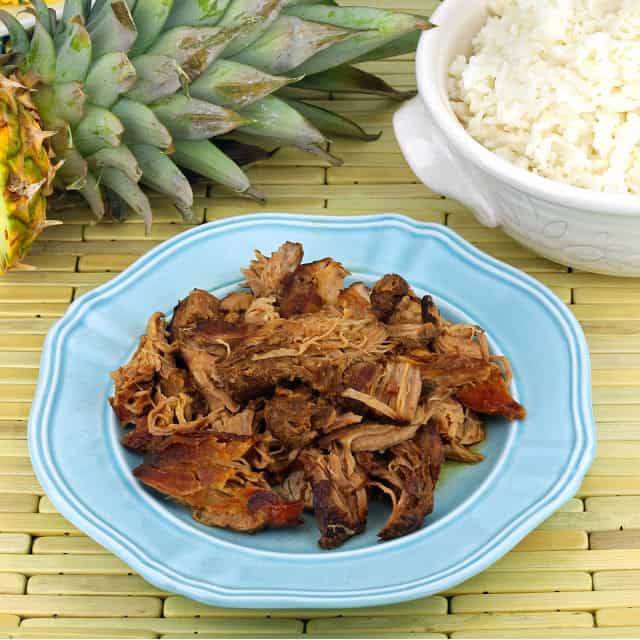 Mele Kalikimaka!
My dad was telling me about how their driveway is covered in snow and they had freezing fog so their windows were sheets of ice and one of their cars won't start because the temperature is too low outside…and just hearing about it made me want to crawl in a hole and wake up when winter is over. If you are suffering from winter blues then you need a little Christmas cheer, Hawaiian style. Whip out the crockpot for this super easy luau pork and wish yourself  a Mele Kalikimaka! I served mine up with pineapple and coconut rice (recipe below). The pork is salty and smoky and it both smells and feels like you are having a huge barbecue….in the middle of winter! Merry Christmas!
Ingredients
1 pork butt or shoulder roast (approximately 4 lbs)
3 tablespoons liquid smoke
1 tablespoon sea salt (or Hawaiian pink salt if you can find it!)
Instructions
1. Put the roast down in a larger size slow cooker (you know, one that it actually fits into).
2. Pour the liquid smoke over the roast.
3. Sprinkle the salt over the roast.
4. Cover and cook on low 8 hours.
5. Shred with a fork and enjoy those crispy edges, and tender melty interior. Oh baby!
Bonus Recipe! 


Coconut Rice
1 1/2 cups long grain white rice
1 can coconut milk (2 cups)
1 cup water
Instructions


1. Put rice in a large saucepan. Pour coconut milk and water over the rice. Bring to a boil over high heat.
2. Cover, reduce heat to low, and simmer about 15 minutes, until rice is cooked and most of the liquids are absorbed.
3. Stir to fluff and serve.
Chef's Note: With coconut rice, some of the fat in the coconut milk floats on top of the rice. It may trick you into thinking that your rice isn't done yet because there is still liquid on top. Don't be fooled by that tricky coconut milk and burn your rice. Use a spoon and check at the bottom. If there is no liquid at the bottom, then give it a quick stir and serve it on up!