Slow Cooker Honey-Chipotle Pulled Pork is sweet and savory with just a touch of heat from the chipotle peppers. The pork cooks low and slow for juicy, tender meat the entire family will love!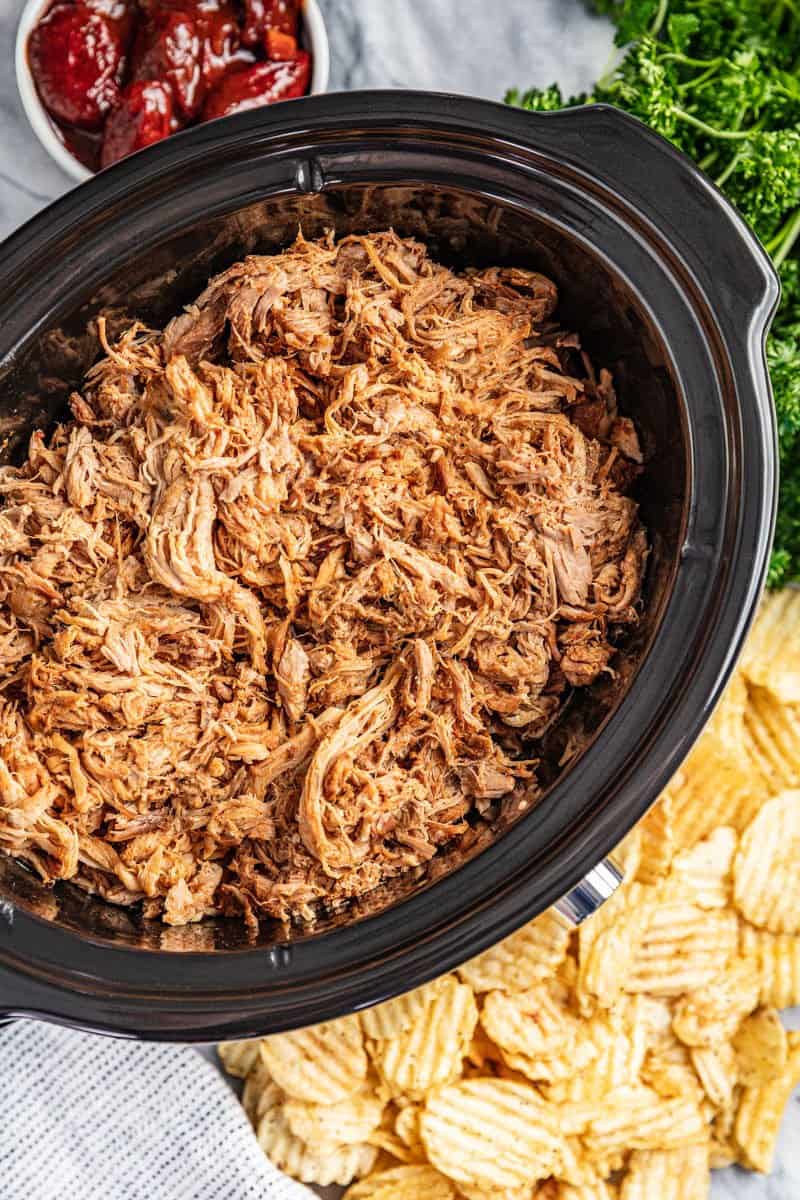 Slow Cookers are one of our favorite tools for cooking pulled pork. We love how you can just dump everything in and leave it to do all of the work. Not to mention, there are so many variations for slow cooker pulled pork! This honey-chipotle sauce is our absolute favorite. The chipotle brings both a heat and smokiness to balance out the sweet of the honey. Add in some garlic and other seasonings and you have a finger-licking barbecue sauce.
Chipotle Peppers in Adobo Sauce:

You should be able to find small cans of chipotle peppers in adobo sauce in the Mexican food section of your local grocery store, near the refried beans and enchilada sauce. The most common national brands you may come across are Embasa and La Costeña.

Sugar Options:

We love the blend of the honey with brown sugar in this recipe and highly recommend you use both! However, you can always omit the brown sugar if necessary and simply use 1 cup total of honey.

Do I have to use a food processor or blender for the sauce?

Unfortunately, yes. You want those chili peppers in adobo to be pureed rather than have chunks of them in your sauce

Roast Size for Slow Cooker Honey-Chipotle Pulled Pork:

We call for a 3-5 pound pork roast, but you can always use a smaller or larger roast to suite your needs. If you end up with a larger roast, you will want to double the sauce.
Serving Suggestions:

We love nothing more than a pulled pork sandwich with coleslaw. However, if that's not your thing, you can always use it in burritos, tacos, or most other Mexican food.

Make Ahead Instructions:

Save some time by making the sauce ahead of time and storing in an airtight container in your fridge until ready to use.

Storage and Reheating Instructions:

Store any leftovers in an airtight container in the fridge for up to a week. Reheat in a skillet over medium-low heat on the stovetop until warmed through.
If you like this recipe, you may be interested in these other delicious pork recipes: