Slow Cooker Cuban Mojo Pork is tender shredded pork, slow cooked in a garlic citrus sauce. Serve it up on some toasted bread for a delicious Cuban sandwich or plain with rice and beans.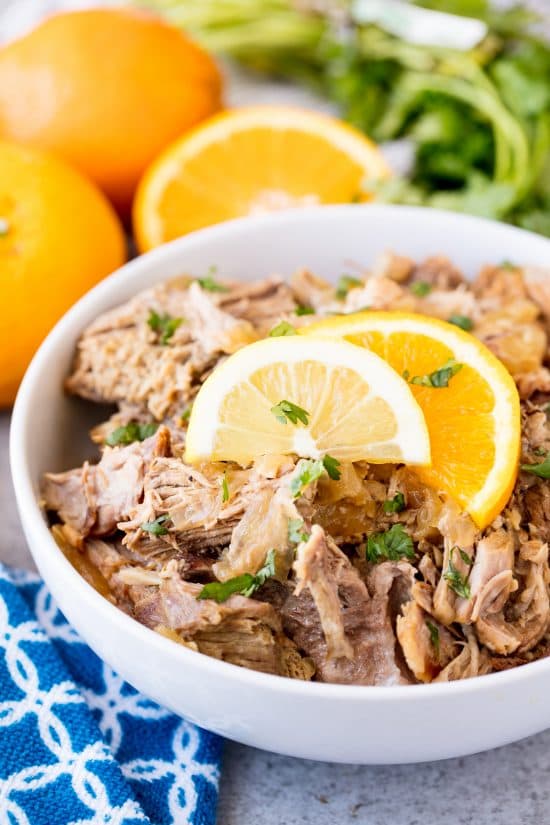 I've previously taught you about the wonders of Cuban bread, and now I'm giving you a little something to put on that bread. And it is even slow cooker! Score, man! You won't find this recipe in my Slow Cooker Cookbook, but maybe I'll include it if there is ever second edition. It is just so dang tasty!
Mojo is a Cuban thing and is made from these sour oranges that you can only find in Cuba (and south Florida thanks to some seed smugglers). Since odds are you don't live in Florida or Cuba, and neither do I, we are going with the next best thing which is a combination of lemon and orange juice to get that sour flavor. Having tasted both within the same week, I'd say it is a fantastic substitution.
I first experienced the flavors of mojo on a trip to Miami. Let me tell you, I am absolutely in love with the food scene in Miami. I could spend weeks there absorbing all of the flavors that Miami (and particularly Miami Beach) has to offer.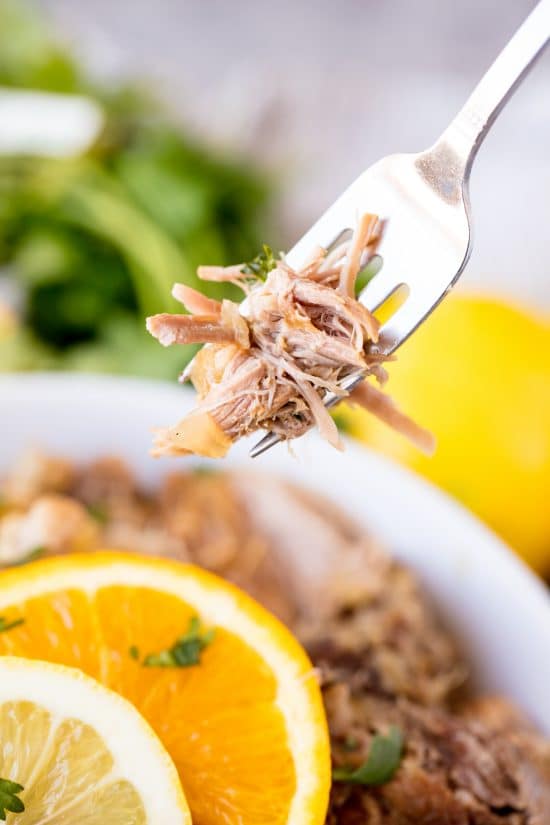 One of the first bites I had there was a passion fruit ceviche that absolutely blew my mind. Of course, I made a copycat recipe once I was home. I gorged myself on that trip and ate more food than I ever knew was possible. Seriously, if you haven't visited Miami, you need to make a trip sometime and plan on eating yourself silly. There's a whole amazing world of food to be had there!
Mojo makes a great summer flavor with those bright acids. Just toss it on some cuban bread and you have yourself a super delicious sandwich. You can use french bread, too, I suppose. You can also eat this plan and serve it up with some rice and beans.
And really, slow cookers in the summer are the perfect gadget so you can keep your oven off and your house a few degrees cooler. I probably use my slow cooker more in the summer than I do in the winter. True story. It also helps with those busy summer days of outings to the beach, library, park, pool, summer camps, swim lessons, etc. etc. that are absolutely exhausting.
Watch the video below where I walk you through every step of this recipe. I have an entire cooking show over on YouTube where I have hundreds of recipes waiting for you to devour.