Italian Sheet Pan Steak and Veggies is a one pan meal with a colorful medley of vegetables and an Italian inspired butter sauce that keeps everything moist and flavorful.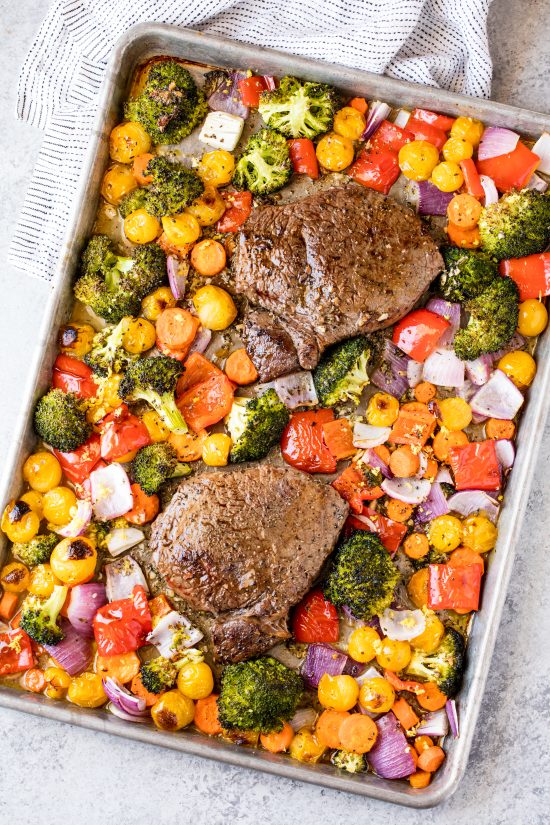 Do you love easy dinners? This one is super easy and the result is super delicious! All you really have to do is chop up some veggies and toss them onto a sheet pan. Drizzle them with a quick seasoned garlic butter sauce and roast them in the oven. Plop some steaks on, add more of the butter sauce, and finish off the cooking process. It's that easy! And now I just gave away the whole recipe….
I've used five different colorful veggies in this recipe. They all cook at about the same rate so they are a perfect match. Have a picky eater? You can always swap out veggies to suit your own personal taste preferences. You can also keep your veggies separated on the sheet pan so it's easy for that one picky little eater to get only the things they want.
Can I use more than 2 steaks?
Need more than two steaks? Well that's easy! Just throw on a couple more! This recipe can also be easily stretched to feed a few more. Any more than 4 steaks and you'll need to double the butter sauce and veggies and pull out an additional sheet pan though.
Pro Tip: Cut Vegetables by cooking time
When it comes to cutting your vegetables, make sure you cut them according to the sizes listed in the recipe. This will keep the cooking time roughly the same so that you don't end up with a mix of crunchy and soggy vegetables. The peppers and onions need to be cut into roughly 1-inch pieces, while the carrots need to be sliced about 1/8th of an inch thick.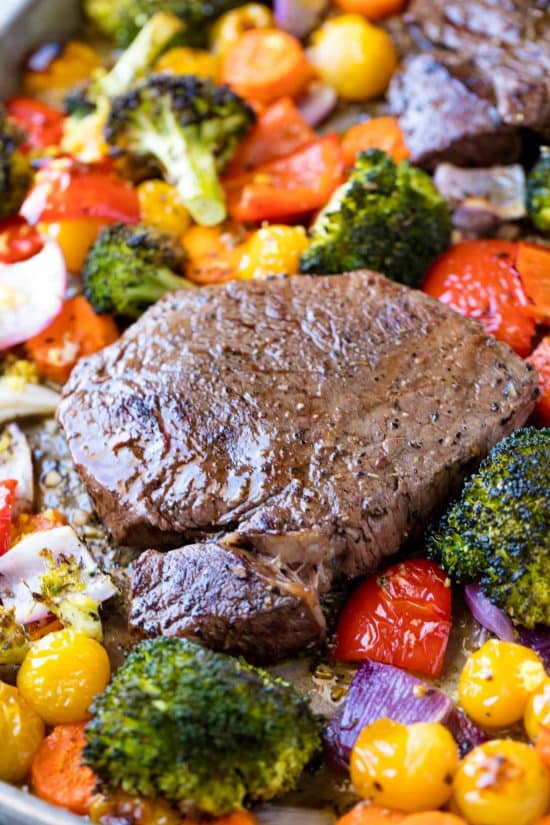 If you like this recipe, you may also be interested in these other easy meals: