Creamy Broccoli Rice Casserole is a one pot dish thats cheesy, vegetarian and almost tastes like creamy risotto. Made with white rice and lots of broccoli, this is a meal in itself!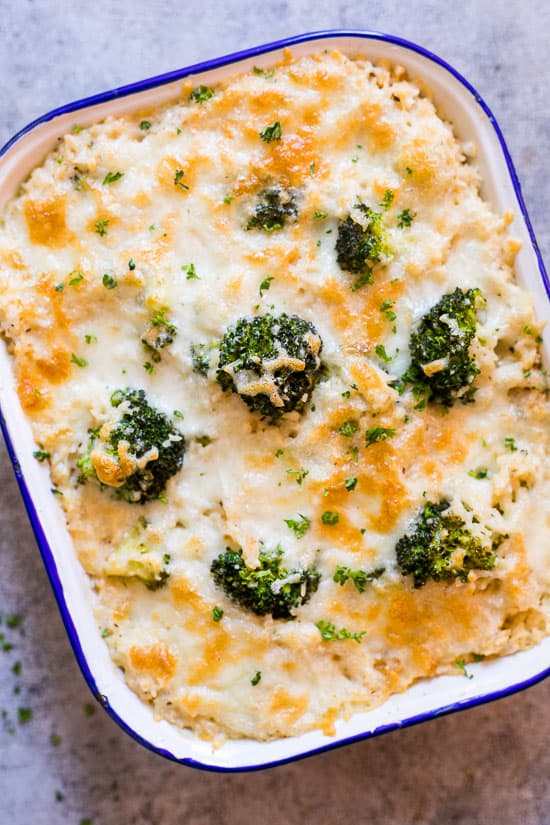 We absolutely love one pot meals where we can add everything the family needs all in one, easy to clean dish. We like to make this in a large dutch oven that is heavy bottomed so that there is no fear of the rice burning or sticking to the bottom. 
Not all casseroles are created equal, and we've all had a fair share of overcooked mush that someone dared call a casserole. Don't worry, this is a delicious blend of flavors and textures and your family is going to love it. Really though, what's not to love about rice, broccoli and cheese mixed together? Can this be dinner every night please?
Why do I need both olive oil and butter?

We use both butter and olive oil because the oil doesn't let the butter brown or burn.

Chicken vs. Vegetable Broth:

If you want to make this dish totally vegetarian, or if you just love the veggie flavor, stick with vegetable broth. If you'd like a more meatier flavor to this dish, use chicken broth. Both are delicious, so it is all about your personal taste preferences.

Can I use instant rice?

Instant rice is what tends to go mushy. We highly recommend sticking with a not instant, long grain white rice.
If you like this recipe, you may be interested in these other delicious one pot recipes: