Pumpkin Chocolate Chip Cookies are so moist, soft and delicious. They are full of amazing pumpkin flavor, and are a quick and easy cookie that is always a crowd favorite!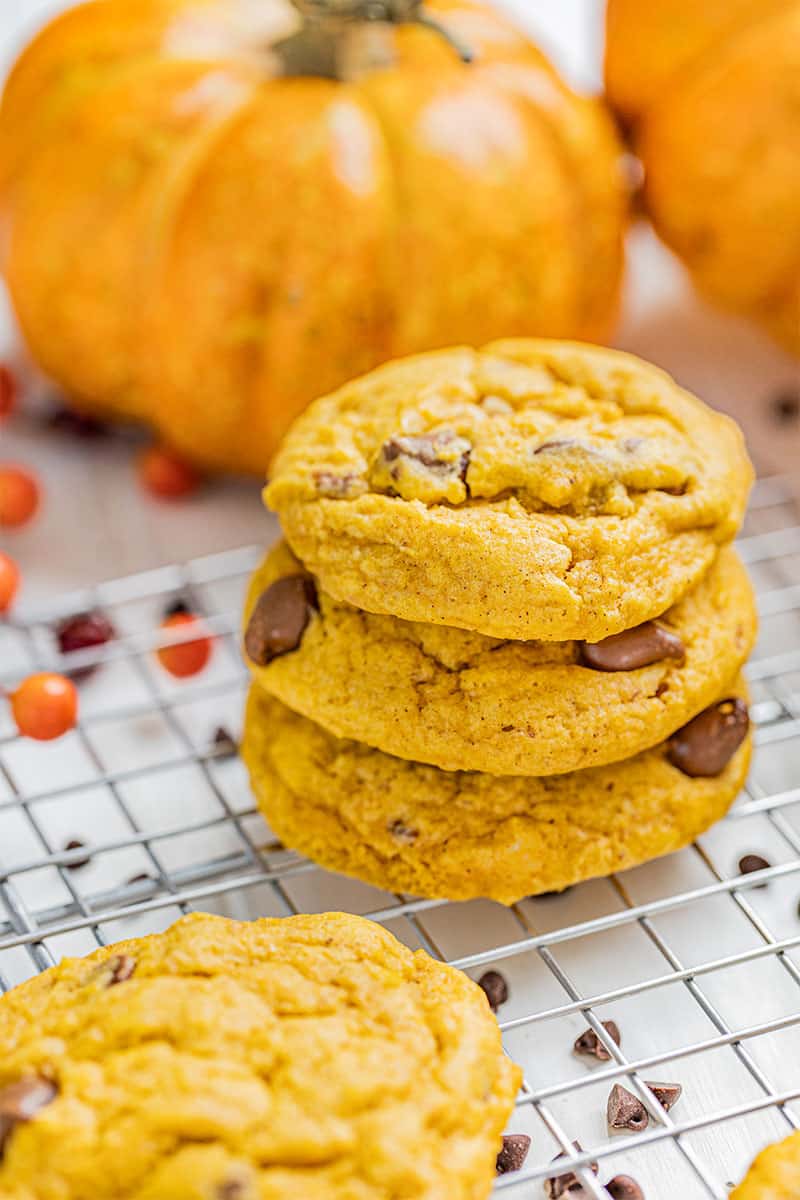 Fall has arrived, and we could not be more excited! Our favorite flavors are everywhere, including pumpkin everything. We know that not everyone is a fan of pumpkin, but we would dare anyone to try these cookies and not fall in love with them. We seriously can't get enough of them, and unfortunately, neither can our kids! It forces us to be sneaky and make extra batches while they're at school. Perhaps we should have emphasized the veggie aspect of pumpkins to keep them away from the start! Good luck keeping these in your house for more than 24 hours!
Can I double Pumpkin Chocolate Chip Cookies?
Yes! Cookie recipes typically double rather easily. This recipe makes approximately 20 to 24 cookies, depending on how large or small you make them. Simply double all of your ingredients for approximately 48 cookies. You will need to either work in batches, or use 4 baking sheets.
Chocolate Chip Options:
The type of chocolate chips you use is a matter of personal preference. Both semi sweet and milk chocolate chips will work in this recipe, or you can use a combination of both. You can also use chocolate chunks.
Parchment Paper/Nonstick Cooking Spray:
When baking cookies, it is preferable to use parchment paper or a silicone baking mat because it not only prevents the cookies from sticking to the pan, but it does so without adding any extra grease. Nonstick cooking spray does leave a slightly greasy feel to the bottoms of your cookies.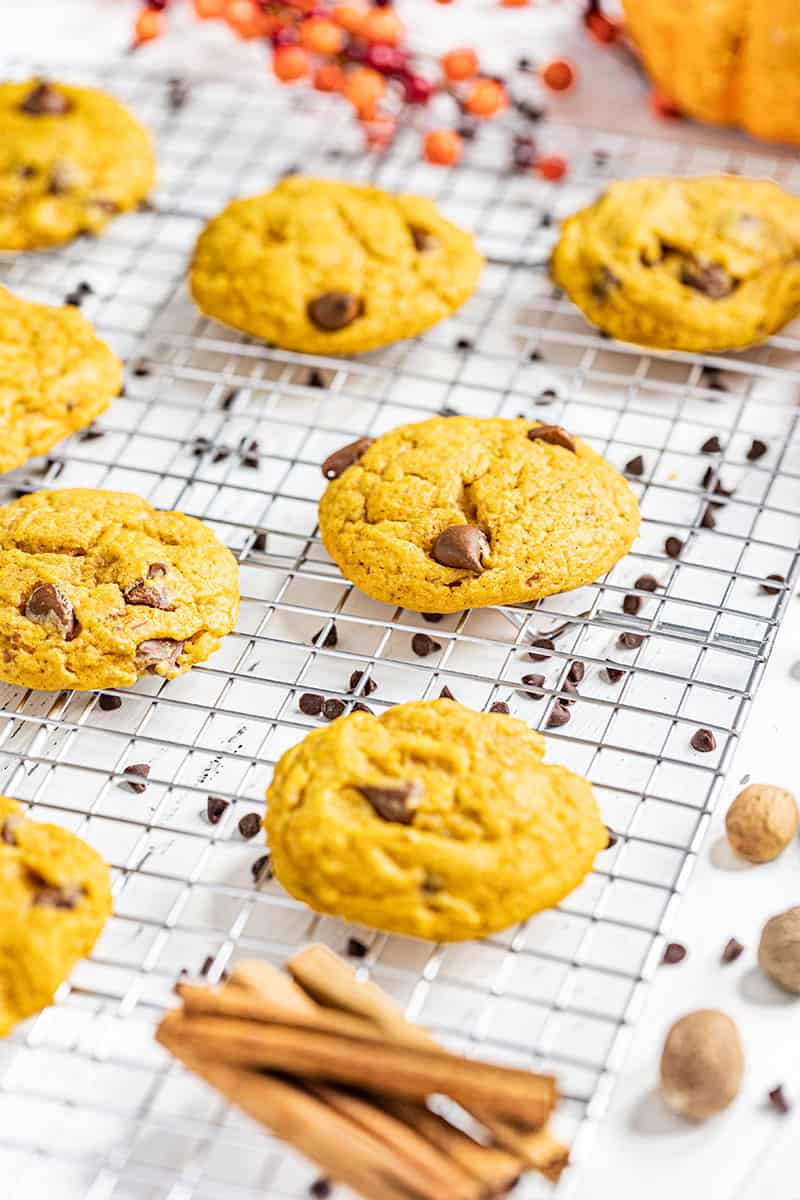 Freezer Instructions:
This cookie dough can easily be frozen. For best results, shape into balls and freeze on a baking sheet. Once frozen, transfer to a resealable plastic freezer bag for long term storage, up to 3 months. When ready to bake, place cookie dough onto baking sheet and let thaw while oven preheats. Bake approximately 12 to 15 minutes.
Storage Instructions:
Store leftovers in an airtight container at room temp for 3-5 days.
If you like this recipe, you may be interested in these other delicious cookie recipes:
Pumpkin Chocolate Chip Cookies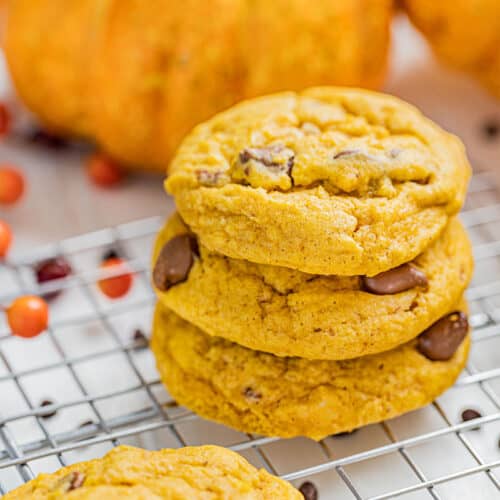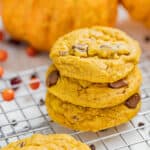 Pumpkin Chocolate Chip Cookies are so moist, soft and delicious. They are full of amazing pumpkin flavor, and are a quick and easy cookie that is always a crowd favorite!
Ingredients
Pumpkin Cookies
1 1/2

cups

granulated sugar

3/4

cup

unsalted butter

softened

1

large

egg

1/2

cup

pumpkin puree

2

teaspoons

vanilla extract

3/4

teaspoon

baking powder

1/2

teaspoon

salt

1

teaspoon

ground cinnamon

1/2

teaspoon

nutmeg

1/2

teaspoon

cloves

1/8

teaspoon

ground ginger

2 1/2

cups

all-purpose flour

1

cup

milk chocolate chips
Instructions
Preheat oven to 350 degrees Fahrenheit. Line two baking sheets with parchment paper.

In large bowl, use a hand mixer to beat together sugar and butter until fluffy, about 1-2 minutes. Add in egg, vanilla, and pumpkin, then mix to combine.

In a separate bowl, mix together the flour, baking powder, salt, ground cinnamon, nutmeg, cloves, and ground ginger. Mix until well combined.

Add the dry mixture into the wet mixture a little at a time and mix. Once all is added in, mix for 30 seconds more to ensure all is mixed well.

Scoop 1 1/2- inch rounds of the batter onto the prepared baking sheet about 2 inches apart.

Bake in the 350-degree oven for about 15-17 minutes, until slightly golden. Then remove from oven.

Let cookies cool on pan for about 5 minutes before transferring to a cooling rack to cool completely.