Pumpkin cheesecake tastes like a pumpkin pie and a cheesecake had a baby. With the perfect balance between creamy and cakey, that cheesecake tang that you know and love, and pumpkins of course. This is the ultimate fall dessert!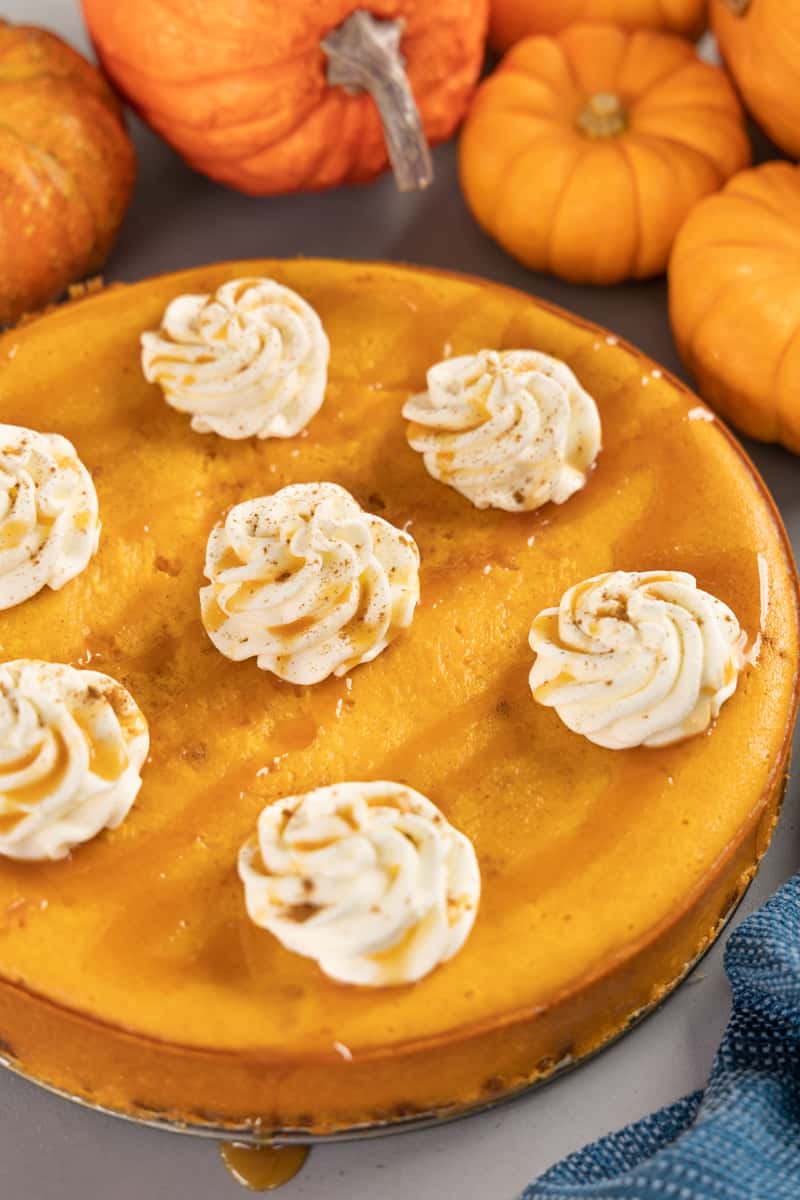 Cheesecake is a dessert we could eat no matter the season or weather. Whether it's offered at a party or on the dessert menu at a restaurant, we just can't turn it down. Typically a cheesecake purist, we don't tend to favor the flavored variety. That was until pumpkin cheesecake entered our lives. It's everything you love about traditional cheesecake, but with your favorite flavors of fall. No need to be intimidated by this fancy dessert. It is super easy to make, and tastes amazing every single time. You're going to love it!
Baking Pan Options:
To make cheesecake, it is preferable to use a springform pan. This is a cake pan that has a removable bottom. The sides of the pan are sprung and it has a clip to adjust the sides. Springform pans are sold in various sizes, generally 4 inches, 6 to 7 inches, and 9 inches. A good standard size to have is a 9-inch pan.
If you do not have a springform pan, you can always use a standard cake pan. However, you will not be able to remove the sides and have a freestanding cheesecake.
Troubleshooting: Why Did My Pumpkin Cheesecake Crack?
Everyone loves that picture perfect cheesecake, but let's be honest, cracks do not change the taste of the cheesecake one bit. If you are really going for that perfect cheesecake look, keep these tips in mind:
Do not open your oven door while it is cooking. Sudden changes in temperature will cause the cheesecake to crack.
Let your cheesecake cool slowly in the oven with the door closed.
Do not over bake your cheesecake. Without being able to open up the oven door to prevent cracking, you really need to follow the recipe card instructions exactly so you don't under or over bake.
Crust Options:
The gingersnap cookie crust is an absolute must in our house. It is simply divine. If you prefer a traditional graham cracker crust, you can always buy it pre-made at the grocery store, or you can make your own with:
2 cups crushed graham crackers (about 15 whole crackers)
1/2 cup butter, melted
1/4 cup granulated sugar
In a bowl, stir together graham crackers, sugar, and butter until all crumbs are wet. Press into the bottom of a 9-10 inch springform pan. Press firmly to ensure it doesn't fall apart. Pop into fridge while you make the cheesecake.
Pumpkin Puree vs. Pumpkin Pie Filling:
Pumpkin pie filling contains added sweeteners, spices, and other flavorings. We don't want any of that added to this pumpkin cheesecake, so you'll want to double check your can to make sure it is pumpkin puree only.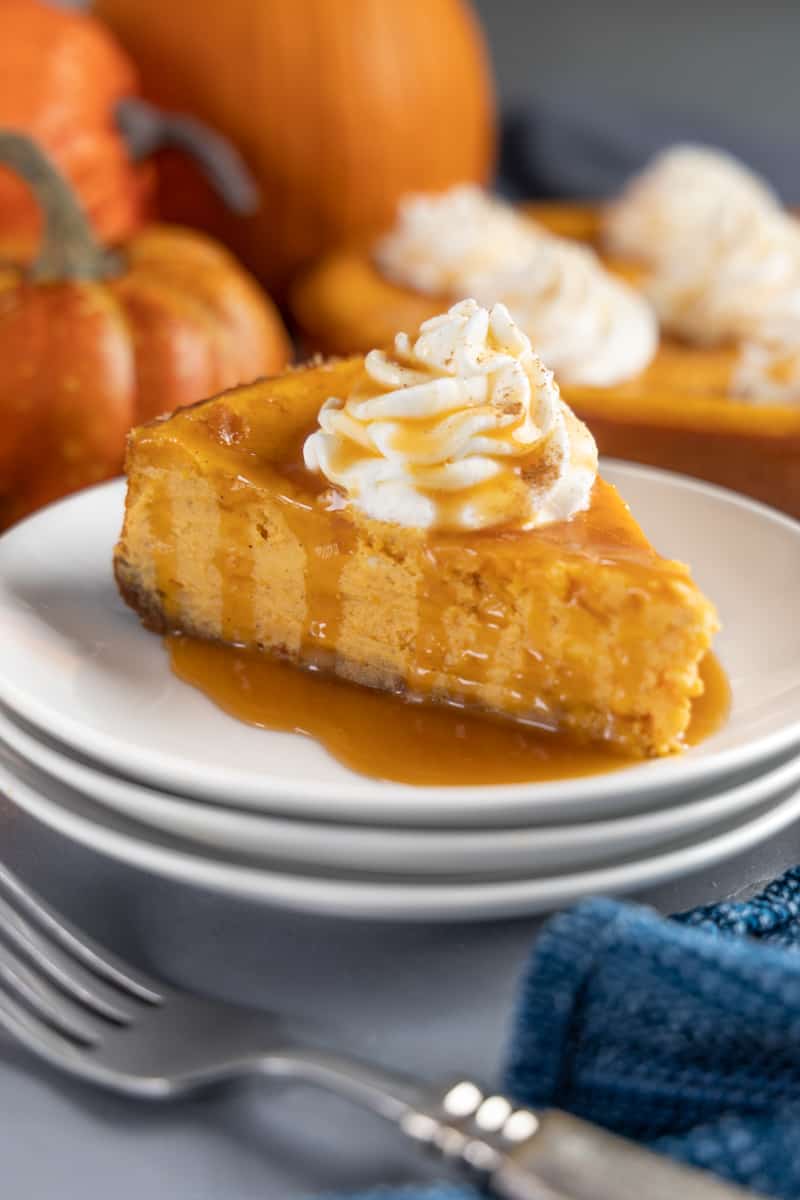 Storage Instructions:
Store your pumpkin cheesecake in an airtight container in the refrigerator for up to 5 days. Serve chilled.
If you like this recipe, you may be interested in these other delicious cheesecake and cheesecake inspired recipes: