Soft, moist and delicious these Pumpkin Cheesecake Thumbprint Cookies are a quick and easy cookie that are super kid-friendly and feeds a crowd!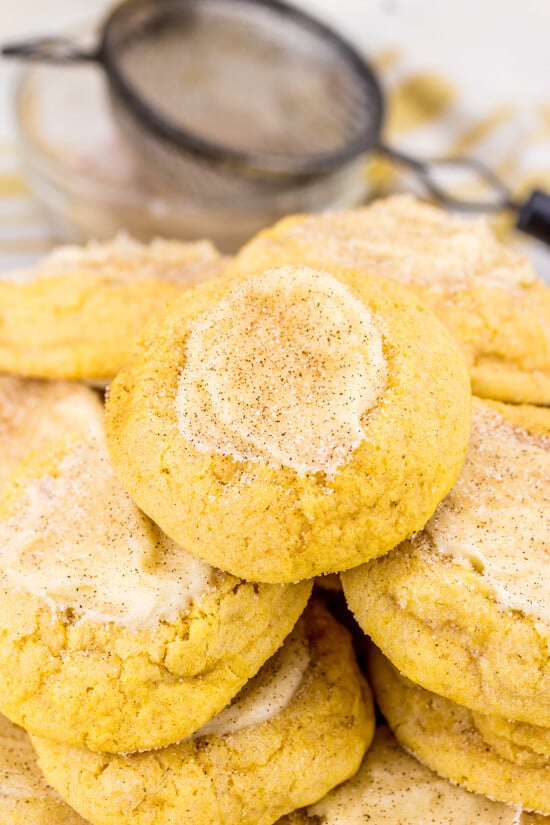 Alli here from Tornadough Alli! So you guys, I'm from Minnesota and all of August we had fall weather, now that September is here in full swing we are absolutely back to summer weather with temps reaching up to 90!! But it's seemed like it's been that way for the last few years so I'm not going to complain since I'm not the biggest fan of cold weather anyways insert questions on why I live in Minnesota, response…IDK!
So seeing all these pumpkin recipes has absolutely got me super excited for fall since the weather is still fairly decent and not TOO TOO cold, but cool enough to just take the edge off and elicit all the best things about fall. And the best thing in my opinion about Fall is the baking! I love all the fall flavors! Pumpkin, Apple, Pecan. Bring it on, I love everything about them!

MY OTHER RECIPES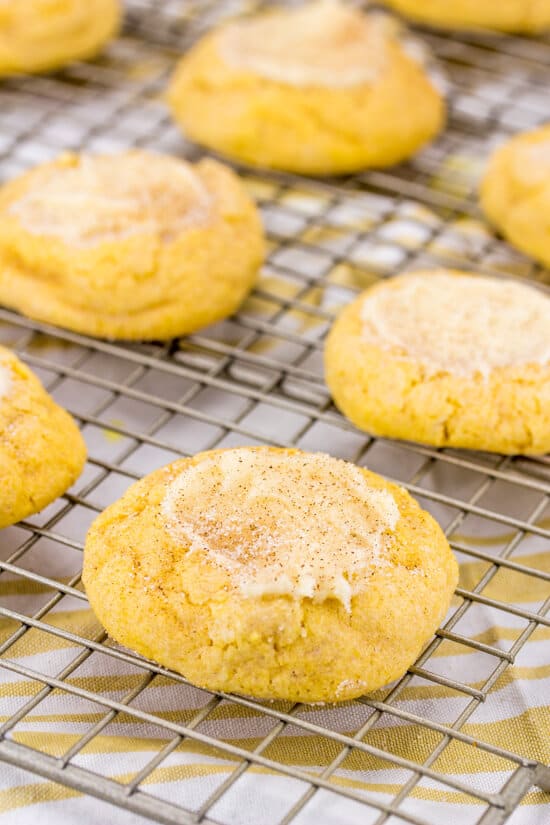 So I wanted to do something a little different then normal pumpkin cookies that I usually do each year. We love making thumbprint cookies around the holidays so I figured that these already soft and chewy pumpkin sugar cookies would make the perfect candidate to turn into a thumbprint cookie! And what goes well with pumpkin? Well I was thinking a "cheesecake" sorta deal.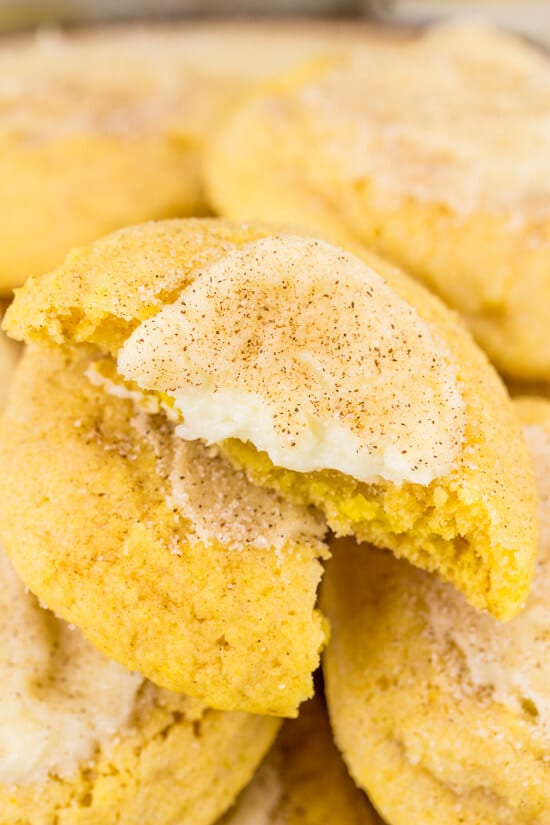 Are you feeling me on this one? I hope so, these will NOT let you down! My husband isn't the biggest sweets eater but he inhaled these cookies and brought a bunch to work with him to share with the guys! It makes a pretty large batch, if you are wanting to make a smaller batch then just go ahead and halve this recipe, you should have no problem whatsoever.
Simple ingredients mixed together make these Pumpkin Cheesecake Thumbprint Cookies the perfect recipe for your Fall get together! Looking ahead to Thanksgiving? Well you have your answer with these bad boys! They would go very nicely as a follow up to your pumpkin pie that is traditional anyways!
Pumpkin Cheesecake Thumbprint Cookies
Soft, moist and delicious these Pumpkin Cheesecake Thumbprint Cookies are a quick and easy cookie that are super kid-friendly and feeds a crowd!
Ingredients
1½ cups sugar
2½ cups all-purpose flour
¾ teaspoon baking powder
½ teaspoon salt
1 teaspoon ground cinnamon
1¾ cups butter, softened
2 teaspoons vanilla extract
1 large egg
½ cup pumpkin puree
¼ cup sugar
Cheesecake:
1 (8 oz) block cream cheese, softened
½ cup sugar
2 teaspoons vanilla extract
Topping:
¼ cup sugar
1 teaspoon ground cinnamon
Instructions
Preheat oven to 350.
Line a baking sheet with parchment paper or a silpat mat.
In large bowl beat together your butter and sugar until fluffy.
Add in your egg, vanilla and then pumpkin.
Mix in your flour, baking powder, salt and cinnamon until combined.
Refrigerate for about 30 minutes.
Meanwhile mix together your cheesecake filling by beating your cream cheese until light and smooth.
Add in your sugar and vanilla, and place in refrigerator.
Once your dough has chilled roll into about 1" balls and rollin sugar and place on prepared baking sheet and bake in oven for about 15 minutes or until slightly golden.
Immediately press center down with a ½ tablespoon measuring spoon.
Let cool on pan for about 5 minutes before transferring to cooling rack to cool completely.
Repeat with remaining cookie dough.
Once cooled add dollops of cheesecake filling to center of cookies.
Mix together your sugar and cinnamon and sprinkle over tops of cookies.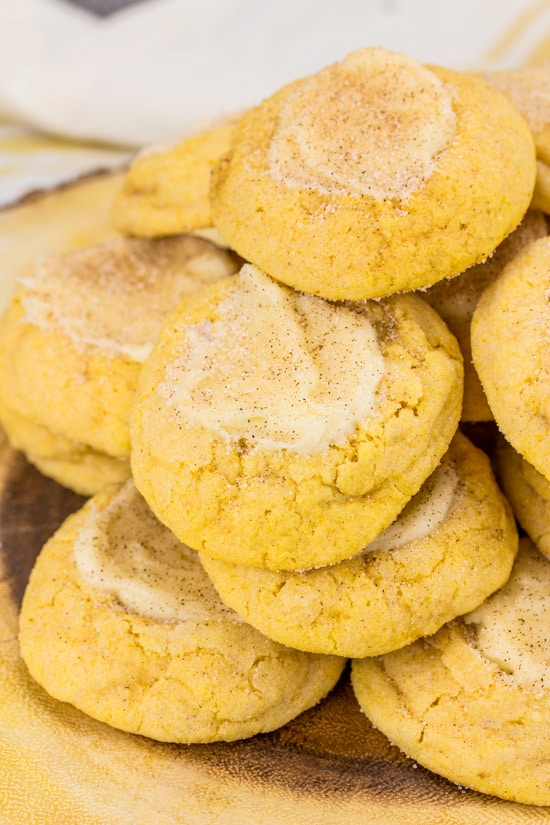 Get New Recipes Sent To Your Inbox 😃
Join my newsletter and get new mouth watering recipes sent directly to you weekly!