This Moist Pumpkin Bread is made from scratch and is absolutely fool proof and easy to make. Add walnuts, raisins and more or just enjoy it plain. You will love this super moist fall quick bread!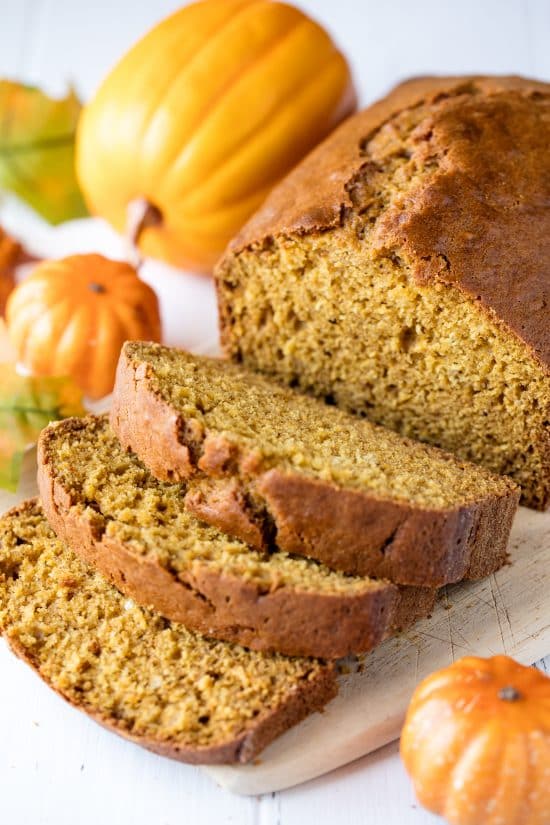 The flavors of fall are upon us and we are celebrating by making all of our favorite pumpkin flavored things! Bread is already one of our top 10 favorite foods, but add in that amazing pumpkin and rich spices and we are in heaven. This is the kind of bread that is gone within a couple of hours after coming out of the oven. No one has any self-restraint, and honestly, who could blame us? We'll be making this weekly throughout the rest of the season and highly recommend you join us!
Vegetable Oil Substitute:
This recipe uses vegetable oil for moisture. We know that some people don't care to add this much vegetable oil to their bread. That's okay! Go ahead and replace the vegetable oil with applesauce 1:1.
Sweet Potato vs. Pumpkin:
We absolutely love our pumpkin bread, but if you have a hard time finding canned pumpkin, or simply want to change things up, go ahead and substitute with canned sweet potato puree.
Bread Add-Ins:
Some people absolutely love to add nuts, dried fruit, or even chocolate chips to their pumpkin quick bread. If that's your thing, feel free to add in 1 to 2 cups of either chopped nuts, or small or chopped dried fruit. This is the perfect base recipe if you want to make any additions.
Baking Tip:
If you are worried that your loaf is getting too browned on top, place a piece of aluminum foil loosely over the top during the last 20 minutes of baking. Some ovens just function a bit differently than others and leave the tops a little more on the brown side than some people like. This little trick comes in handy if you have an oven like that.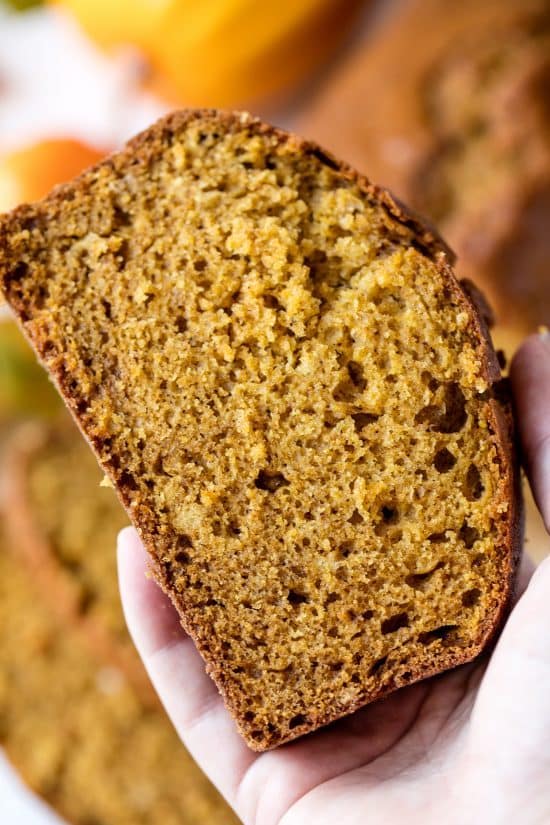 Freezer Instructions:
To freeze your loaves, wait until your bread has cooled completely before wrapping in plastic wrap and then placing in a freezer-safe Ziplock bag. Freeze for up to 2 months. Let thaw on the counter when ready to consume.
Storage Instructions:
Store any leftovers in an airtight container or bag for up to 4 days.
If you like this recipe, you may be interested in these other delicious Autumn recipes:
Watch the video below where Rachel will walk you through every step of this recipe. Sometimes it helps to have a visual, and we've always got you covered with our cooking show. You can find the complete collection of recipes on YouTube, Facebook Watch, or our Facebook Page, or right here on our website with their corresponding recipes.